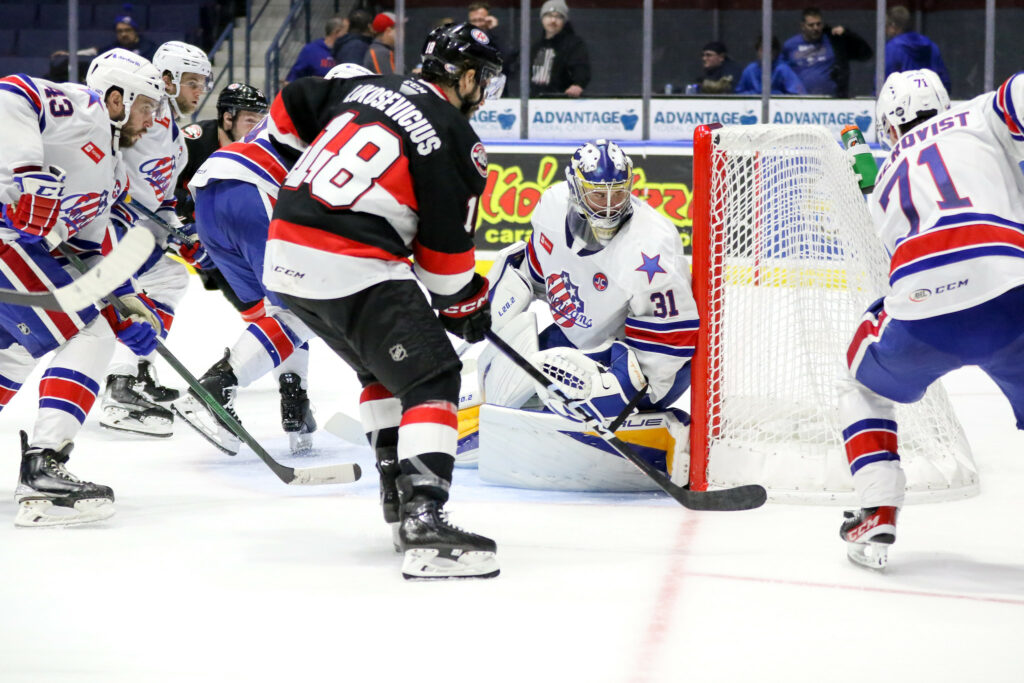 By KEVIN OKLOBZIJA
Having already missed more time than at any point of his eight-year professional career, goalie Eric Comrie just wanted to play again.
So when the Buffalo Sabres asked if he'd accept a conditioning assignment with the Rochester Americans, the answer was easy.
"No hesitation; I said for sure," Comrie said.
There's no way Comrie wants to be rusty or unprepared when he does return to the crease with the Buffalo Sabres. That's why coming to Rochester was a no-brainer.
"If I don't get games, I won't be ready," he said following Wednesday's 5-1 loss to the Belleville Senators at Blue Cross Arena at the War Memorial.
Comrie allowed four goals on 28 shots as the Amerks six-game winning streak came to an end, thanks in large part to Egor Sokolov. The Belleville winger scored three goals and set up another in a first-star performance.
"They played desperate," Amerks coach Seth Appert said. "It wasn't that we didn't compete or didn't play hard, but their level of desperation on shot blocks, and on puck battles and on box-outs and the physical nastiness of the game was really exceptionally high today."
Combine all of that with the return of defensemen Jacob Larsson and Jacob Bernard-Docker to the Senators lineup and the Amerks (17-10-1-1) needed much more than just a solid effort.
Either than, or better finishing ability, because they did have chances to score early.
"We had a two-on-one and three partial breakaways when it was still 0-0," Appert said. "If you get a goal early, then they have to chase you a little bit.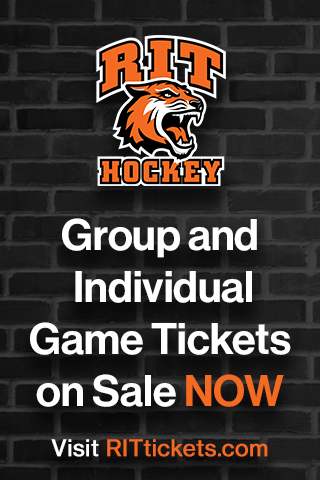 "We created enough, we didn't finish enough, both shooting execution and finding another pass (Linus Weissbach scored the only goal during a second-period power play, when Belleville already led 3-0)."
For Comrie, it was another chance to work himself back into game shape and make sure all is A-OK with his knee, which was injured in a goalmouth pileup on Nov. 16 against the Ottawa Senators.
"I haven't been out that long since I was 17," Comrie said.
He was very good on Saturday in his Amerks debut, stopping 34 shots in a 3-2 victory at Toronto, and was didn't have much chance on at least two of the four goals the Senators scored on Wednesday.
"He looks like he's ready to be back," Appert said. "I thought he was exceptional in the Toronto game and he was good tonight.
"The first one just happened very, very quick (after a turnover behind the net); the second one was a back-side one-timer that we just didn't play very well defensively; and the third one was just a massive scramble."
Not having forwards Sean Malone (injury) and Michael Mersch (his wife was giving birth to their second child) was noticeable, Appert said.
"Against a team as physically heavy as Belleville, you definitely felt the absence of Malone and Mersch tonight," he said.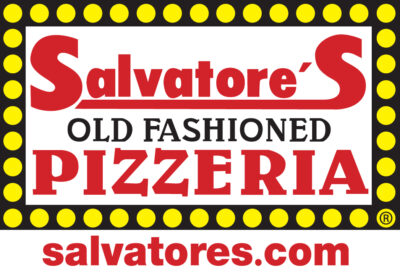 The last time …
The Amerks were bidding for their first seven-game winning streak since 2013-14.
"It just goes to show if you're on a bit of a winning streak, you still have to bring it every night," defenseman Ethan Prow said.
Piling up the PIMs
Belleville winger Scott Sabourin is well on his way to becoming the first AHL player to top 200 penalty minutes in a season since 2015-16, when San Diego's Stu Bickel finished with 210.
Through 30 games, Sabourin has 152 minutes from 26 minors, six majors and seven misconducts. The eighth-year veteran also has 8 goals, 6 assists and 14 points. He was assessed a double minor on Wednesday with tripping and slashing penalties at 12:17 of the second period, which led to Weissbach's 12th goal.