By KEVIN OKLOBZIJA
They were the powerhouse football program with a state championship pedigree and quarterback headed to an NCAA Division I FCS program.
Not only did the Jamestown Red Raiders boast state titles in 1994, 1995, 2000 and 2014, they had reached the semifinals a year ago and came into Monday night's Class A Far West Regional riding a nine-game winning streak.
But the Hilton Cadets were not intimidated. Sure, until this year, they hadn't won a Section V championship since 1994, the year Jamestown was capturing its first state title. And they aren't trumpeting Division I players at any of the skill positions.
They were, however, ready to prove they were more than worthy of their place in the tournament field.
"We knew if we played our game, no one could stop us," said senior standout offensive tackle and interior defensive lineman Karl Khuns.
Boy, was he right. The Red Raiders especially couldn't stop senior running back Jeffery Broadnax.
With the Hilton offensive line led by Khuns, sophomore right guard Jake McMahon and junior center Anthony Letta establishing immediate control of the line of scrimmage, Broadnax ran wild and the Cadets routed visiting Jamestown 49-34 at LeBeau Field.
Broadnax piled up 265 yards on 35 carries and scored touchdowns on runs of 6, 41 and 1 yards for the Cadets, who led 21-0 1:49 into the second quarter and then essentially sealed the victory on junior Luke Lockhart's 54-yard interception return for a touchdown and a 42-14 lead with just 3:11 gone in the third quarter.
In winning their 11th consecutive game, Hilton (11-1) earned a berth in the state semifinals. They play at Section IV champ Union-Endicott at 6 p.m. Friday in suburban Binghamton. Until Monday, the Cadets had never reached the state semifinals.
"This is history that we're making and we want to keep making history," said Broadnax, who carried 17 times for 130 yards in the first half and 18 times for 135 yards in the second half.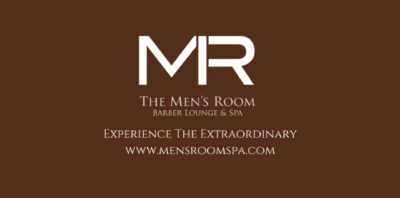 Equally impressive was Hilton's ability to limit the effectiveness of Jamestown senior quarterback Trey Drake, who is headed to North Dakota State on a football scholarship. That's the same school known for producing NFL quarterbacks. NDSU alum Carson Wentz was chosen by the Philadelphia Eagles in the first round of the 2016 draft. Trey Lance went third overall in 2021 to the San Francisco 49ers. The Bison know QBs.
All Drake had done this season coming into Monday's matchup was throw for 2,315 yards and 27 touchdowns. But the Cadets held him to 14-of-24 passing for 146 yards through three quarters, and most importantly, intercepted him three times. Drake threw just one interception in the first 11 games.
"We knew he could sling it," Khuns said.
Still, facing a quarterback of Drake's stature didn't create fear for Hilton's defenders, it created added incentive.
"That adds a little fire and fires us up even more," Lockhart said. "We want to show we can play with anyone."
While Drake and Jamestown struggled to find consistency with their offense in the first half, the Cadets often were unstoppable. On their first possession, they drove 59 yards on eight plays in 3 minutes, 40 seconds to take a 7-0 lead, with quarterback Colton Thorp plowing across the goal line on a 1-yard keeper.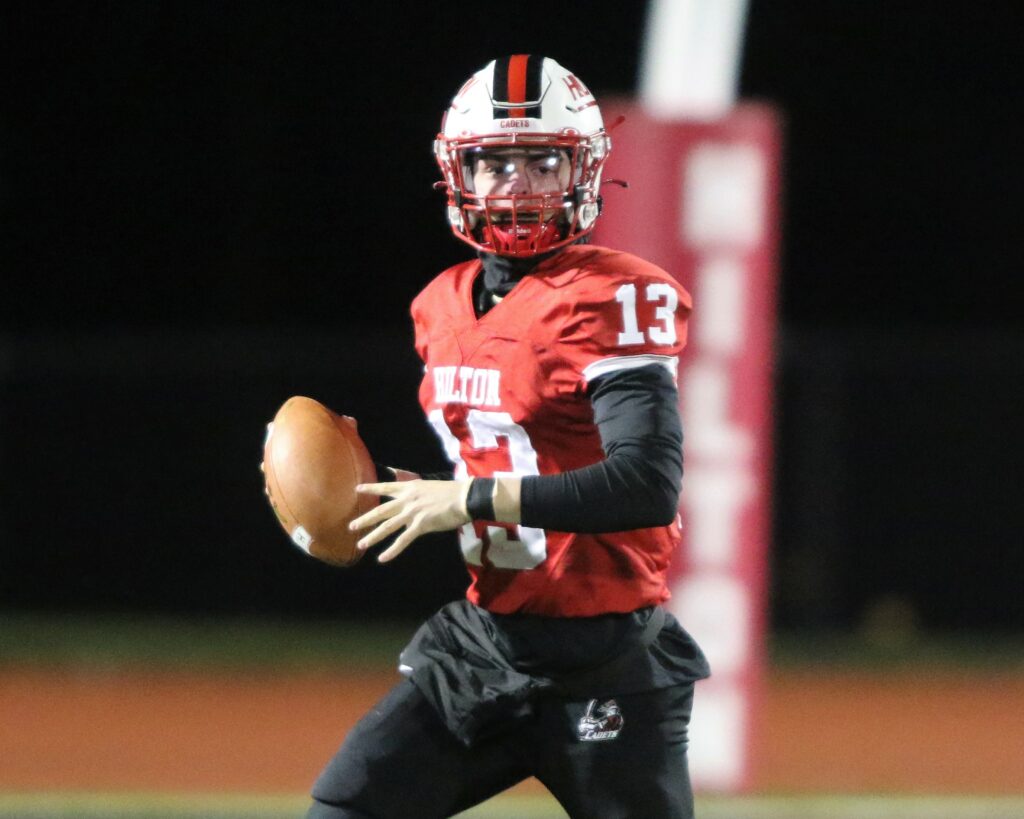 Jamestown seemed on its way to tying the score on the next possession, moving 69 yards in three plays to set up a first-and-goal at the Hilton 7. But the drive stalled when sophomore linebacker Braydon Pike stopped running back Carsen Bane for no gain on first down and Drake for a 2-yard loss on second down before passes on third and fourth down by Drake fell incomplete.
Then the momentum swung even more early in the second quarter. A Hilton punt was fumbled on the return and senior Nicholas Fede recovered for the Cadets at the Jamestown 47.
One play later, Thorp connected with senior wideout Nicholas Castellana on a 47-yard scoring strike and Hilton led 14-0.
Three plays from scrimmage later, an errant Drake pass was intercepted by junior defensive back Robert Lowry, who sprinted untouched for 34 yards and a 21-0 lead.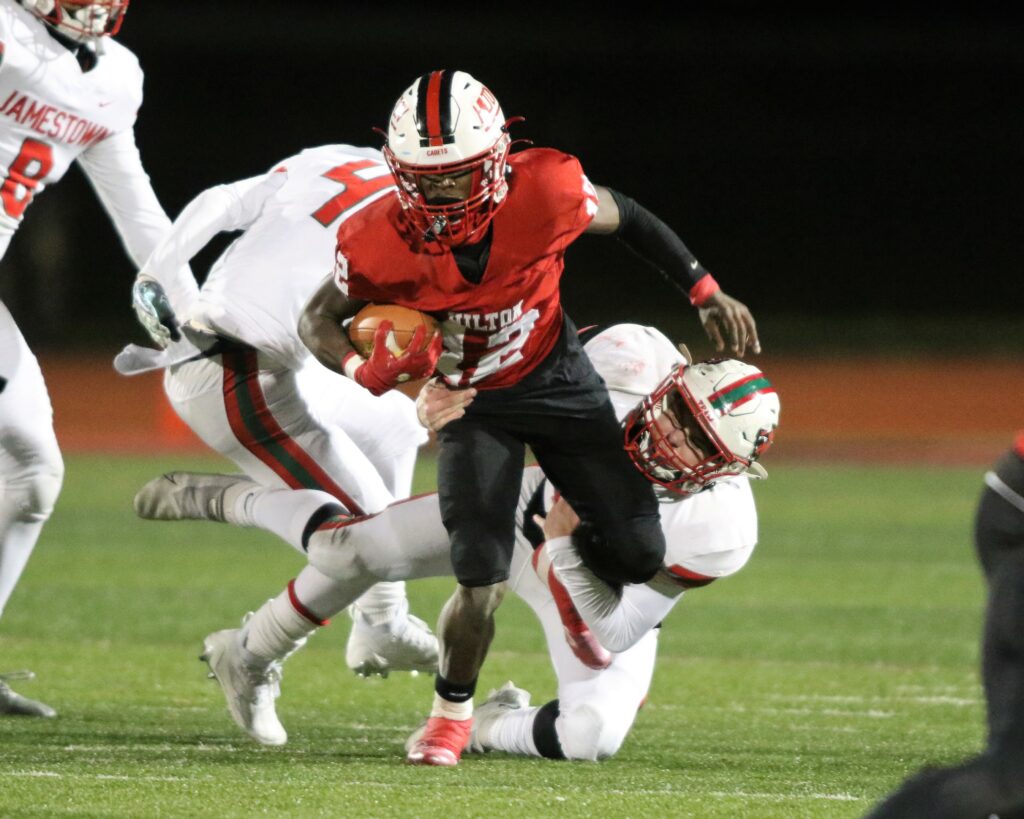 Jamestown did claw to within 28-14 by halftime, but the Red Raiders couldn't contain Broadnax on the opening drive of the third quarter. He powered for 21, 3 and then 41 yards on the first three plays of the quarter to give Hilton a 35-14 lead.
"He runs the hardest of anyone I've ever seen," Khuns said. "It's 4 yards, 4 yards and then he busts one and the crowd goes wild and it gets us fired up even more."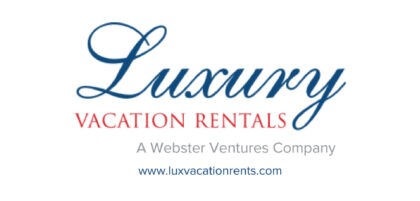 Khuns, meanwhile, was powerful on the line, and the holes he and McMahon created were usually where Broadnax was running.
"We knew we had to be more physical up front and drive them onto their butts," McMahon said. "If we could do that, we've got some playmakers on offense."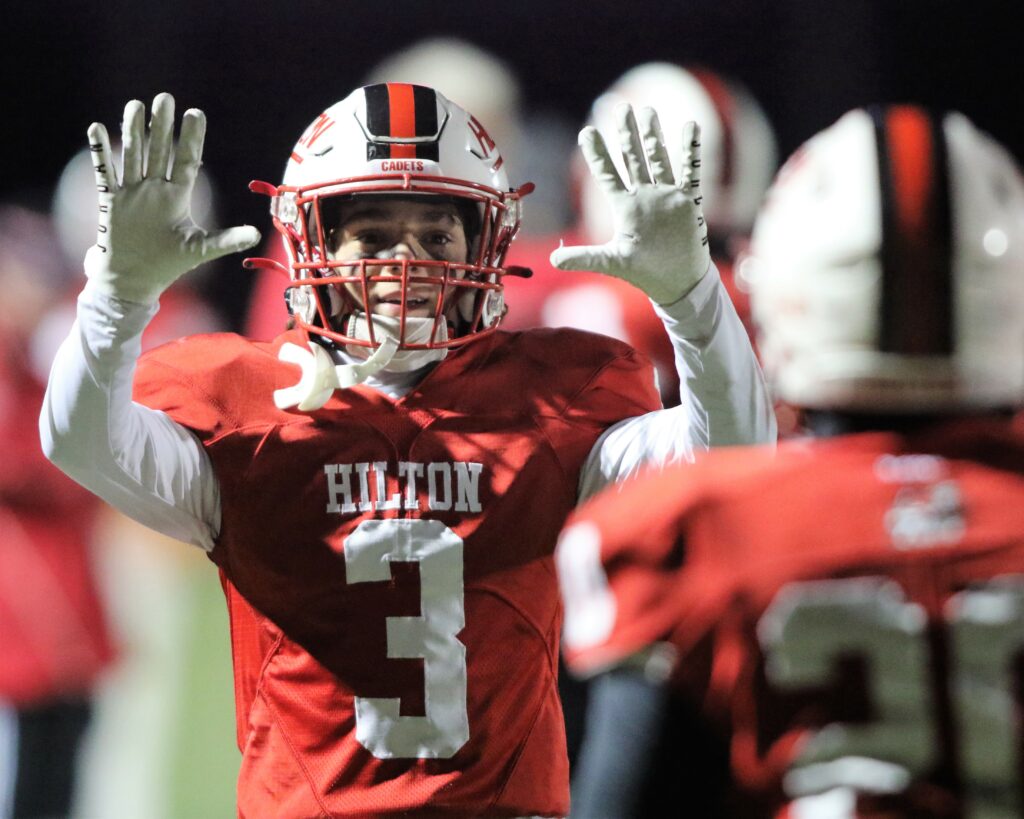 Jamestown was never able to effectively match the Hilton push.
"They were very physical and were able to control the line of scrimmage," Jamestown coach Tom Langworthy said, "and that's always tough to overcome."
And regardless of any adjustments the Red Raiders coach staff made, the Cadets were able to counter and maintain dominance on the line.
"We tried a lot of different things as far as slanting and moving and trying on linebackers getting a push up front," Langworthy said. "Credit to them; they have a good scheme for their players, which is what it takes at this level."