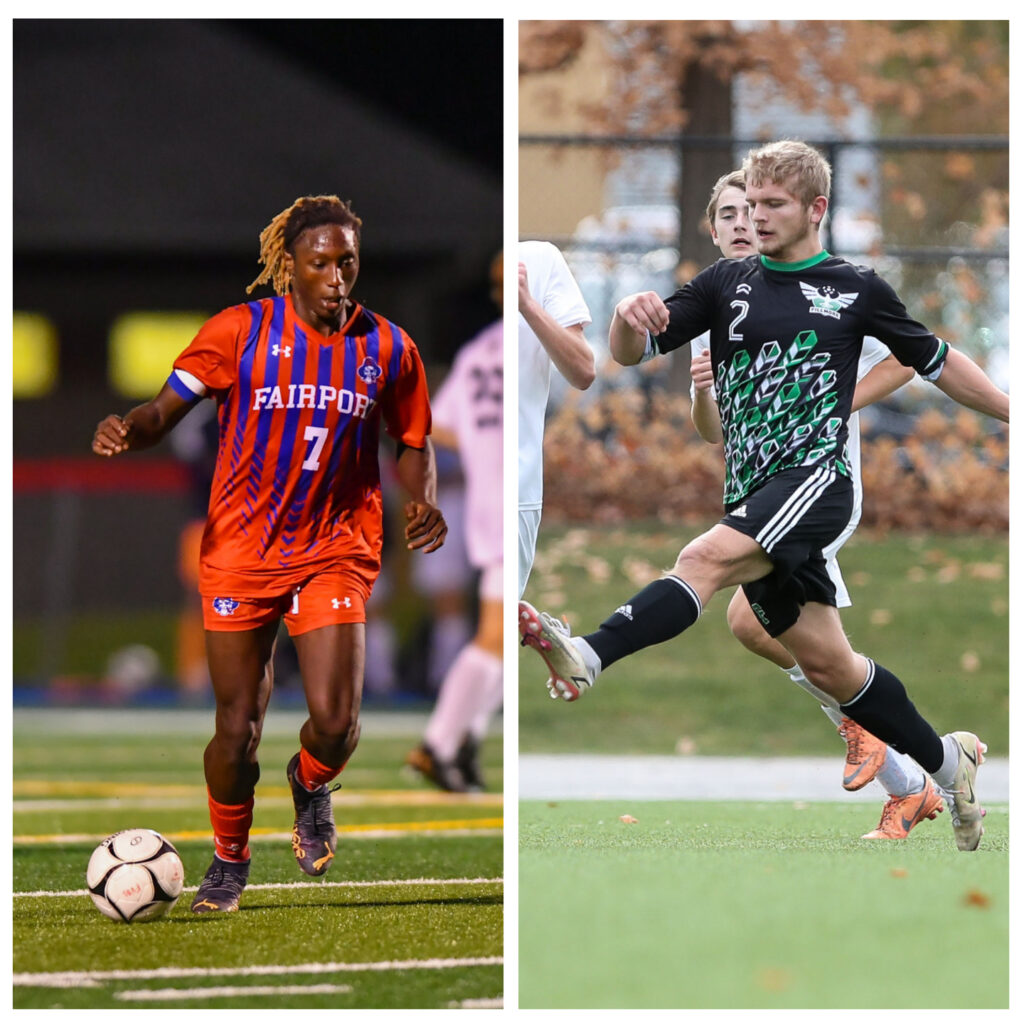 By PAUL GOTHAM
Fairport's Myles Palmer capped his high school reaching the 20-goal plateau for a second straight season. Fillmore's Mitchell Ward ended his record-setting career with a state championship. The pair earned top awards as recently announced by Section V Boys' Soccer.
Palmer scored 20 goals to go with seven assists and was named the 2022 Ronald Zorn Section V Boys' Soccer Large School Player of the Year. The senior attacker led the Red Raiders to a 12-3-1 mark and second seed in Class AA. He finished with five multi-goal games including four hat tricks.
A two-time Monroe County Division I Player of the Year (shared the honor in 2021), Palmer ended his tenure at Fairport with 56 goals and 21 assists. As a ninth-grader, he found the back of the net on seven occasions and set up another three on a Fairport squad that advanced to the NYS Class AA finals. In the Covid-19 shortened 2020 campaign, Palmer accounted for five goals and four assists to help Fairport to the sectional final. He scored 24 goals to go with seven assists in 2021.
Ward set a Fillmore program mark with 47 goals – a single-season total that ranks top five all-time in Section V history to earn the 2022 Jeff Farnsworth Section V Boys' Soccer Small School Player of the Year (POTY) and led the Eagles to a perfect 23-0-0 mark on the season. The Allegany County Division I Player of the Year also established program marks for career goals (119) and career assists (45). Ward's career goal total ranks top ten all-time in Section V history. The final tally of his career came in the state final as Fillmore defeated Chazy (VII), 2-0.
Ward scored at least one goal in 22 of Fillmore's 23 games this season including the lone tally in 1-nil victories over Bolivar-Richburg, Finney and Houghton. He had an assist on the only marker in a 1-0 win over Allegany-Limestone. The senior attacker scored twice and assisted on teammate Layton Sanasith's golden goal in the Eagles 3-2 win over Greenport in the state semifinal.
Palmer and Ward headed the list of top performers in Section V that included Co-Monroe County Division II Players of the Year Brendan Adams (Webster Thomas) and Kyle Milburn along with Monroe County Division III POTY Ronak Bansal and Monroe County Division IV POTY William Buttino.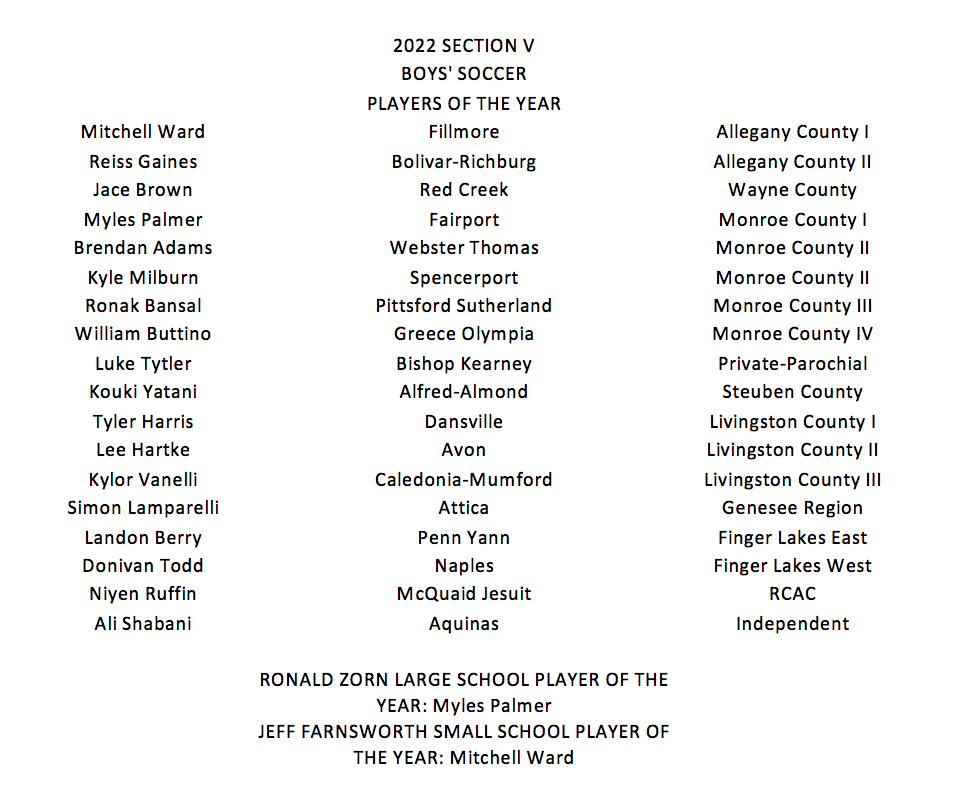 Bolivar-Richburg's Reiss Gaines received the top honor for Allegany County Division II along with Red Creek's Jace Brown (Wayne County), Bishop Kearney's Luke Tytler (Private-Parochial League), Alfred-Almond's Kouki Yatani (Steuben County), Dansville's Tyler Harris (Livingston County AA Division I), Avon's Lee Hartke (Livingston County AA Division II), Caledonia-Mumford's Kylor Vanelli (Livingston County AA), Attica's Simon Lamparelli (Genesee Region), Penn Yan's Landon Berry (Finger Lakes East), Naples senior Donivan Todd (Finger Lakes West), McQuaid's Niyen Ruffin (RCAC) and Aquinas junior Ali Shabani (Independent).
Section V also awarded Coach of the Year honors to Bill Teasdale (Fairport/Class AA), Jay Marino (Wayne/Class A), Jim Tobin (Hornell/B1), Steve Strauss (Bishop Kearney/B2), Tony Patti (Avon/C1), Tim McIntyre (Red Creek/C2), Jarrett Vosburg (Fillmore/D1) and Joe Connolly (Mount Morris/D2).
Nino Pilato (McQuaid Jesuit) was named Joe Borrosh Large School Coach of the Year while Avon's Patti nabbed G. Scotty Martin Small School Coach of the Year honors.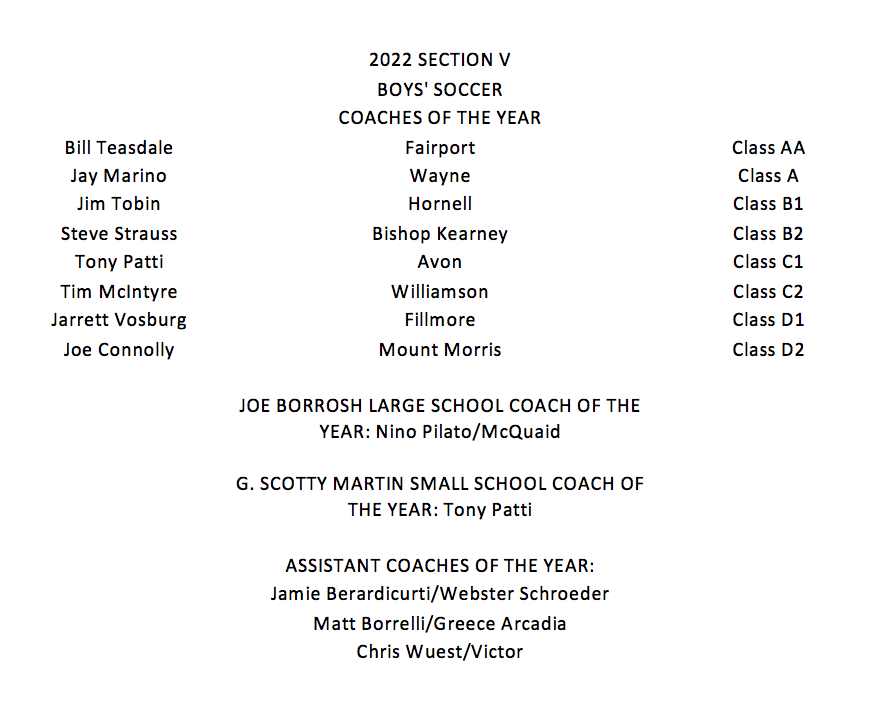 Jamie Berardicurti (Webster Schroeder), Matt Borrelli (Greece Arcadia) and Chris Wuest (Victor) were named Assistant Coaches of the Year.
The Gary Schenk "Fair Play Award" went to Friendship/Scio while Ward also received the Gary Schenk Memorial Scholarship Award.
Penfield's Jack Walsh received the Ted Woods Scholarship.