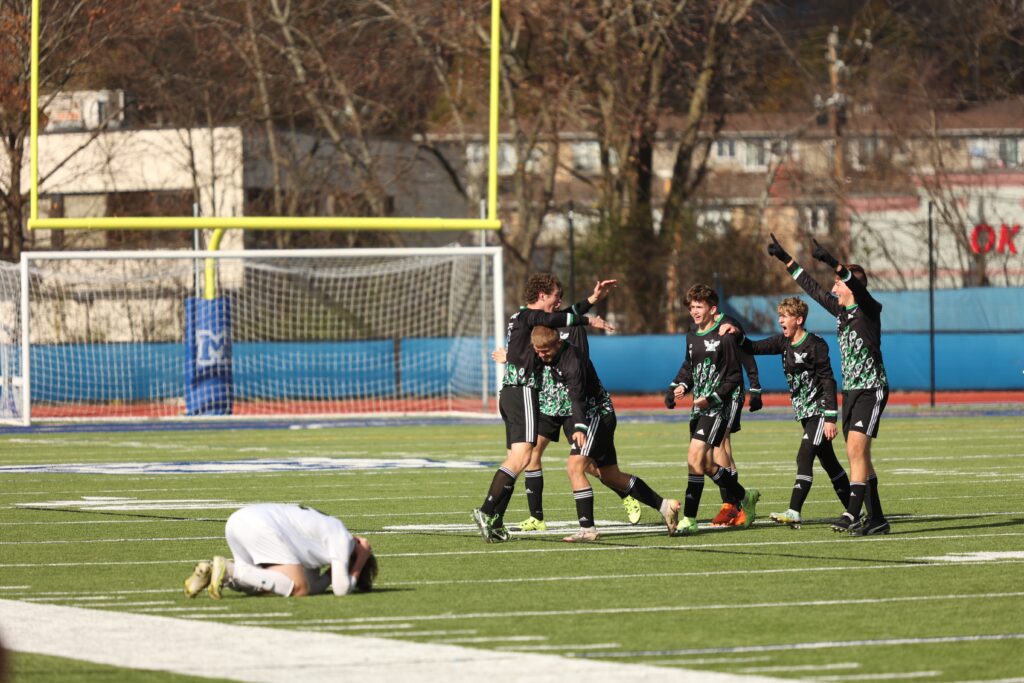 By PAUL GOTHAM
Brent Zubikowski connected from more than 60 yards away. Mitchell Ward converted from 12 yards, and the Fillmore boys' soccer team ascended to the top of the state as the Eagles defeated Chazy (VII), 2-0 in the 2022 NYSPHSAA Class D championship game, Sunday from Faller Field on the campus of Middletown High School.
The state championship is the first in program history.
"What this means for this team and more importantly what this means for this town is just surreal," first-year head coach Jarrett Vosburg said by phone on the team bus Sunday night. "It's an incredible accomplishment for these boys. They've put in so much hard work and effort over the last two, three, four years for some of these guys. To see all their hard work pay off is just an incredible testament to their character."
Zubikowski broke a scoreless tie 10 minutes into the second half with his third goal of the season. The senior sweeper took advantage of the elements and launched a blast from the other side of midfield that found the back of the net.
"The first half we were going into the wind," Vosburg explained. "I told the guys at halftime that everything was going to get easier in the second half with the wind at our backs. As soon as that keeper kinda took a step forward it's the old centerfield rule in baseball that first step backwards. Just to see that finally go in the back of the net was pure elation for everyone.
"That's such a great kid to get that goal in the biggest game of his career. He's been our defender. He's locked down so many teams at the sweeper position this year to see him get that first one was incredible."
Ward converted a penalty kick for his Section V-best 47th tally of the season.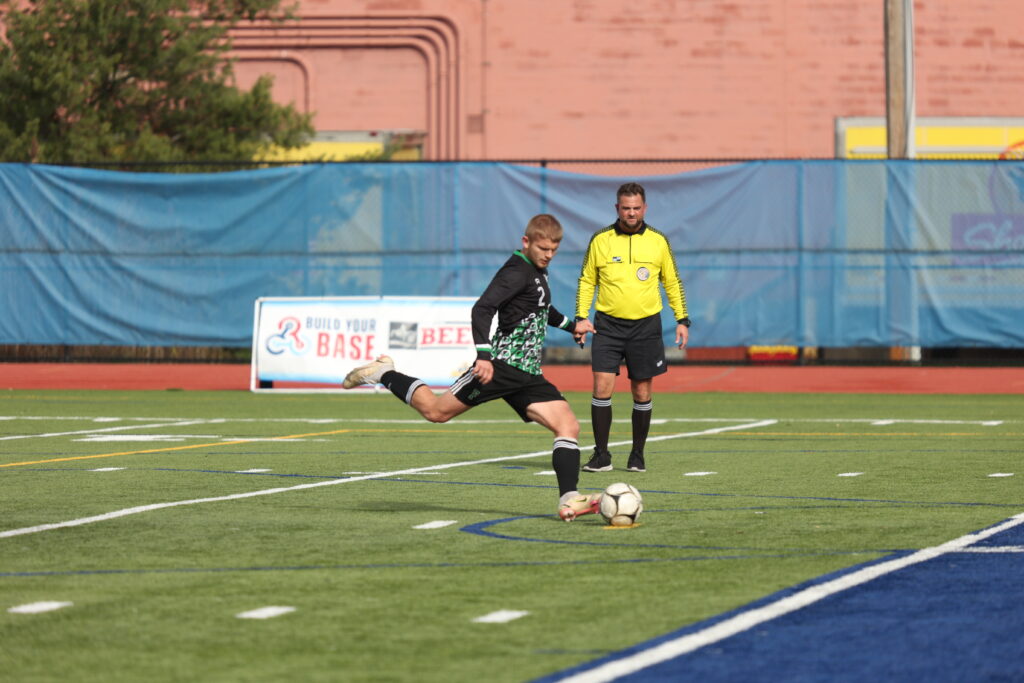 "There was no doubt as to who we were going to send to the line," Vosburg said. "He's Mr. Reliable, but more than that he's just an incredible leader. He's an incredible kid. He's the hardest working kid on the team. When you combine that with his talent and his ability level, it's a special thing. That's an incredibly high-pressure moment. For him to just calmly put that into the side netting is an incredible thing to watch."
Mitchell Ward with a PK goal for Fillmore, who takes a 2-0 lead over Chazy with 14 minutes to go in the second half of the #NYSPHSAA class D boys soccer championship game. pic.twitter.com/hUinqZi8bZ

— NYSPHSAA (@NYSPHSAA) November 13, 2022
Fillmore senior Mitchell Ward talks about winning the class D #nysphsaa boys soccer state championship pic.twitter.com/9seEFjdA1J

— NYSPHSAA (@NYSPHSAA) November 13, 2022
The meeting was the fourth for Fillmore and Chazy in the postseason. Chazy had beaten Fillmore twice previously in the 2005 (2-1 in overtime) and 1999 (2-0) semifinals. A year ago, the Eagles outlasted the seven-time state champs in PKs when goalkeeper Luke Colombo converted the clincher.
Fillmore lost to Mount Academy (IX), 3-1 the next day.
On Sunday, the Eagles (23-0-0) turned the tables on last year's state final loss.
"That senior leadership core that we brought back you can't say enough for what they were able to do for us," Vosburg said referring to Colombo, Ward and Witkowski. "We've got a bunch of guys that went to that state finals last year and I think they could taste it. They knew what they had to do in the offseason to get better."
The shutout was Colombo's 17th of the campaign and sixth this postseason.
Senior goalie Luke Columbo of Fillmore posts a shutout in the class D #nysphsaa boys soccer state championship game pic.twitter.com/yqdfKENrZD

— NYSPHSAA (@NYSPHSAA) November 13, 2022
A 2012 graduate, Vosburg took over for longtime head coach Jamie Mullen who stepped down last season after 31 years at the helm.
"Jamie and I kinda flip flopped roles this year," said Vosburg who had coached modified and volunteered as a varsity assistant the past five years. "He took over as modified coach. This is just as much his win as it is anyone else's. He's built this program from the ground up. Him and Mike Witkowski and Jordan Mullen, his son, they're still valued assistants and just incredible people to work with and I couldn't have done any of this without their support."
The state championship was the 44th in Section V Boys' Soccer history (most in the state), the 33rd outright title and seventh Class D championship.
"What a ride. What a season. This is a big, big night for Fillmore as a community."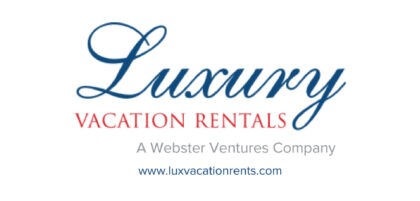 Other results:
SCARSDALE (I) 2
MCQUAID JESUIT (18-1-2) 0
McQuaid fell in its bid for a second state title (won the 2017 AA crown)
GIRLS' SOCCER
IRVINGTON (I) 2
HAVERLING (22-1-0) 1 OT