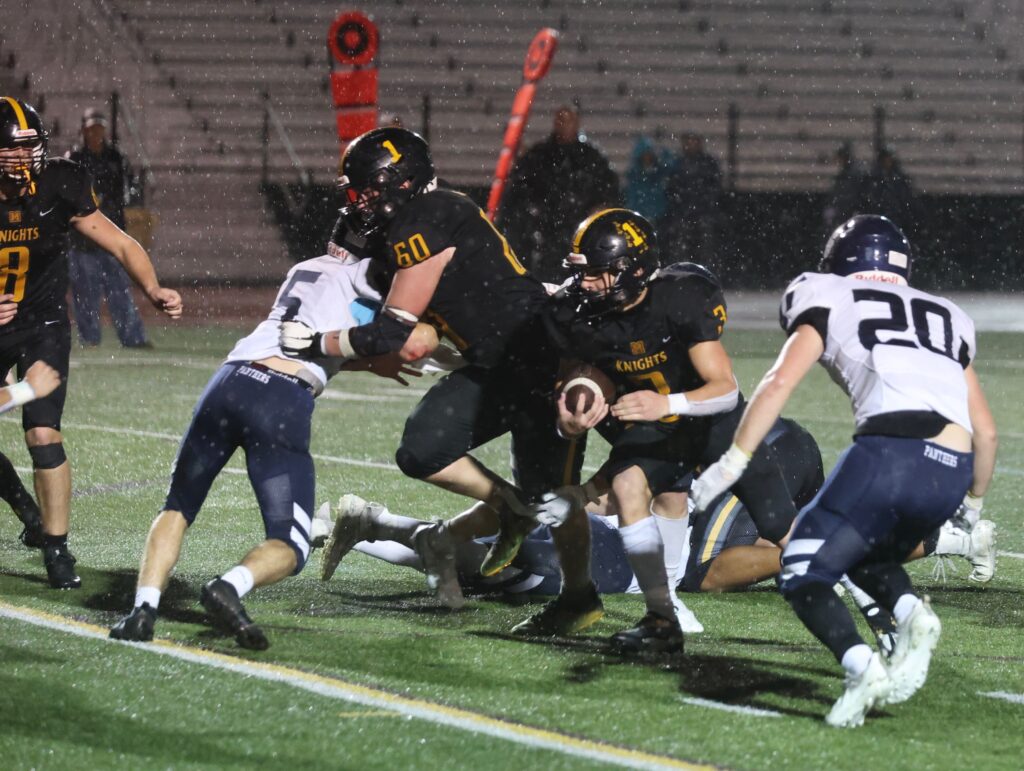 By KEVIN OKLOBZIJA
The McQuaid Jesuit Knights have turned these sectional championship celebrations into a habit lately.
They never get old, though.
Which is why there was a display of pure joy from Knights players, coaches and support staff on the rain-soaked playing field of SUNY Brockport's Eunice Kennedy Shriver Stadium following completion of the rare four-peat on Friday night.
John Harding rushed 31 times for 243 yards and four touchdowns as McQuaid rallied from a pair of first-half deficits to defeat Pittsford 37-14 in the Section V Class AA championship game.
The victory gave McQuaid a fourth consecutive AA title, the first time any school has gone back-to-back-to-back-to-back in Section V's top class since Fairport from 1991 to 1994.
Thus, the post-game delirium, despite a steady rain.
"The brotherhood we form, going to school every day, then football … we love each other and we're celebrating our hard work and our coaches' hard work," senior lineman Shane Williams said.
Pittsford opened 7-0 and 14-7 leads, but over the final three quarters had no answers for McQuaid's offensive line and the quickness and elusiveness of Harding.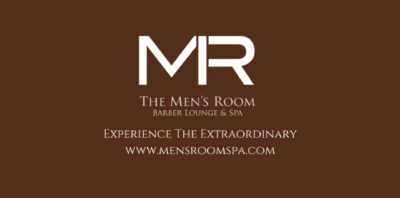 The junior running back scored on runs of 5, 1, 41 and 5 yards and now has 20 rushing touchdowns and 1,336 rushing yards in 11 games.
"They (the offensive linemen) were moving bodies left and right; I wasn't even getting touched the first five yards," Harding said.
In denying Pittsford its first-ever title as a combined program, and first for any Pittsford school since Mendon completed a three-peat 40 years ago, the third-seeded Knights (9-2) needed to overcome a poor start.
Panthers defensive back Luke Fliss intercepted McQuaid quarterback Will DiMarco on the game's first play from scrimmage. One play later, fullback Nathan Rodi barreled 38 yards up the middle for a touchdown and an instant 7-0 lead for the Panthers.
"I even said to the guys you don't get a warm-up quarter, you don't get a warm-up drive, yet we came out a little flat," said McQuaid coach Bobby Bates, whose team advances to the regional to play Section VI repeat champion Bennett at 7 p.m. Nov. 19 at the University of Rochester's Fauver Stadium.
McQuaid tied the score late in the first quarter, executing an 11-play, 84-yard drive that was capped by Harding's 5-yard burst up the middle.
Pittsford then struck with a little offensive trickery. On second-and-eight from their own 39, receiver Jackson Green took the pitch but instead of running, he heaved a deep ball to a wide-open Fliss and the 61-yard catch and run TD gave the Panthers a 14-7 lead.
Despite playing without senior quarterback Caleb Lewis (knee injury), the fourth-seeded Panthers (5-6) were back on top 2:50 into the second quarter.
But the Knights went right back to work – primarily on the ground. They drove 80 yards in 12 plays, capped by Harding's 1-yard run to tie the score 14-14.
So much for the deficit.
"I feel like we've been used to that all year," Harding said. "We've been down, we've been battle-tested, and I don't think that really fazed anyone."
The first possession of the second half proved to be a harbinger of what lie ahead for Pittsford, and it wasn't good.
The Panthers needed to call time out before they ever snapped the ball on first down, then had a fumbled snap, tackle for loss, false start and finally a tackle of Rodi by Nate Coons in the end zone for a safety and a 16-14 McQuaid lead.
"We had an iffy start but they're a resilient group and they never really had any doubt in their minds," Bates said. "We just had to get rolling and they found a way to battle back and battle through it."
The Knights soon extended the lead to 23-14 as Harding darted around the right side, broke two tackles and raced 41 yards for his third TD.
The lead became 30-14 on their next possession. This time, they drove 74 yards in eight plays, the biggest being a 44-yard stutter-stepping, zigging-and-zagging run by Harding.
"He can make any man miss, he's so elusive," Williams said.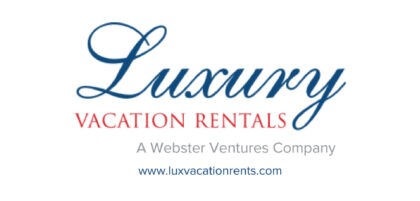 A 200-yard rushing game is hardly the norm. They're even more special in a championship game, and the steady rain was certainly no hindrance to Harding.
"It just feels like playoff football," he said. "Bad weather … you can't change anything, you just have to go out and be the better team."
Said Bates: "He understands the offense, he understands what's going on around him and he's a better person than he is a football player. The kid's special. He's a fantastic young man to be around."
McQuaid's final touchdown came with 7:45 remaining, after an Anthony DiMarco interception set up the Knights deep in Pittsford territory. They initially went backwards on the drive, but Will DiMarco found Gavin Brownlie in the back of the end zone with a 15-yard pass on third down for a 37-14 lead.