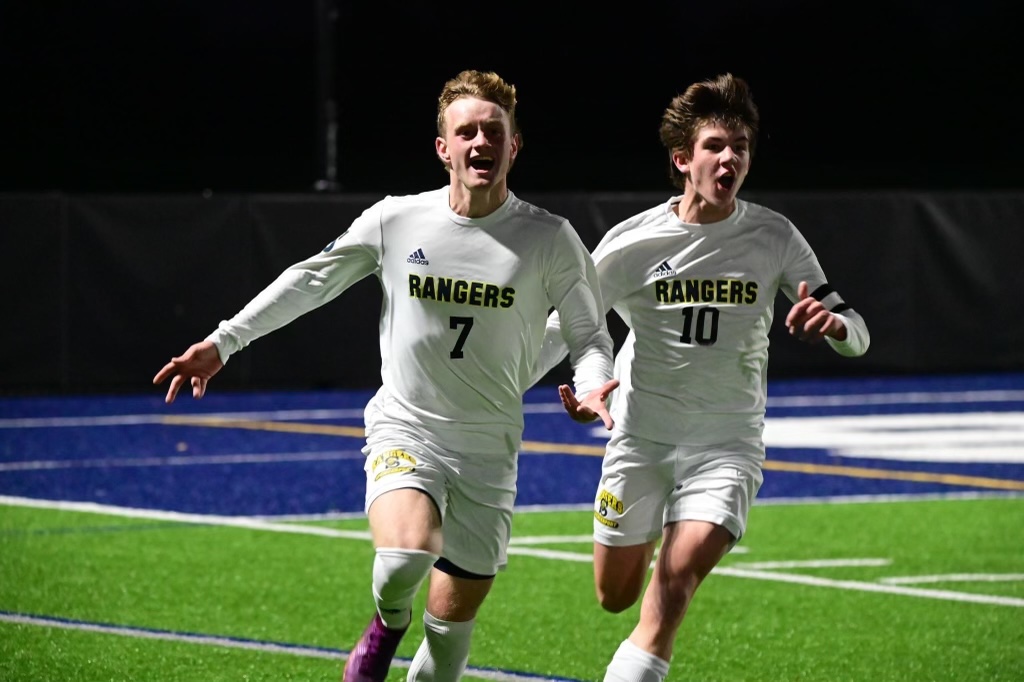 BY JONATHAN SKUZA
GATES, N.Y.– Kyle Milburn scored the game-winning goal for Spencerport in the 77th minute to send the Rangers to their first finals appearance since 2012 Friday evening.
"He's a very special player," Spencerport head coach Jody Wyant stated. "Kyle is if you watch the games and stuff like that, he's very unselfish. I think that all of our forwards are very unselfish. They have this mentality that doesn't matter who puts it in the back of the net at the end of the day, just matters who wins the game and that's all we care about is winning as a team."
"It's what you dream of," Milburn stated about the goal. "The ball from Justice [Hinman], can't play a better ball and I just knew I had to go out there, put my noggin on it and put it in the back of the net and go celebrate. Felt amazing."
The Rangers fought hard through a physical fast-paced game that saw numerous scoring chances from both sides. Milburn was very much in the middle of the physicality Friday.
"I know how to do it for this team," Milburn said. "It's the best team I've been on. I love these guys and I knew I just had to do it for them and they kept me motivated throughout the whole thing."
Despite the numerous scoring chances against Spencerport, goalkeeper Jack Distaffen and the Rangers' defense stood strong against every Webster Thomas offensive push to secure the 1-0 shutout.
"Webster Thomas is a very good team, hats off to them," coach Wyant stated. "Every time we play them it's a battle and our back four played amazing. I think defending, we defend with 11 and we did a good job anytime we can get a shutout."
The Rangers will now face a familiar foe for the Class A title in Pittsford Sutherland. Sutherland has defeated Spencerport the last two years en route to secure Class A sectional championships. The Rangers will look to take down the defending Class A champions Tuesday, November 1 at 5 p.m.