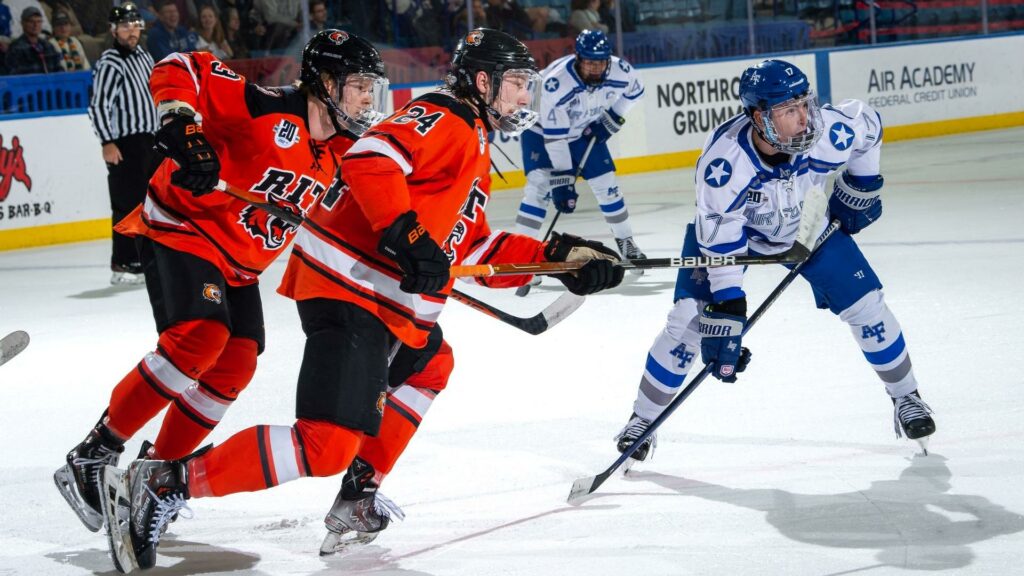 RIT men's hockey earned an Atlantic Hockey Conference road series split against the Air Force Falcons.
The Tigers earned the split Friday evening with a 4-2 victory after dropping the first game Thursday.
Simon Isabelle opened the scoring for RIT at the 14:13 mark of the first period. Isabelle has now scored goals in three consecutive games. Carter Wilkie and Tanner Andrews scored in the second period to give the Tigers a 3-0 lead over Air Force. Wilkie's tally came on the powerplay. Parker Brown got the Falcons on the board in the last minute of the second period to cut the Tiger's lead to two. Tyler Mahan regained the three-goal lead for RIT just past the halfway mark of the third period. Luke Rowe added one more goal for Air Force later on in the period.
Tommy Scarfone saved a season-high 36 shots in the victory Friday evening.
The Tigers fell 3-2 to Air Force Thursday evening. Isabelle and Kobe Walker scored the goals for RIT. Kolby Matthews made 17 saves in the loss on Thursday.
RIT will return home October 28 and 29 to host Holy Cross and continue conference play. Friday's game will begin at 7:05 and Saturday's contest will begin at 4:05.