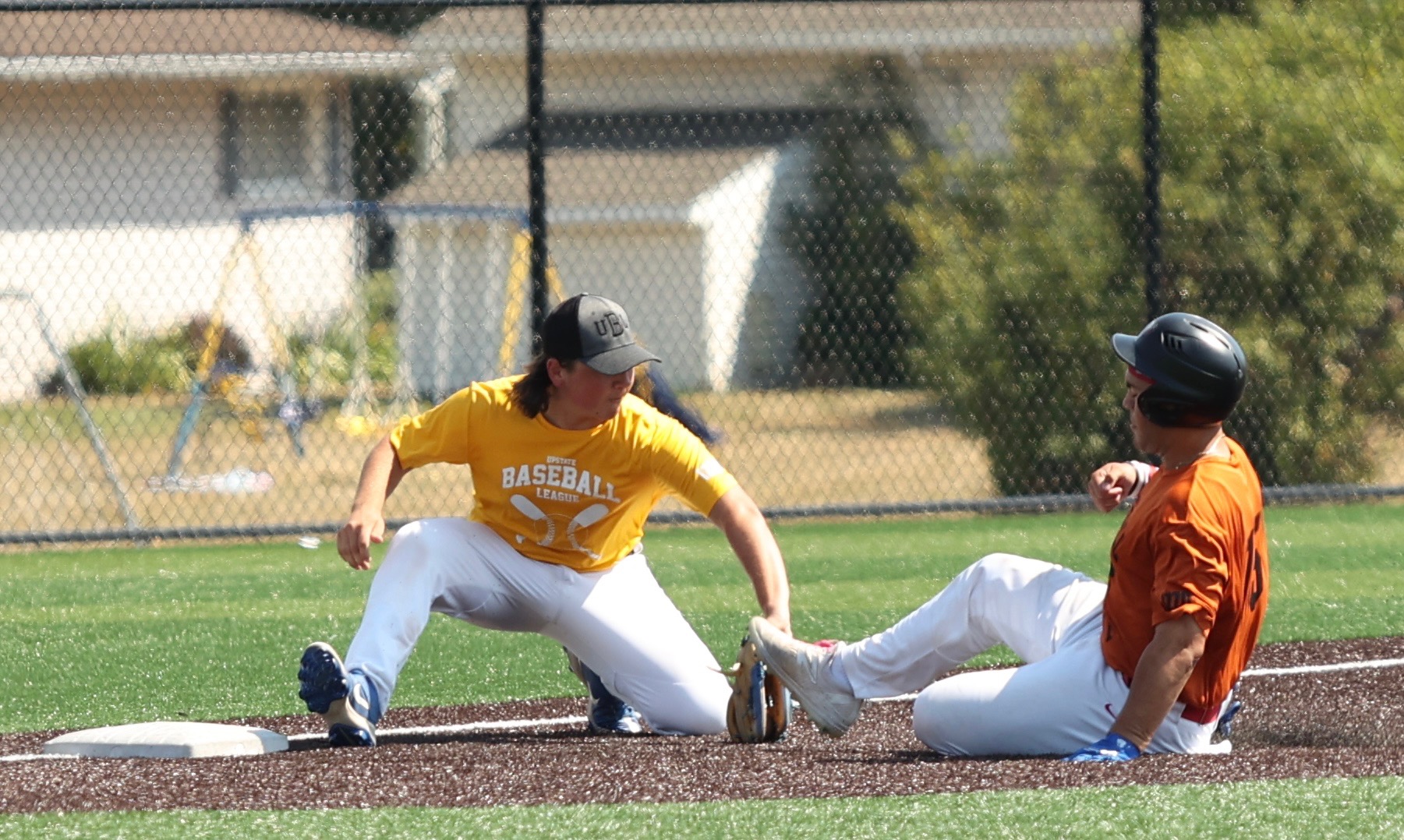 PALE HOSE (5-2) 8
BOMBERS (3-3) 4
Shane Talbot connected on a pair of hits to highlight a late rally as the Pale Hose scored seven unanswered to win for the fifth time in six games. Trailing 4-3, Talbot delivered a two-out RBI triple that plated Alexander Sassaman in the sixth inning. One frame later, the Webster Thomas Titan capped a four-run outburst with a two-out RBI single as the Pale Hose pulled away. Talbot also walked and scored a run in the win.
Shane Talbot knots the game at four with a two-out triple. pic.twitter.com/3VpIU6eyCU

— Paul Gotham (@PickinSplinters) August 20, 2022
Sassaman reached base three times including a leadoff double in the fifth. He eventually scored along with Talbot on a Patrick Altpeter's two-run double. Sassaman hurled two shutout innings in relief to pick up the win. The right-hander retired six of seven batters faced – all on strikes. Wyatt Gray walked and scored twice in the win. Antonio Jorge also crossed home. Evan Cuba walked twice and scored. Isiah Stephens hurled a scoreless inning in relief. Andrew Runke sparked a three-run fourth as the Bombers grabbed a 4-1 lead.
Derrick Allen stays middle third. Bombers have runner on first and second, no outs bottom of the third. pic.twitter.com/gtFOP4apqz

— Paul Gotham (@PickinSplinters) August 20, 2022
With Alex Frisone aboard on a leadoff walk, Runke connected on a one-out single to snap a one-all tie. Jake DiCicco followed with a base hit to put runners on the corners. After a double steal produced a run, Derrick Allen brought home DiCicco with one of his two singles to make it a 4-1 game. DiCicco scored twice in the loss. Christian Morrison went 2-for-4 with a double. Joey Baller walked and added an RBI.

GINTS (3-3) 4
BUCS (2-4) 2
Robert Meeks struck out nine over four innings of work and provided a late insurance run as the Gints put together back-to-back wins. Meeks plated Ian Schmeer with a two-out single in the top of  the seventh. The right-hander started and allowed one run on one hit and a walk over four innings of work to pick up the win. He struck out the side in order in the first and third innings.
Robert Meeks connects on a two-out RBI single. Ian Schmeer scores on the play. Benjamin Horvath keeps it a two-run game with the toss from left field. Heading to the bottom of the seventh: Gints 4 Bucs 2 pic.twitter.com/1eezAesN9v

— Paul Gotham (@PickinSplinters) August 20, 2022
Paul Graziano led the seventh with a single and eventually took advantage of an error on a double steal to score the go-ahead run. Conor Forkey worked a scoreless seventh to register the save. At the plate, Forkey started the scoring when he brought home Ryan Merlo with a two-out single in the top of the first. Jaydan Ryrko also crossed home in the win. Jacob Natale, Nikolas Davilla and Ashton Kwoka had a hit apiece in the win. Trevor Leroy finished 2-for-3 with an RBI to lead the Bucs. Xander Rogers walked twice and scored a run.
Trevor Leroy gets the Bucs on the board with a one-out single. Andrew Mitchell scores on the play. pic.twitter.com/t8uSANecQ6

— Paul Gotham (@PickinSplinters) August 20, 2022
Andrew Mitchell also scored a run. Joe Presutti was 1-for2 with a single. Presutti started and struck out two over three innings of work. Benjamin Horvath struck out two over two scoreless innings of relief.