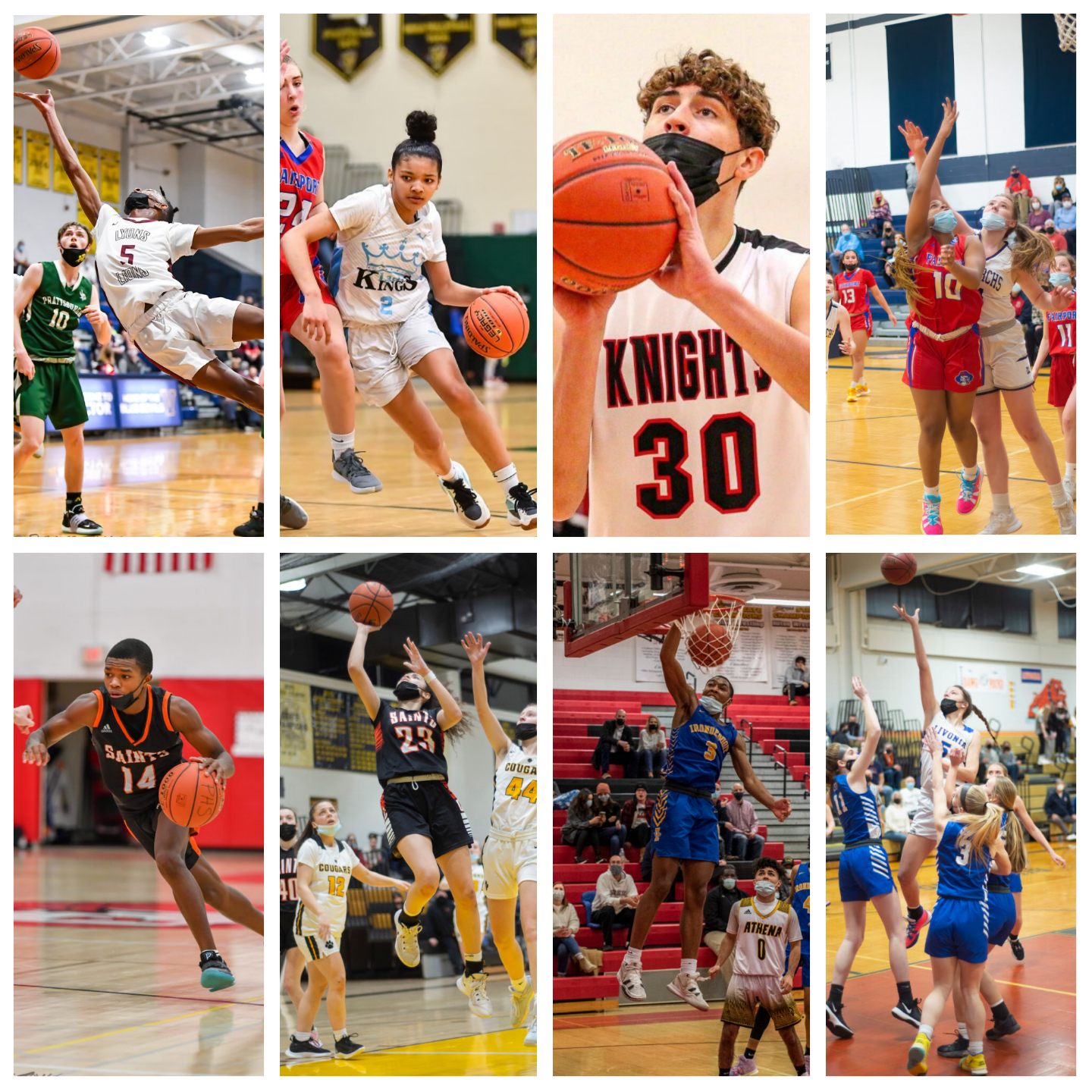 By PAUL GOTHAM
ROCHESTER, N.Y. —  After a two-year hiatus, the Basketball Coaches of New York (BCANY) Summer Hoops Festival returns this weekend to Johnson City, New York.
And a pair of Rochester squads tip-off Friday afternoon with sights set on reaching Sunday's championship game.
"We're excited, looking forward to it," said Jeff Parizek who is in his 10th season as head coach of the Rochester Girls team. "We're super-athletic. We have so many interchangeable parts."
With a pair of Division I commits in Caydence Hadley (Bishop Kearney/Towson State) and Ella Meabon (Fairport/Colgate) along with Livonia's Kylie Buckley who has had Division I interest and LeMoyne commit Sydney Postell (Churchville-Chili), Parizek sees his team's size as an advantage.
"We have seven kids six-foot or bigger," he noted.
Parizek will look to use that height advantage in transition.
"We're preaching that," he said. "With only four (tournament mandated) practices, there's only so much you can do offensively. To be able to run is huge. Rebounding is a big part of transition and with our size we shouldn't struggle with rebounding."
Rochester also features sophomores Mallory Heise (Hilton) and Amaia Jackson (Bishop Kearney) along with junior Aniya Rowe (Bishop Kearney) who each hold Division I offers.
Parizek's 2018 squad led by current Syracuse University guard Dyaisha Fair (Edison Tech) claimed the BCANY championship as did the 2013 team that featured current pro Cierra Dillard (Gates-Chili/Buffalo). If the current lineup is to match those former teams, Parizek knows his players will have to accept different roles than what they play with their high school teams.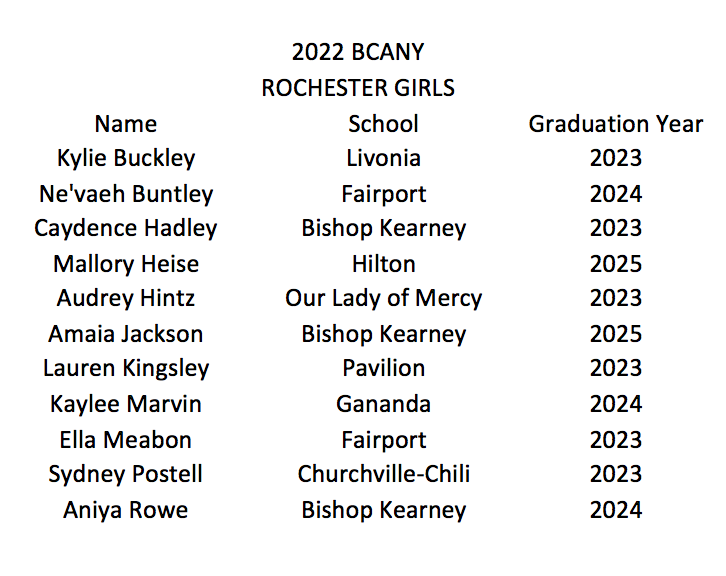 "We went around at practice and asked each kid how many points they score per game. Every kid averages at least 12 points during the high school season. If you do the math, that's over 120 points per game. I love to say we can do that, but more importantly we need to understand there's a lot of talent with one ball. We got to find a way to play together and move it and take good shots.
"Playing in transition is easy. Push the ball and if you can get a layup take it. If you can't, look for that first open shot. Move the ball a little bit and we'll be fine."
Ne'vaeh Buntley (Fairport), Lily Funk (East Rochester), Audrey Hintz (Our Lady of Mercy), Lauren Kingsley (Pavilion) and Kaylee Marvin (Gananda) make up the remainder of the Rochester lineup.
The Rochester Girls open play against the Mid-Hudson squad with a 4:00 p.m. tip off at Johnson Elementary School. Rochester faces the Central squad later in the day before squaring off against Suffolk and Hudson Valley on Saturday.
"It's one of my deepest teams," said Parizek who has coached Rochester since the festival's inception in 2011. "Four years ago with Dyaisha, we knew what we had. We knew we were good. When we won it with Dillard in 2013, we knew what we had. This team is so deep. There is not a drop off from one through 10 on the roster."
Stephen Strauss takes over on the sideline for the Rochester Boys.
"I'm beyond excited about it," said the former Nazareth College assistant. "As a college coach, I was going to recruit at this event every year and evaluate players. I know how great of a tournament it is from that perspective."
Rochester Boys lineup blends All-Monroe County performers Jason Gibbs, Jr. (Churchville-Chili), Xavier Gissendanner (Irondequoit), Max Michalski (Pittsford Sutherland), Nolan Smith (Honeoye Falls-Lima) and Reggie Smith, Jr. (Brighton) with Genesee Region standout Merritt Holly (Le Roy), Wayne County All-League performer JC Walker (Lyons) and RCAC All-League member Marquell Freeman (Edison Tech).
"We feel pretty fortunate with the lineup that we were able to get," Strauss said. "We've got enough depth at point guard. We've got enough depth at the '5,' and we got a whole lot of talent along the wing. We're going to run as much as we can. We're going to try and drive and attack the rim as much as we can. And then we've just got some talent to bang bodies and play physical."
Garrett Clar (Victor), Colin Gentile (Bishop Kearney) and Francis Nwokonko (Brockport) round out the Rochester roster.
Current Detroit Piston Isaiah Stewart (McQuaid Jesuit) and Utah Jazz forward Jeenathan Williams (UPrep) along with current Penn State Nittany Lion, Jalen Pickett led Rochester to the 2016 title – the second straight for the local team.
Rochester opens against Buffalo on Friday. A 2:30 p.m. tip-off is scheduled at Johnson City Elementary. The Boys then face the Central squad later in the day before games against Suffolk and Hudson Valley on Saturday.
"You only get four practices, but you get good players and they want to listen. We get as organized as we can. It's really good basketball.
"I think our roster is as balanced and as deep as anyone we're going to come across. It's going to be fun to see how our guys compete."
Semi-finals and finals take place Sunday morning and afternoon on the Johnson City Central Schools campus.
Precautions surrounding Covid-19 cancelled the 2020 and 2021 Summer Hoops Festival.