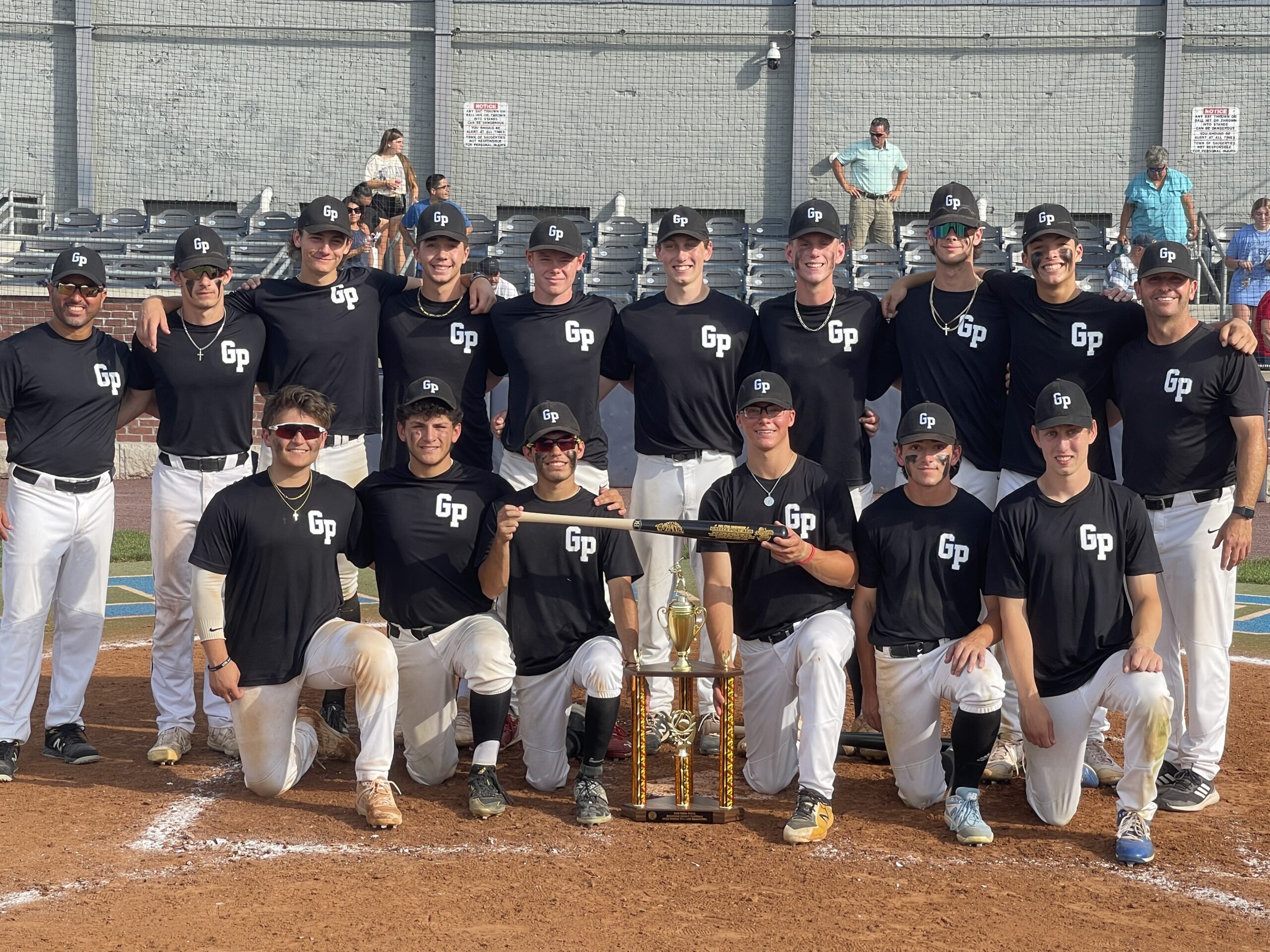 SAUGERTIES, N.Y. — Tournament MVP Zach Allen reached base three times and drove in the go-ahead run with a single in the third as Greece Post 468 defeated Whitestown Post 1113 to win the 2022 New York State Senior American Legion championship, 5-2 in action from Cantine Veterans Memorial Complex on Wednesday.
Allen snapped a two-all tie with a base hit that plated teammate Tanner DeGrazia.
"I was just going up there and seeing the spin up," Allen said of the approach to his second at-bat of the game. "I was just trying to work the count as best as I could. He made a mistake and left a fastball up. I just tried to barrel it."
Allen finished 1-for-2 on the day with two walks. This coming after Tuesday's performance when he collected two hits and drove in seven runs. After falling behind 0-and-2 in his first at-bat, he worked a walk.
"He threw me five straight breaking balls," Allen said of his first time to the plate on Wednesday. "I kinda felt like that was going to be coming. I was just trying to stay within myself and not expand my zone. I was locked in and knew what I needed to do to be able to execute and help the team win."
He also hurled a complete game (five-inning mercy rule) shutout in an 11-0 win over Rockland Pirates Black Leo Laders Post 130 ton Tuesday.
"He had an incredible week," first-year head coach Nelson Madrid said. "He's had a great stretch in general, great summer. You could tell he was in a zone. He wanted this bad. I could see the look in his eye. The whole week he wanted this. He took the bull by the horns and he performed."
Drew Bateman scattered four hits over three-and-a-third scoreless innings of relief to pick up the win. The right-hander entered the game with a runner on and two runs in with two outs in the third and struck out the first batter he faced.
Bateman escaped a bases-loaded, no-out situation in the fourth when he induced a ground ball for a 5-2-3 double play and ended the inning with another ground out.

Julien Mendoza and Connor Sackett worked a scoreless frame apiece to preserve the win. Mendoza needed seven pitches to retire the side in order in the sixth.
"From day one, we told them the only way we could win this is by sticking together and understanding that everybody's role may be different from situation to situation," Madrid explained. "One guy might hot and the other guy is slumping a little bit, and we're going to have to adjust as we go. At the end of the day, everybody is going to get a piece of the pie, and you're still going to be satisfied how everything plays out. You're all part of it. It just comes at different times. Everybody was excited to see everything come to fruition."
Tyler Stack went 3-for-3 with a run scored in the win.
James Capellupo gave Greece an early lead with a two-out double that scored DeGrazia for a 1-0 lead in the first. DeGrazia was 1-for-3 with a triple, a walk and two runs scored.
Matt Salina sparked a two-run fifth with an RBI double. Michael Salina walked and came around to score. Jaden Madrid drove in a run.
"Coach said it best 'we're just going to ride guys who are hot,'" Allen stated. "Everybody knows that, and we're all invested toward one goal. It helps when guys are still locked in and focused on the game even though they may not be getting the part that they want."
Greece Post (18-0) became the first Rochester-area (District 7) to claim the state title since Henrietta won the crown in 1967.
Next up is the Northeast Regional Tournament in Shrewsbury, Massachusetts. The double-elimination tournament opens next Wednesday (August 3rd) with the championship scheduled for Sunday, August 7th. A spot in the American Legion World Series is up for grabs.
"I'm excited that we got more baseball still to go," Madrid noted. "It was great to see the joy in the ballplayers' faces and how much they want this."