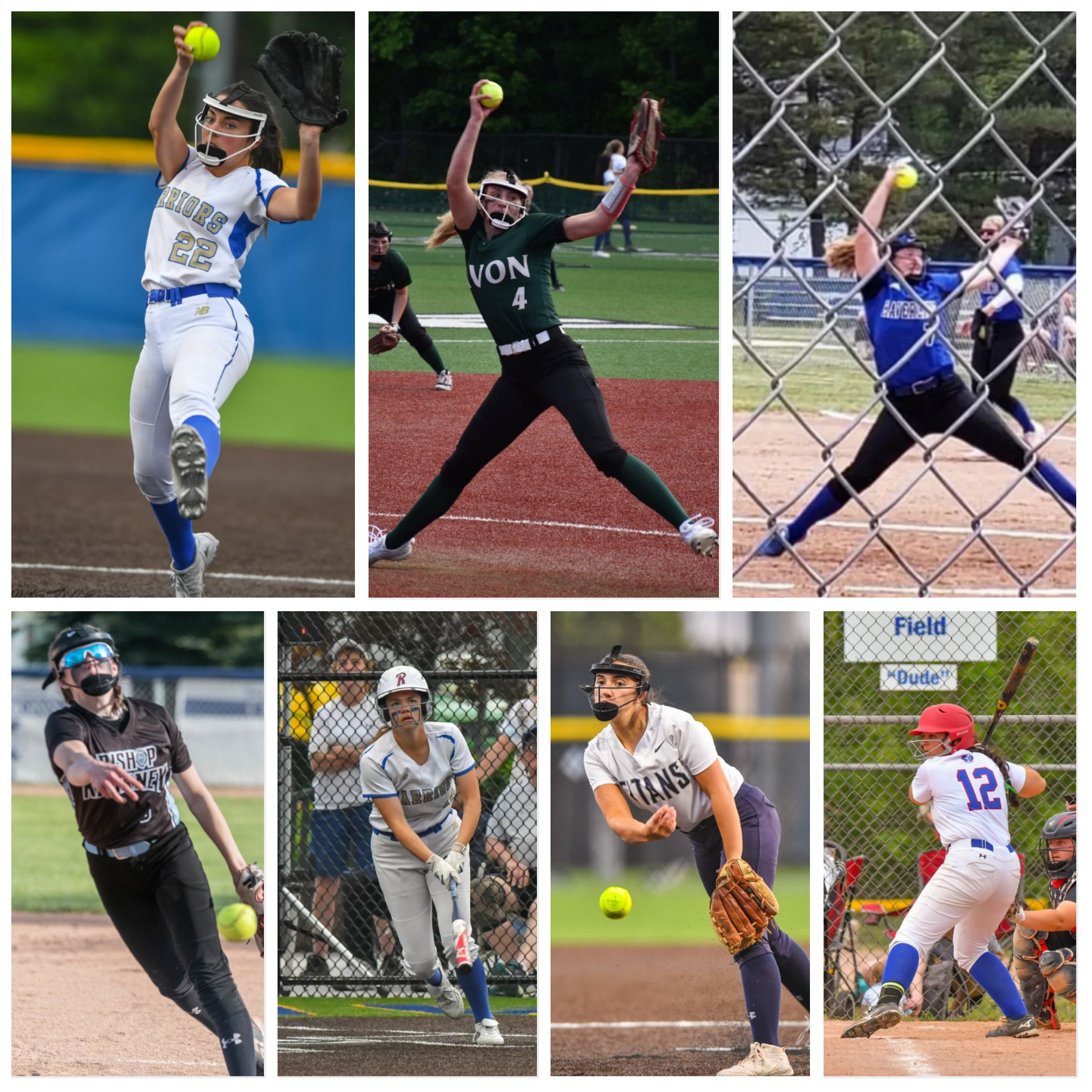 By JOHN LIKANJE
Cecelia Byrne and Amanda Linnenbrink led Fairport to a sectional title. Joelle Jay spearheaded a Victor squad which finished as the runner-up in sectionals.
The senior, junior and sophomore earned All-State honors as announced by the New York State Sportswriters and Coaches Organization for Girls' Sports (NYSSCOGS).
Byrne notched five victories, 67 strikeouts, a 1.10 earned run average and 1.06 WHIP to earn Class AA Third Team honors for Fairport. The senior pitcher led the Red Raiders to the sectional title as she was named to the Monroe County All-County First Team and awarded Section V Class AA Player of the Year. Linnenbrink was the team ace as she accumulated a 12-3 record with a 1.74 earned run average and 1.23 WHIP to be named to the class AA Sixth Team. The junior pitcher amassed 96 punchouts in 84 1/3 innings.
Jay raked to the tune of a .478 batting average with a .958 slugging percentage to be named to the class AA Fourth Team. The Canisius College commit drove in 27 runs, legged out eight doubles and smashed five homers.
Webster Schroeder seniors Molly Broccolo and Krislyn Clement were named to the Class A First Team. Broccolo led the Warriors with her arm and bat. On the mound, the senior pitcher stockpiled a 16-3 record, including four shutouts, a pair of no-hitters and two saves, 135 strikeouts and a 0.63 earned run average. Broccolo delivered on the bump in the state tournament as she hurled two complete games and guided the Warriors to the class A championship. At the dish, Broccolo recorded a .430 batting average with six doubles and 14 stolen bases. The senior pitcher was named Monroe County Division I Player of the Year and Section V Class A1 Player of the Year. Clement battered the ball for a .400 batting average, including 13 doubles, six homers and two triples. The senior utility player accrued a 6-2 record along with a pair of saves, a no-hitter and 53 strikeouts as a pitcher.
Marlayna Cartagena (Irondequoit) and Jaiden Odorisi (Our Lady Of Mercy) earned class A Third Team honors. Cartagena paced the Eagles in batting average (.443), on-base percentage (.506), slugging percentage (.814), base knocks (31), runs scored (30), doubles (14), home runs (four) and hit by pitches (two). On the mound, the junior pitcher posted a 7-6 record, three saves and 11 complete games in 16 appearances. Cartagena accumulated 118 strikeouts in 86 2/3 frames as well.
Rose Nicastro (Webster Thomas) and Carmella Phelan (Bishop Kearney) garnered Class A Fourth Team honors. Nicastro earned an 11-1 record, 1.24 earned run average and 103 strikeouts in 73 2/3 innings.  The senior pitcher held opponents to a .152 batting average and 0.76 WHIP as well. Phelan did it all for the Kings as a ninth grader. On the mound, Phelan racked up 115 innings in which she recorded a 193-to-38 strikeout-to-walk ratio and a 3.50 earned run average en route to 12 wins. At the dish, the freshman pitcher collected a .404 batting average and .611 on-base percentage in 74 plate appearances.
Marley Adams (Wellsville) and Kaili Witherell (Haverling) were named to the Class B Second Team. Witherell hurled five complete-game shutouts and held opponents to a .133 batting average and .180 on-base percentage. The ninth-grader struck out 246 of the 460 batters she faced over 117.1 innings in the circle and posted an ERA of 0.89. At the plate, Witherell slashed .618/.658/1.176 over 76 plate appearances. She collected 23 extra-base hits including seven triples and four home runs. Witherell finished with 42 hits, 32 runs scored and 29 RBI while striking out on two occasions. She also registered a .933 fielding percentage with 276 assists and eight put outs.

Joleigh Crye (Avon), Jessica Majot (Bolivar-Richburg) and Aurora Sabins (Keshequa) earned Class C First Team honors. Crye led the Braves to the state tournament with a .509 batting average, 32 walks, 30 runs scored, 26 RBI and four homers at the dish and 255 strikeouts and a 0.22 earned run average on the mound. The senior pitcher won Section V Class C1 Player of the Year as well. Majot ignited the Wolverines to the Class C3 sectional title with a .451 batting average, including five doubles, four triples and a quartet of home runs, along with 31 runs scored and 23 RBI. The senior infielder went 11-1 on the bump with 110 punchouts in 80 1/3 frames and 1.22 earned run average. Majot tossed three no-hitters as well. Sabins dominated opposing lineups en route to an 18-3 record and 106 strikeouts to 28 walks. The junior pitcher mashed against her counterparts as well with 37 base knocks in 58 at-bats (.638 batting average), including seven doubles, four home runs and three triples, .750 on-base percentage, 37 runs scored, 22 RBI, eight walks and four steals.

Neveah Ross was named to the Class D First Team for Friendship/Scio. As a sophomore, Ross pitched every inning of every game, resulting in a trip to the state tournament for the Eagles. Her season pitching totals consisted of a 17-5 record, 1.25 earned run average and 326 strikeouts as she hurled nine shutouts and two perfect games. Ross was dominant as a hitter as well, finishing with a .516 batting average, .597 on-base percentage, 24 RBI, 17 swiped bags, five triples, four homers and a pair of doubles. The sophomore pitcher's strong season earned her Section V Class D Player of the Year as well.
The other Section V members of the 2022 Softball All-State teams were Malina Ayers (Bolivar-Richburg), Brazen Beckwith (Wellsville), Anna Bello (Webster Thomas), Mikayla Bengsch (Webster Schroeder), Makenzie Cowburn (Wellsville), Maddy DeVore (Caledonia-Mumford), Mackenzie Gillen (Keshequa), Emma Grasso (Wayne), Elle Harrison (Penn Yan), Hannah Hoerter (Hammondsport), Alexis Johnson (Honeoye), Ella Lewis (Lyndonville), Amiela Pilecki (Charles G. Finney), Sydney Pulver (Honeoye), Morghyn Ross (Friendship/Scio), Caitlin Ryan (Oakfield-Alabama), Madison Spakoski (Webster Schroeder), Caydence Spears (Haverling) and Ashlyn Wright (Bloomfield).
TO VIEW THE ENTIRE ALL-STATE TEAMS CLICK HERE.