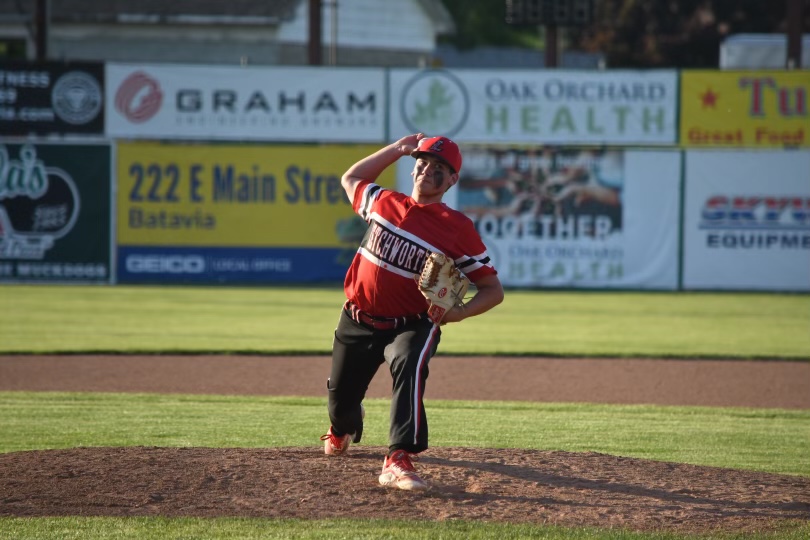 By TJ HATHAWAY
Letchworth has been close for years to breaking through for a sectional title.
"Our program has been competitive for several years." Letchworth coach Tim Eustace said. "Our mentality would always prevent us from getting over the hump. We'd be close, right there, but we would somehow shoot ourselves in the foot."
In 2022, the Indians finally broke through and won the Section V Class C1 Championship, thanks in large part to Player of the Year Adam Halsey (.521 BA, 18 RBI, 0.92 ERA, 4-0).
"Adam was the X-Factor that put us over the edge." Eustace said. "He is one of the most elite level skilled players I've ever coached."
"It means a lot to me." Halsey explained. "I think this award really highlights the work I put in in the off-season, and translating into the regular season. So for me to be recognized for not only my stats but the way I play means a lot to me."
Despite the stats Halsey was able to accrue, Eustace, who was also named C1 Coach of the Year, repeatedly emphasized that it was how Halsey was mentally that was most impressive.
"He has a very seasoned and experienced mentality. He does not let emotion get into his game. He doesn't let success or failure get involved with the next play he is involved with. He's level-headed, and very calm and patient."
Even while being on a team with six seniors, the sophomore was still able to be a great beacon for his teammates to follow on his team.
"All of our kids, even the seniors, followed his example." Eustace described. "Even though he was just a sophomore, his mentality and leadership really guided us through the season."
"Being a leader has always been something I've taken pride in." Halsey said. "Just being that guy that someone can lean on or talk to about anything is something I have always valued. Being able to reassure some guys and help calm them down sometimes is a huge help for them."
Rob Fries and his Avon Braves played Halsey and Letchworth twice over the season.
"I really like the composure he has on the mound. When he pitches he has great control of the game. He can hit well, but when you saw him on the mound it was really tough to get your team going on offense."
"He has some phenomenal stats, but he is a way better example to his teammates than he is just comparing his stats to them." said Eustace. "The intangibles he displays, he works hard, he takes extra reps, he doesn't get upset after a bad call, he doesn't talk bad after a bad play. You wouldn't be able to tell by looking at his face if he just struck out or hit a home run. That's where his value helped us over the season."
Fries had two of his players make the C1 team. Michael Rowland (So., .419 BA, 8 2B, 1 HR, 21 RBI) and Christopher Kashorek (Jr., .429 BA, 7 2B, 5 HR, 4-1) each earned the honor.
Three players made the team from Wayne County, including Jacob Laird (Jr., .419 BA, 8 2B, 1 HR, 21 RBI) from Sodus, Landon Wollschleger (So., .491 BA, 22 RBI, 13 SB) from East Rochester, and Matt DeFischer (Jr., .463 BA, 4 2B, 3 2B, 8 SB) from Williamson.
Bloomfield's Gabe Ward (Jr., .475 BA, 9 RBI, 5 2B, 4 3B, 5-1, 0.97 ERA) and Geneseo's Ethan Bennett (.529 BA) rounded out the Section V Class C1 team.
*Section V coaches decided the All-Class teams.