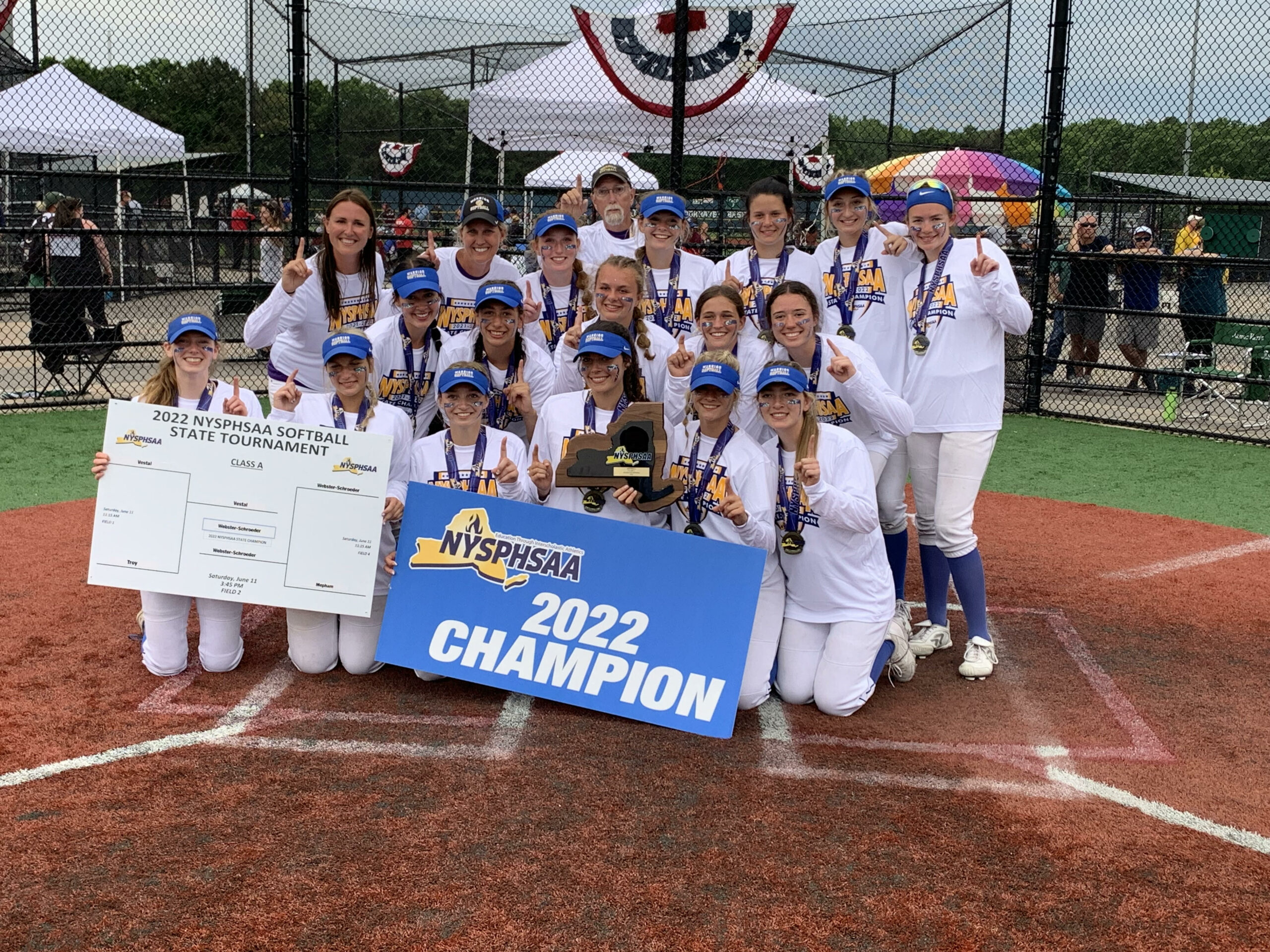 By JOHN LIKANJE
MORICHES, N.Y. – Before Saturday, Molly Broccolo had only pitched two complete games in one day once in her entire life for a combined 12 innings. Not only did she do it for 14 innings, she did so on the biggest stage: the state tournament.
Broccolo went the distance on 91 pitches and led Webster Schroeder to a 5-1 victory over Section IV champion Vestal in the New York State Public High School Athletic Association (NYSPHSAA) Class A Final at the Moriches Athletics Complex.
"It feels good, especially being a senior," Broccolo said. "I know this is my last year and we actually made school history. Now to take it all home is a great feeling."
Despite pitching on two and a half hours of rest, Broccolo picked up right where she left off in the semifinal game. The senior pitcher retired the first 11 batters she faced, including eight via groundballs.
"I definitely think the nervousness of being out there really brought my adrenaline up," Broccolo explained. "It helped me throw my fastball hard and get my spins on my pitches working."
"Molly was very effective," Schroeder head coach Meaghan Kiel said. "She had a lot of one-pitch at-bats, which was huge."
After giving up her lone run of the contest and third of the day in the fourth inning, Broccolo settled down and retired nine of the final 11 hitters she faced. Overall, Broccolo limited the Bears to four hits. The senior pitcher accumulated 12 outs on the ground, five in the air and four on strikes. In her two complete games combined, Broccolo amassed 24 groundballs, 10 outs in the air and seven strikeouts. The senior right-hander credited her drop curve, a pitch which she has developed the past two years.
"I'm more of a drop ball pitcher, so that definitely helps me get more groundballs and pop flies," Broccolo explained. "It (the drop curve) makes sure that they (opposing batters) have to extend out and slap at the ball so that it'll go straight into the ground."
"She was getting ahead and she throws a really good two-seam fastball," Kiel explained about Broccolo's outing. "She just hits her spots. She didn't have a ton of strikeouts, but she gets tons of groundballs because she puts it on the outside corner and they flail at it. Then she puts it on the inside corner."
Broccolo's teammates stepped up as well, chasing Bears starter Mallory Duff in the opening frame with four runs on four hits. Bizzie Baglieri and Madison Spakoski both slugged two-run hits. Spakoski was part of five straight Warriors to reach base to start the bottom of the first inning when she scalded a pitch down the left field line to score Mikayla Bengsch and Hannah Secor.
After Krislyn Clement reached on an error, Baglieri went back up the middle to double up the lead for a commanding 4-0 advantage. Clement added to the lead with an RBI double in the fifth inning. The senior shortstop finished the day with three runs batted in over two games. Bengsch posted a pair of singles and two runs scored in the state title game.
The Warriors concluded the 2022 season with back-to-back sectional titles, a Far West Regional title and their first state championship in program history.
"Awesome," Kiel exclaimed about winning a state title. "It's unbelievable. We worked so hard. This has been our goal for the last three years."
NYSPHSAA SEMIFINALS
Class A
WELLINGTON C MEPHAM (VIII) 2
WEBSTER SCHROEDER 4
Krislyn Clement smacked a go-ahead, two-run double during a three-run fith inning as Webster Schroeder advanced to the state title game. Trailing 2-1, Mikayla Bengsch ignited the rally with a one-out single to center and Hannah Secor drew a walk. Madison Spakoski hustled to first base on a fielder's choice, setting up Clement with runners on first and second. Clement attacked the first pitch and drove it to the left center gap, scoring Secor and Spakoski. Then Bizzie Baglieri added insurance with a ground-rule double to right. Molly Broccolo hurled a complete game with three strikeouts. The senior right-hander retired the first six batters she faced and finished the contest by sending down six of the last seven hitters she pitched against. Broccolo posted 12 outs on the ground, five in the air and one at home plate as well.
Class C
AVON 0
GREENWICH (II) 5
Joleigh Crye amassed eight strikeouts in a complete game effort to lead Avon. After giving up an RBI single in the opening frame, the senior pitcher settled in to retire nine of the next 12 batters she faced. Crye's other 10 outs consisted of eight on the ground, one in the air and another at home plate. The senior right-hander accounted for two of the team's three base knocks as well with a pair of singles. Senior centerfielder Madeline Ruter recorded the only other hit for the Braves with a single up the middle.
Class D
FRIENDSHIP/SCIO 2
DEPOSIT-HANCOCK (IV) 7
Kiara Grover and Morghyn Ross both posted a base knock to lead Friendship/Scio. Ross singled, advanced on a passed ball and crossed the plate on Grover's run-scoring hit in the third inning. Sophomore pitcher Nevaeh Ross walked, swiped a bag and scored in the opening frame.