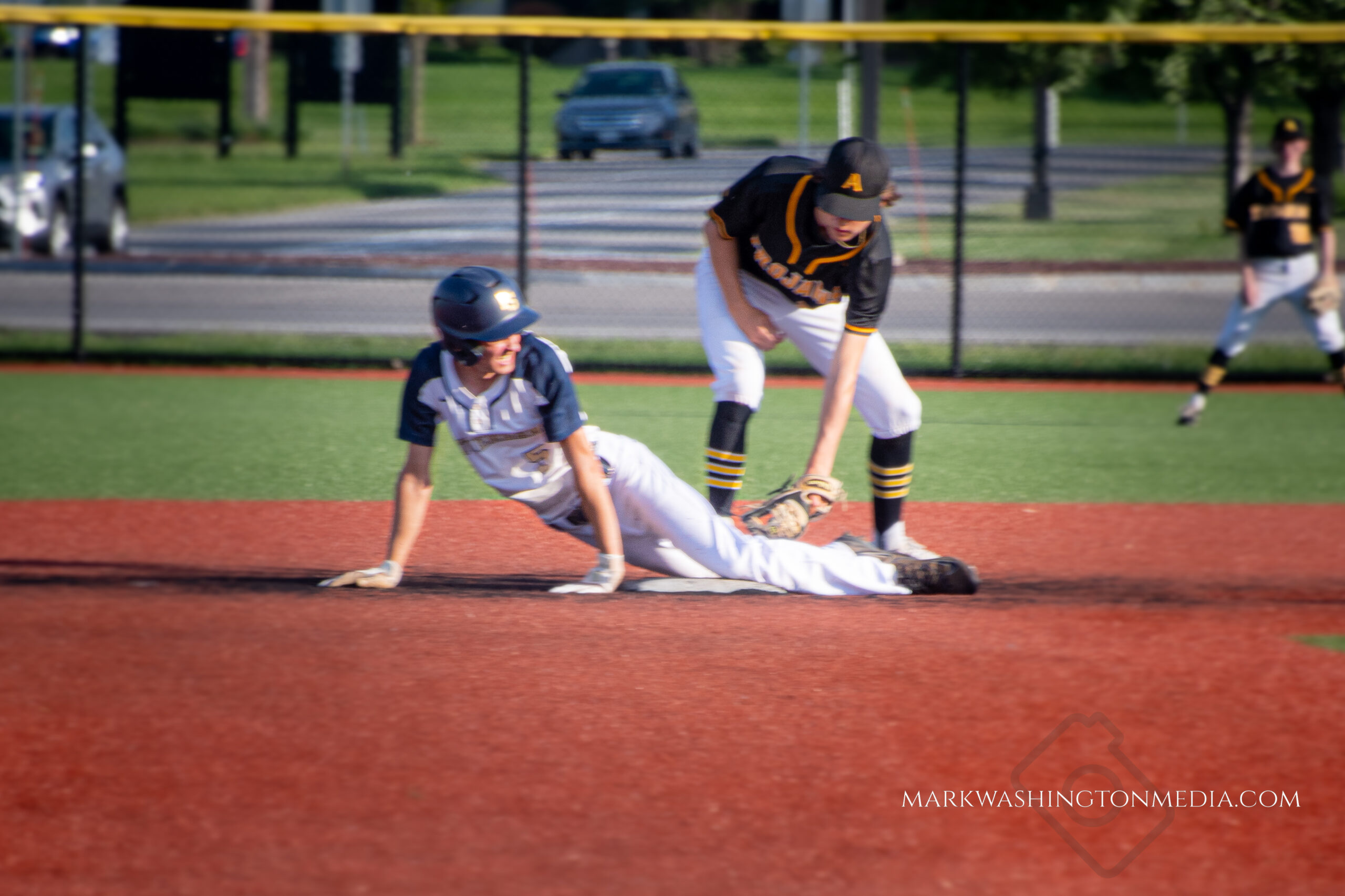 By TJ HATHAWAY
ROCHESTER, N.Y. — Earlier in the season, on April 7th, Greece Athena traveled to Pittsford Sutherland, and defeated the Knights 7-3. The No. 5 seed Pittsford Sutherland Knights didn't forget that moment, and they were able to take down the No. 6 seed Greece Athena Trojans 14-2 to win the Class A2 Section V Championship, Tuesday.
"I actually said to them after that game, remember this feeling, remember them on our field right now, we're going to have a chance against them at the end of the season, and we did." said Sutherland head coach Brandon DeRosa. "I didn't know that was actually going to happen, but we did, and these guys were ready for the challenge. They (Greece Athena) are a really good ball club, I'm sure they will be here again next year." 
Sutherland took control of the game early, scoring a total of eight runs in the first two innings. The Knights then scored once in the third and fifth innings, and four times in the fourth inning. DeRosa was proud of how his team was able to take their at-bats.
"We've been working on it for a long time. With our bats, we knew what we were capable of, and it has not really culminated all year, and to have it happen in the sectional championship like that, you can't ask for a better time for the bats to come alive."
Paul Byrne started for Sutherland, and ended up tallying six strikeouts in five innings of work. The sophomore ended up earning himself A2 Player of the Game honors.
Byrne strikes out two to end the inning, but Athena scores a run to make the game @AthenaBaseball 1, @SHSBSBL 8 going to bottom three. pic.twitter.com/MJ2IXenLem

— TJ Hathaway (@tj_hathaway) May 31, 2022
"I just try to hit my spots," said Byrne.  "Against righties or lefties, just hit the outside on my fastball, and then on my curveball try and put it low so they can't barrel it up. Then we get weak ground balls, and pop-flies."

"Paul doesn't let things affect him," DeRosa said of Byrne. "He doesn't let big moments make him get tight. He throws strikes, he's aggressive, and he's just a tough kid. He battles, and he trusts his teammates. The moment does not get too big for him, and that's what I think really makes him effective because pressure situations in baseball can really make or break guys."
The win gave Sutherland its third championship under the sixth-year head coach.
"We've always been a really good program, lots of sectional championships here," said DeRosa. "Different classes come through every year, obviously you have to work with the guys you have. The biggest thing is the players win. It's all about these guys. They have to put the work in, it's never a guarantee. So every year it's brand new. It's not like it's automatically going to happen that you're going to win a sectional championship. And these guys have put in the work all off-season, whether it be in the summer or winter, so it's well deserved."
Cole Mann had three hits and three RBI for Sutherland, including an inside-the-park home run in the fourth inning. Jacob Fekete had a two-run triple in the first inning, and a two-run double in the second inning. Jackson Zawacki singled twice and tallied four RBI. Alex Renzi doubled and had two singles. Tyler Mullin had a RBI single. Cole Pringle singled twice.
Sammy Saucke singled and had a RBI triple for Athena. Jaden Madrid, Aleks Englert, Caleb Mitchell, Riley Catena, and Ben Weilart all singled. Connor Osier started on the mound.
"This is our goal every single year," DeRosa explained. "When we talk to the team, our goal is to win a sectional championship, not just to get here. There are so many ups and downs in a high school baseball season, and we just tell them to stay true to who you are, work everyday, work through things. I'm very happy for these guys, they've worked their tails off, and it is well deserved all around."
 "It feels good." said Byrne. "I still got two more years left, two more other years to get a block. I get to live it up for now until next season."
Pittsford Sutherland will play Webster Thomas, the A1 winner, in the NYS Class A Regional qualifier on Wednesday, June 1st. A 5 p.m first pitch is scheduled at Monroe Community College. The winner of that game will face Hamburg (VI) in the NYS quarterfinals.