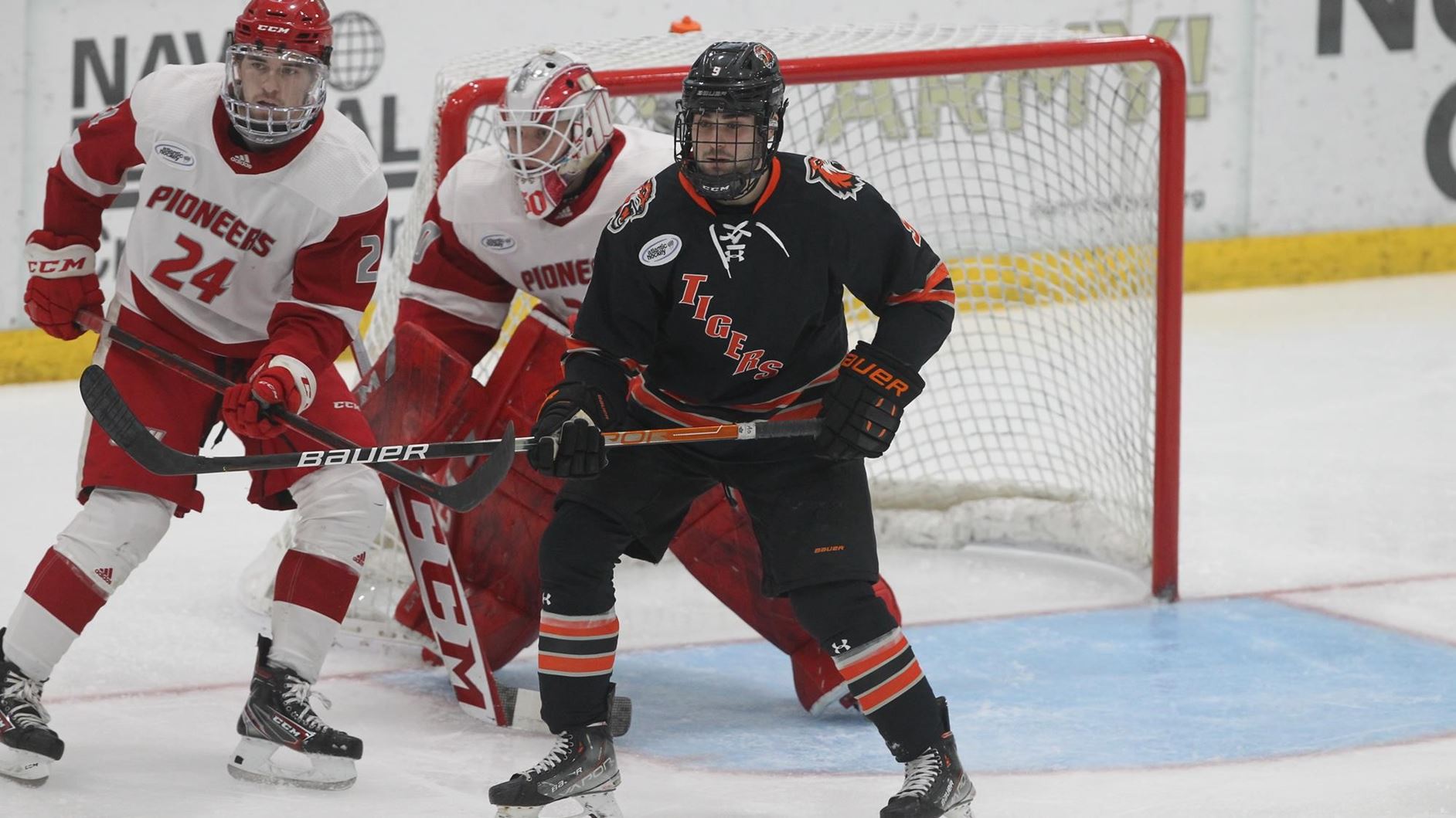 Courtesy of RITAthletics.com
ROCHESTER, N.Y. – The RIT men's hockey team hosts Sacred Heart in a best-of-three Atlantic Hockey Quarterfinal series this Friday-Sunday (March 11-13). Face-off is set for 7:05 p.m. on Friday and Saturday and, if necessary, 5:05 p.m. on Sunday.
The Tigers clinched the fourth seed after finishing the regular season with a 12-10-4 league mark and are in the hunt for their fourth Atlantic Hockey Championship and first since 2015. RIT is hosting postseason play for the first time since falling to Sacred Heart, 2-1, in a first-round Atlantic Hockey series in 2018. The Tigers also haven't hosted a quarterfinal series since sweeping Air Force, 2-0, in 2015.
FOLLOW LIVE
Watch: FloHockey.tv/events (Gene Battaglia, John DiTullio)
Local Audio: WITR 89.7 FM or FOX Sports 1280 AM
Web Audio: witr.rit.edu or foxsports1280.iheart.com
PxP/Color: Ed Trefzger, Scott Biggar, Matt Campbell
Live Stats: ritathletics.com/sidearmstats/mhockey
Twitter: @RITMHKY
ATLANTIC HOCKEY TOURNAMENT DIGITAL GAME PROGRAM (PDF)
ATLANTIC HOCKEY TOURNAMENT CENTRAL
RIT VS. SACRED HEART REWIND
RIT defeated Sacred Heart twice during the regular season, 3-2 at home on Jan. 11 and 5-1 on Feb. 1 in a game played at Army. The games were originally scheduled to be played in Bridgeport, Conn., on Jan. 1-2, but were postponed due to COVID protocol. The first game saw the Tigers build a 3-0 lead on goals by senior forward Jake Hamacher and junior defenseman Gianfranco Cassaro in a three-minute, first-period stretch and a second-period tally by senior forward Nick Bruce.  The Pioneers scored twice in the third but were unable to equalize while junior goaltender Kolby Matthews totaled 37 saves to backstop the win.
The rematch saw RIT break open a 1-1 game after 20 minutes of play with three second-period goals in a nine-minute stretch en route the win.  Junior forward Andrew Rinaldi notched two goals while freshman forward Carter Wilkie added a goal and an assist, while freshman goaltender Tommy Scarfone made 14 saves. RIT held Sacred heart without a shot on goal in the third period.
RIT VS. SACRED HEART IN THE ATLANTIC HOCKEY TOURNAMENT
RIT has met Sacred Heart three times in Atlantic Hockey Tournament history. Sacred Heart upset the Tigers in three games during the first round of the 2018 postseason before RIT returned the favor in the quarterfinals of the 2019 tournament. RIT also defeated the Pioneers, 6-1, in the 2010 championship game for its first Atlantic Hockey title on the way to and eventual Frozen Four appearance.
NO PLACE LIKE HOME FOR THE PLAYOFFS
RIT owns a 10-2 record in Atlantic Hockey Tournament Quarterfinal games played at home and is 14-6 in 20 postseason games played on home ice.

WHO'S AFRAID OF A COUPLE EXTRA MINUTES
RIT is 5-1-4 in 10 overtime games this season, most recently defeating host Air Force, 3-2, (Feb. 25) on freshman forward Carter Wilkie's deciding tally 38 seconds into extra time. However, the Falcons handed the Tigers their first overtime loss of the season the following night, 1-0, after breaking the scoreless tie 40 seconds into overtime.
….ESPECIALLY IF YOU HAVE THIS GUY
Freshman forward Carter Wilkie is tied for third nationally this winter with five game-winning goals, while leading the way with three overtime game-winning tallies. Only four other players have scored three overtime game-winners in a season since the 2012-13 season. Ludwig Stenlund (Niagara) and Nick Swaney (Minnesota) both did it in 2018-19, after Mich Vecchione (Union) and Jack Eichel (Boston University) did it in 2016-17 and 2014-15, respectively.
A DAN-DY AT BOTH ENDS OF THE ICE
Senior defenseman Dan Willett ranks third nationally and first in Atlantic Hockey with 85 blocked shots this winter. He also ranks second for RIT with 13 assists and is fifth with 15 points, while both of his goals were game-winners. A two-time Atlantic Hockey Defensive Player of the Week (Nov. 29, Feb. 7) and the Defensive Player of the Month for October, Willett assisted two goals before scoring what proved to be the deciding tally with 4:13 left in regulation during the 5-4 victory at Princeton (Nov. 26). He has blocked at least four shots on nine occasions, knocking down a season-high seven shots in the St. Lawrence win and seven more to go along with the eventual game-winning goal in the 5-1 win over Sacred Heart (Feb. 1).
GOING TOMMY
Freshman goaltender Tommy Scarfone started RIT's final seven games of the regular season, compiling a .926 save percentage and a 2.26 goals against average, including 33 saves on three occasions down the stretch. He was named the Atlantic Hockey Goaltender of the Week on Feb. 21 after notching 33 stops, including 17 in the third period, during the 4-2 win at Niagara (Feb. 18). Scarfone was credited with 33 saves while narrowly missing his second career shutout in the Tigers' 1-0 OT setback at Air force (Feb. 26) to close the regular season. Overall, Scarfone ranks fourth in Atlantic with a .915 save percentage and seventh with a 2.60 GAA, compiling a 6-7-1 record in 16 appearances this season.
RATED ROOKIE
Freshman forward Carter Wilkie quickly established himself as one of Atlantic Hockey's top first-year players, winning five of the first seven Atlantic Hockey Rookie of the Week honors of the season as well as Rookie of the Month recognition for October and November. Wilkie finished the regular season ranked third in the conference with 27 points and second with 12 goals, including five of the game-winning variety – tied for the third-highest total in the country. He scored the deciding tally 30 seconds into overtime in the 3-2 upset at then No. 13 Notre Dame, and also notched the game-winner to seal RIT's 3-2 overtime win at AIC (Nov. 7). Wilkie netted the deciding tally with 10.6 left in regulation to defeat host Niagara, 4-2 (Feb. 18) and recently won his seventh AHA Rookie of the Week honor after scoring the overtime game-winning goal to seal the Tigers' 3-2 win at Air Force (Feb. 25). He entered the postseason tied for ninth among the nation's freshmen in scoring and tied for fourth in goals.
WILL POWER
Senior forward Will Calverley leads Atlantic Hockey with 15 goals and is tied for fourth with 26 points. The 2022 Hobey Baker Award nominee put together an early-season four-game goal-scoring streak, including the game-winner in the Tigers' 2-1 victory over St. Lawrence in the annual Brick City Weekend game (Oct. 16) before notching a goal and an assist in RIT's 3-2 OT upset at current No. 7-ranked Notre Dame (Oct. 21). The 2021 AHCA Second-Team All-American notched a pair of three-point outings this season, including a three-assist effort in the 6-5 OT win at Niagara (Jan. 22) after notching two goals and an assist in a 4-3 setback at Army (Dec. 12). He recently scored his conference-leading sixth power-play goal of the season in RIT's 3-2 win over visiting Niagara (Feb. 19) during the regular-season home finale. The Scarborough, Ontario native leads all Atlantic Hockey players with 47 career goals and is second with 90 career points in 121 games over the last four seasons. Calverley was named only the fourth All-American in Division-I era history (AHCA Second-Team) last season while earning Atlantic Hockey-West Co-Player of the Year and Best Defensive Forward plaudits.
WAYNE'S WORLD
Head Coach Wayne Wilson became the 49th NCAA men's hockey coach to hit the 400-win plateau with the 1-0 OT win at Princeton (Nov. 27). Wilson ranks 16th among active coaches with a 407-288-77 record the last 23 seasons – all on the Tiger bench. The only coach in NCAA history to win the Spencer Penrose (D1 National COY, 2001) and the Sid Watson (D3 National COY, 2010), he totaled a 116-31-12 mark in six Division III campaigns (1999-2005) and owns a 291-257-65 record through 17 Division-I seasons.
START ME UP
RIT is 11-1-1 when scoring first this season and 10-0-1 when holding a lead after two periods. However, the Tigers are 1-13-2 when trailing after 40 minutes of play.
MAGIC NUMBER
RIT's is 14-3-3 when holding opponents to three goals or less, including an 12-3-1 mark when holding opponents under three goals.
GREEN EGGS AND HAMACHER
Senior forward Jake Hamacher notched an assist for his 100th career point during the Tigers' 4-4 tie versus AIC (Feb. 5), becoming the 14th Division I-era Tiger to achieve the milestone. He leads all active Atlantic Hockey players with 105 career points, while ranking second in both goals (43) and assists (62).
GAME ON…AND ON AND ON
Senior defenseman Dan Willett and senior forward Jake Hamacher broke the Atlantic Hockey record for career games played during RIT's home-and-home series with Niagara (Feb. 18-19) last month. Also ranked first and second, respectively in the RIT D1-era record books, Willett has played 162 games during his RIT career, while Hamacher has played 161 career games in a Tiger sweater entering the postseason.
YOU MISS 100% OF THE SHOTS YOU CAN'T TAKE
RIT limited Sacred Heart to 15 shots on goal in its 5-1 victory on Feb. 2 – the fewest since limiting Canisius to a D1 era-low 12 in a 2-0 victory on Jan. 20, 2018. Holding the Pioneers without a shot on goal over the final 25:53 of regulation, the game was also the 15th time the Tigers held an opponent under 20 shots on goal during the last five seasons.
…BUT QUALITY OVER QUANTITY ALSO COUNTS
RIT registered a season-low 14 shots on goal in its 4-2 win at Niagara (Feb. 18) – the fewest since the 2019 season when the Tigers put 11 pucks on goal in a 2-1 victory at Air Force (Oct. 24) and then again the following night in a 1-0 win (Oct. 25) over the Falcons.
ABOUT THE PIONEERS
Sacred Heart earned five out of six points on the final weekend of the regular season with a 5-2 victory and a 6-6 tie/shootout win during a home-and-home series with Army. Junior forward Neil Shea notched two goals and an assist while junior forward Braeden Tuck added three assists in the opening win in Bridgeport. The following night in West Point, the Pioneers fell behind, 6-2, midway through the second period before scoring four-unanswered goals the rest of the way, including the game-tying tally by Shea with 6:03 left in regulation, en route to the tie. Tuck finished with a goal and two assists while senior forward Todd Goehring also had two goals. Shea currently ranks second in the conference with 29 points and second with 18 assists. He was named the Atlantic Hockey Player of the Month after leading the conference with 12 points, five goals and seven assists while notching at least one point in six of the Pioneers' nine February games. Junior defenseman Logan Britt is tied for third in Atlantic Hockey with 17 assists.
FOUR THE MOST PART
RIT is 2-11-1 when allowing four or more goals. The Tigers' 6-5 OT win at Niagara (Jan. 22) marked the Tigers' first victory of the season when allowing five or more goals.
JUST LEAVE THE RED LIGHT ON NEXT TIME
RIT was credited with the fastest consecutive goals by the same team in over 24 years at the end of its 4-2 at Niagara (Feb. 18). Freshman forward Carter Wilkie broke a 2-2 tie with 10.4 seconds left in regulation before senior forward Will Calverley was credited with a goal with 6.9 on the clock after the Purple Eagles won the ensuing draw directly back into their own empty net. According to the NCAA record book, RIT tied the fourth-fastest pair of goals ever scored by the same team, matching UMass-Lowell's Randy LeBrasseur and Bill Dohaney's feat against Minnesota on Jan. 3, 1987. The Tiger goals were also the quickest since Nebraska-Omaha's Andrew Tortorella and Jason Cupp scored in a three-second span opposite Denver on Nov. 15, 1997. New Hampshire's John Gray scored twice in a three-second span versus Colgate on on Feb. 6, 1971 for the fastest consecutive goals scored by the same player, while Colorado College's Tony Frasca and Omer Brandt hold the all-time record with goals in a two-second span against Michigan Tech on Feb. 1, 1962.
DANDY ANDY
Junior forward Andrew Rinaldi notched two goal in RIT's 5-1 win over Sacred Heart (Feb. 2). He scored RIT's first goal of the 2021-22 campaign in the opener versus Colgate and added two more, including the short-handed game-winner, the following game in a 4-2 win at Army. Prior to finishing scoreless in 11 games during the pandemic-shortened 2020-21 season, Rinaldi finished third on the team with 10 goals during his freshman campaign.
GAME CHANGING VOTE
A proposal was passed last month at the NCAA Convention during the Division III Business meeting which will allow RIT to offer scholarships to its Division I men's and women's hockey student-athletes. Multi-divisional intercollegiate athletic programs like RIT, which sponsors 22 Division III teams along with two Division I hockey teams, were previously not allowed to apply all Division I legislation to its Division I teams, including the inability to award athletic grant-in-aid to its players based on a 2004 bylaw. However, with the vote overwhelmingly passing by a 388-18-39 margin, the Tigers will be on the same footing as the rest of its peers across the country with a full 18 scholarships available to each hockey team.
BLOCK PARTY
RIT blocked a season-high 19 shots in its 5-1 win over Sacred Heart (Feb. 2), eclipsing the 18 it knocked down in the 3-3 tie with visiting Mercyhurst on Oct. 29. Senior defenseman Dan Willett totaled a team-high seven blocks, matching his season-high from the Tigers' 2-1 win over St. Lawrence (Oct. 16).
NON-CONFERENCE, NO PROBLEM
RIT finished the non-conference portion of the 2021-22 schedule with a 4-4-0 record, tying the highest single-season win total in the Division-I era. It was also the Tigers' third-consecutive season finishing with a .500 record in non-league games after finishing 2-2-1 last year and 4-4-0 in 2019-20.
BRUCE ALMIGHTY
Senior forward Nick Bruce logged his second two-goal game of the year in RIT's 6-5 OT win at Niagara (Jan. 22). His second goal was his 50th career point during his 100th career appearance in a Tiger sweater. Bruce also tallied twice in the Tigers' 4-3 win over visiting Holy Cross on Nov. 20 and is one of four Tigers who returned for a fifth year with the program, joining senior defenseman Dan Willett, senior forward Jake Hamacher and senior goalie Ian Andriano in using the additional year of eligibility granted by the NCAA due to the COVID-19 pandemic.
SAVE MATTHEWS BAND
Junior Kolby Matthews was named the Atlantic Hockey Goalie of the Week twice earlier this season. He earned his first career honor after compiling a career-high 40 saves to preserve a 2-2 tie at Army (Oct. 9), marking the highest save total by a Tiger since Logan Drackett stopped 41 shots in a 4-1 victory at Robert Morris (Feb. 8, 2020) two seasons ago. Matthews also garnered the award following the Mercyhurst series (Nov. 1) after stopping 22 shots and a pair of shootout attempts in the 3-3 tie/shootout win followed by 29 saves in the 3-1 win the next day.
DOT MATRIX
RIT Senior forward Will Calverley entered the week 22nd nationally with 352 face-off wins. He won a season-high 16 on three occasions, including 16-of-26 performances in the 4-4 tie at Army (Oct. 9) and the 3-2 win over St. Lawrence (Oct. 16). Freshman forward Carter Wilkie is tied for 49th nationally with 292 face-off wins, including a season-high 20-of-24 wins in the 3-3 tie with visiting Mercyhurst (Oct. 29).
JUST KEEP SHOOTING
RIT took a season-high 41 shots in the 3-2 OT victory at AIC (Nov. 7), eclipsing the 36 shots it took in the 3-1 victory over visiting Mercyhurst (Oct. 30) the previous weekend. The Tigers also finished with 40 shots in the 5-4 victory at Princeton (Nov. 26).
BIG DEAL
RIT's 3-2 OT win at No. 13 Notre Dame (Oct. 21) was its first victory over a Big-10 opponent during the Division-I era. The Tigers were 0-4-1 in five previous meetings, most recently a 3-1 setback opposite No. 12 Ohio State on Oct. 12, 2019 at the Toledo Ice Breaker Tournament. RIT also tied host Penn State, 3-3, on Oct. 25, 2013, eventually winning a shootout, 2-0.
NICE BARN
RIT's 3-2 OT victory at then No. 13 ranked Notre Dame (Oct. 21) was its second over a nationally-ranked team at the Irish's Compton Family Ice Arena. The Tigers also upset top-overall seed Minnesota State, 2-1, to open the 2015 NCAA Tournament Midwest Regional during their first appearance in the facility, before falling to Nebraska-Omaha, 4-0, in the second round.
THE PIPES ARE CALLIN'
RIT's game with Colgate on October 2nd marked the first season-opener in four years a goaltender not named Logan Drackett got the start. Drackett rewrote much of the Tiger record book prior to graduation last spring, finishing as the program's Division I-era career leader with 99 appearances, 98 starts, 2,468 saves and 42 victories.
POINTS…
RIT finished the 2020-21 season 13th nationally with 3.40 goals per game, while the Tiger power ranked 11th with a 23.3 percent conversion rate. Eight of the team's top-10 scorers return, led by senior forward Will Calverley (12G, 13A), junior forward Elijah Gonsalves (9G, 13) and senior forward Jake Hamacher (7G, 14A) are back for the 2021-22 campaign. Hamacher (38-57-95), Calverley (43-37-80) and senior defenseman Dan Willett (10-69-79) were also the top-three returning career scorers in all of Atlantic Hockey.
…AND COUNTER POINTS
RIT finished last season ranked in the bottom third of the nation in scoring defense (38th, 3.50 goals per game allowed) and in the middle of the pack in penalty killing (24th, 80.8 percent). However, all but one member (senior Regan Seiferling) of last year's youthful blueline group returns this season with another year of experience under their sweaters.
FAMILIAR FACE
RIT welcomed former Tigers standout Shane Madolora back to the program this season as Volunteer Goalie Coach. The 2012 graduate remains the Division I-era program leader with a .932 save percentage, which is tied for 10th in NCAA history. He is also tops with a 1.97 goals against average, which remains tied for 24th in the NCAA record book. Madolora established single-season program records as a junior which still stand, leading the nation with a .935 save percentage to go along with a stingy 1.93. GAA on his way to Inside College Hockey Second-Team All-America honors and Atlantic Hockey Goaltender of the Year recognition. The following year, he tied his own record with a 1.93 GAA to go along with a .931 save percentage while tying for first nationally with a program-record seven shutouts. Madolora remains first in Tiger history (and tied for 20th in NCAA history) with 13 career shutouts, as well as fourth with 1,727 saves, fifth with 36 wins, and tied for fifth with 65 appearances. His 18-9-5 record during the 2011-12 campaign tied for the second-highest single-season win total by a Tiger, completing his RIT career with a 36-14-2 record.
OH, CAPTAIN, MY CAPTAIN
Senior forward Will Calverley and senior defenseman Dan Willett were voted captains for the 2021-22 season, while senior forward Nick Bruce, Andrew Petrucci and Kobe Walker were named assistant captains. Calverley and Willett both served as assistant captains last season.
TIGERS IN THE NHL
Former RIT standout defenseman Chris Tanev enters his 13th season in the NHL, spending the last 11 with the Vancouver Canucks before signing a free agent contract with the Calgary Flames prior to the 2020-21 season. Voted the 2010 AHA Rookie of the Year, Tanev made his NHL debut on Jan. 18, 2011, becoming the first RIT player to appear in an NHL contest. Entering the 2021-22 season, he has played in 570 NHL games with 24 goals and 106 assists for 130 career points. He won a gold medal with Team Canada at the 2016 International Ice Hockey Federation World Championships. Tanev tallied 28 points (10-18-28) and was plus-33 in 41 games for RIT in 2009-10. Tanev and another former Tiger, Steve Pinizzotto (2005-07), were teammates with Vancouver in 2012-13. Pinizzotto tallied 57 points (20-37-57) in 54 career games for the Tigers and appeared in 36 NHL games with two goals and four assists.
RIT's NCAA DIVISION II/III HISTORY
RIT has made 16 NCAA Tournament appearances since 1983. RIT won the 1983 Division II National Championship before winning the Division III National Championship in 1985. The Tigers also finished as Division III runner-up in 1989, 1996 and 2001 while making semifinal appearances in 1984, 1986, 1999, and 2010. Overall, RIT was 26-15-4 in NCAA contests at the DII/III level and is 3-2 in five Division I tournament showings. The Tigers made the NCAA Tournament in 1983, 1984, 1985, 1986, 1989, 1994, 1996, 1997, 1998, 1999, 2000, 2001, 2002, 2010, 2015, and 2016.
FINAL FOUR FRENZY
RIT was the first team in NCAA history to reach the Frozen Four in its first postseason appearance in 2010 and was also the first Atlantic Hockey team to reach the national semifinals. RIT was one win away from duplicating that feat in 2014-15 after upsetting overall top-seed Minnesota State, 1-0, in the Midwest Region Semifinals.