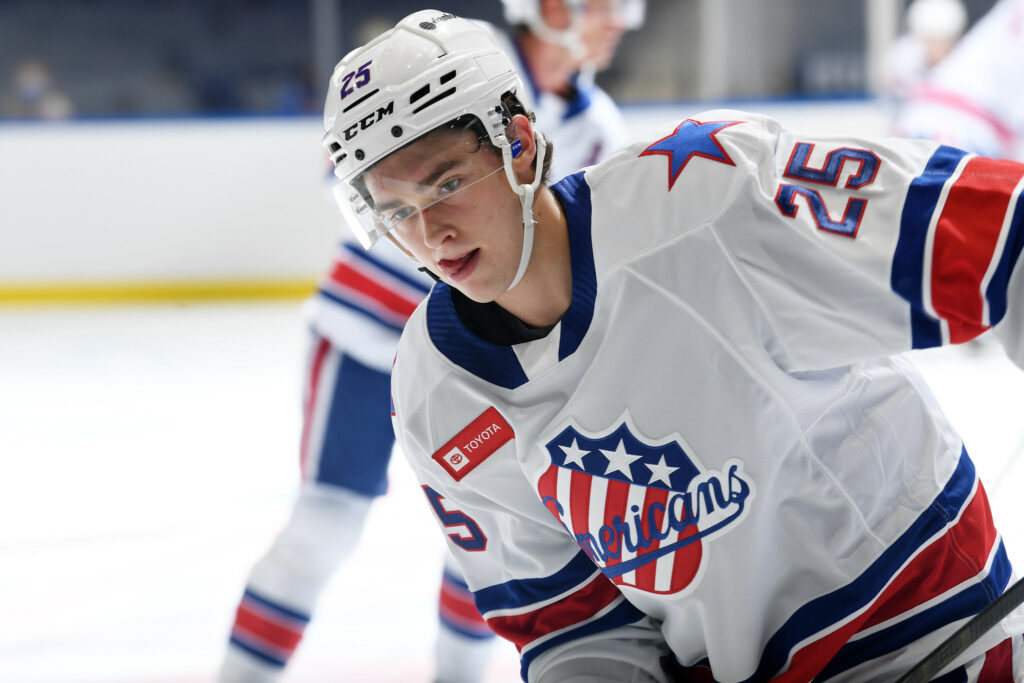 By KEVIN OKLOBZIJA
On Tuesday night, Jack Quinn enjoyed a milestone event in what very likely will turn out to be an impactful NHL career by playing his first game for the Buffalo Sabres.
The 20-year-old left winger played well, too, drawing praise from Sabres coach Don Granato.
And then, 24 hours after taking his rookie lap around the ice of KeyBank Center and facing the Tampa Bay Lightning, he was back with the Rochester Americans.
Quinn didn't just return in body, however. He picked up right where he had left off, scoring a goal and assisting on three others in Wednesday's 7-6 victory over the Utica Comets.
There was no send-down hangover, no go-through-the-motions effort. He was all-in, which is one reason the organization believes they have a special player in the making.
Perhaps the adjustment was a little easier since Quinn was told on Sunday that his recall would only be for one game. Still, he played as though Wednesday was the most important game of his season.
"It's not an easy game to come back to," Amerks coach Seth Appert said. "You get your first NHL game, something he was working so hard for, and he earned. And he goes up there and plays really well against the two-time Stanley Cup champions.
"And then right back down to Rochester. What it says about Jack, the way he played tonight and how invested he was emotionally and physically, is how much he cares about his teammates, and what a great teammate and winner he is."
Which explains why two Amerks, Ryan Scarfo and Mattias Samuelsson, were rink side in Buffalo on Tuesday night, wearing Quinn 22 Amerk sweaters backwards, and pounding on the glass as he skated by.
"He's beloved in that (dressing) room," Appert said. "We have a very close room. There's a lot of guys that really, really care about each other, something that we value at a high level, from (general manager) Kevyn Adams right on down in our organization.
"We want players that want to be part of the solution, to bring this organization to a better place, and Jack is one of those guys. He treats his teammates as equals. When a player of his caliber, where he was drafted (eighth overall in 2020), doesn't act with any entitlement and is a total team player, he wins over a lot of hearts in his room."
Quinn, however, said the presence of Scarfo and Samuelsson in Buffalo says more about them.
"I think it speaks to what kind of guys they are, what kind of teammates they are," he said.
The 20-year-old Quinn ranks eighth in AHL scoring with 13 goals, 17 assists and 30 points in 21 games. That's second-most among rookies (Stockton's Jakob Pelletier has 11-20-31 in 30 games), and his points-per-game percentage of 1.43 is fourth-best among players that have skated in at least 15 games.
Appert said Quinn has embraced every opportunity to learn and to improve.
"He doesn't look at Rochester as a stopping place or layover on the way to something greater," Appert said. "His goals are out there, he's going to play in the NHL and it's going to be someday soon for a long time. But he doesn't let himself mentally be there. He's invested completely in being a Rochester American and with his teammates here."