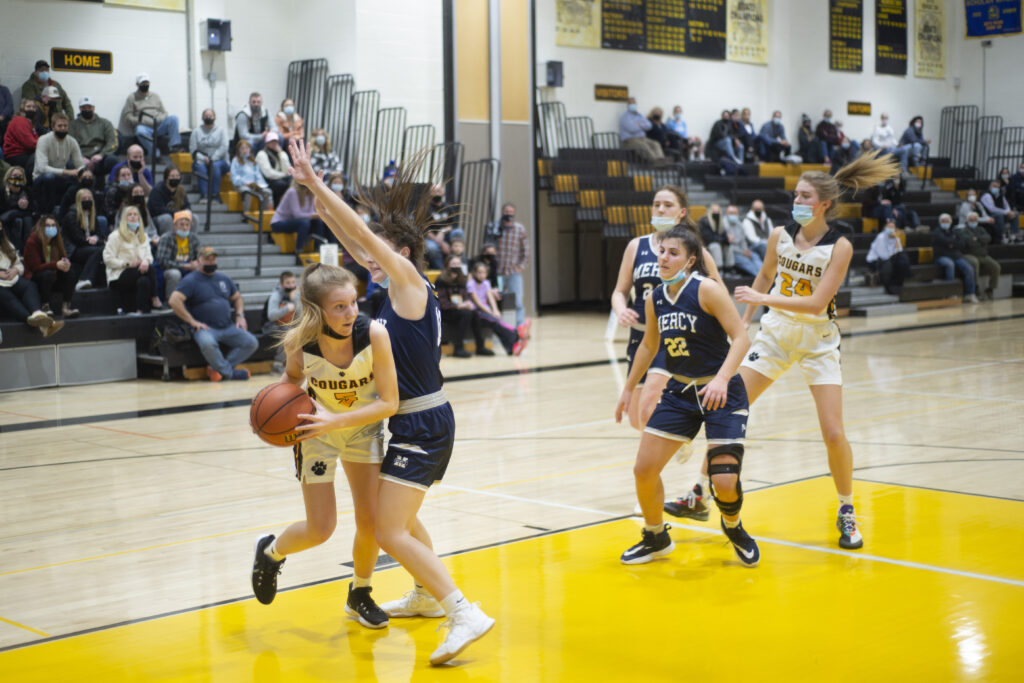 GIRLS
OUR LADY OF MERCY (7-4) 48
HONEOYE FALLS-LIMA (6-4) 47 OT
The play did not go as designed, but the outcome was favorable for the Our Lady of Mercy Monarchs.
Audrey Hintz grabbed the rebound off her own missed shot and finished along the right side of the lane to lift Mercy in overtime.
"I'm glad we pulled that one out," the junior center said after the Monarchs' 48-47 win over Honeoye Falls-Lima, Thursday night. "I'm just so excited. It was looking a little grim for a little bit. We pulled through, and I'm so glad I could do that."
Trailing by one with 9.2 seconds remaining in the extra period, Hintz grabbed the rebound off a blocked shot and missed on her first attempt before scoring as the final horn sounded. READ MORE.
SPENCERPORT (7-5) 37
BROCKPORT (9-2) 56
Emma Sodoma, Ella Fadale, and Ava Velletri combined for 52 points as Brockport picked up its fifth-straight win. Sodoma had a team-high 18 points, and Fadale and Vaelletri both finished with 17 points. Jeira Wilson and Maeve Pettiti finished the Brockport scoring with two a piece.
GREECE ATHENA (1-6) 56
GREECE ARCADIA (1-9) 37
Greece Athena grabbed its first win of the season behind Lynia Thomas's game-high 22 points. Mariah Freeman had 15, and Tiara Smith scored 12 to round out the Trojans in double-figures. Lauren Branagan wrapped up the Athena scoring with eight points of her own.
CALEDONIA-MUMFORD (6-5) 53
KESHEQUA (8-4) 40
Hazell Nickerson led the way with 19 points, 16 rebounds and two blocks as Caledonia-Mumford moved above .500. Taylor Mills added 10 points. Gracie Boudreau added eight points, Marisa Roides had seven points and eight rebounds and Ava Amorese had six points and five assists. Only down 22-16 at the half, the Raiders came out firing in the third quarter with Mills hitting two three-pointers early in the quarter to help erase the deficit. The Raiders would take the lead for good on a four-point play by Nickerson. Cal-Mum outscored Keshequa 21-6 in the quarter as Roides added had of her seven, and Amorese added four of her six. The final quarter saw back and forth action and the Raiders added to the lead outsourcing Keshequa 16-12.
Keshequa was led by the tandem of guard Libby Benner who had 18 points, six rebounds and six steals, and post-player Aurora Sabins who had 12 points.

HORNELL (8-1) 46
HAVERLING (9-4) 41
Hornell took down Bath-Haverling behind Lillian Hoyt's game-high 20 points. Maddie Moore poured in a double-double featuring 12 points and 10 rebounds. Jordyn Dyring chipped in seven off her own. Hornell held the Rams to four points in the final frame to secure the win. Sydney Burns led the Rams with 17 points and 12 rebounds. Keegan Smith added nine points, seven rebounds, and six steals.
JASPER-TROUPSBURG (1-9) 20
CANISTEO-GREENWOOD (10-3) 63
Brooke Burd came up one rebound shy of a 20-20 game as Canisteo-Greenwood avenged their loss against Wellsville on Tuesday. Burd ended the game with 20 points, 19 rebounds, four steals, and three blocks. Lillian Mullen led all scorers with 30 points alongside eighth rebounds and eight steals. McKenna Ferris finished in double-figures with 10, and Bailey Mullen had three points.
NORTHSTAR (7-1) 50
HOUGHTON (5-4) 32
EDISON (0-7) 33
WILSON (4-7) 35
ROCHESTER PREP (1-6) 37
LIMA (3-3) 40
EAST ()
SOTA ()
ALFRED-ALMOND ()
ARKPORT/CANASERAGA ()
ADDISON ()
AVOCA/PRATTSBRUGH ()
HAMMONDSPORT ()
CAMPBELL-SAVONA ()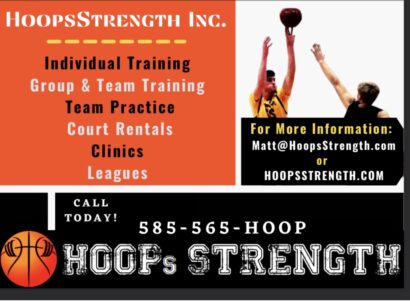 BOYS
VERTUS (3-6) 60
WOIS (3-6) 64
Diego Martinez and Jaedon Adams-Griffin both eclipsed 20 points as WOIS picked up the win. Martinez scored a game-high 21 points featuring four makes from deep, and Adams-Griffin finished with 20 points. Adams-Griffin made three three-pointers, and went 5-of-6 from the charity stripe. Asad Abdi added nine points, Christian Ortiz tallied seven, Umar Richardson scored five, and Jalen Breedy wrapped up the WOIS scoring with two points. Gerod Jackson led Vertus with a shared game-high of 21 points. Jackson did most of his damage in the fourth quarter by scoring 14 of his 21 points in crunch time. Reginald Pough chipped in 14, and Trevor Scott totaled 10 which finished the scorers in double-figures. Other Vertus scorers: TayMeik Hawkins (5), Turhan Davis (5), Earlington Walker (4), and Sho'miere Harvey (1).
ELBA (6-5) 51
ALEXANDER (4-6) 43
CJ Gottler and Zach Marsceill combined for 32 points as Elba moved above .500. Gottler scored a team-high 17 points, and Marsceill totaled 15 points. Connor Scott and Mike Long both added eight points, and Nate Esten ended with three points. Nick Kramer led the charge for Alexander with a team-high 16 points. Trenton Woods tallied 13, and both Brayden Woods and Dylan Pohl ended with six points.
KENDALL (4-6) 62
LYNDONVILLE (1-8) 57
Braxton Zarpentine shot 10-of-14 from the field and totaled 20 points as Kendall picked up the win. Zarpentine added seven rebounds and two blocks to his line. Zach Barrett added 17 of his own alongside six rebounds and four assists. Jacek Kwiatkowski totaled 11 points, nine rebounds, and four assists. Jefferey Pratt ended with seven points. Noah Poler led all scorers with 27 points for Lyndonville. Roman Hensler had 15, and Trenton Muck had seven.
BYRON-BERGEN (7-5) 54
PEMBROKE (9-3) 55
Tyson Totten scored a game-high 27 points which included the game-winning layup for Pembroke. Cayden Pfalzer complimented Totten with 16 of his own. Ryan Muscarella led four scorers in double-figures for Byron-Bergen with 13. Gianni Ferrera had 12, Braedyn Chambry scored 11, and David Brumsted ended with 10.
MONROE (3-6) 79
FRANKLIN (3-10) 67
Sha'mere Freeman paced Franklin to its third win of the season with a team-high 26 points. Freeman had 11 points in the fourth quarter, and went 13-of-16 from the free throw line. Shawn Goins and Shedreek Knight both added 18 points, and Dayton Scott finished with 10 points. Jaquan Shears led Monroe with a game-high 27 points. Felton Gray had 10, and Davion Jones scored 13.
BELFAST (9-2) 50
HOUGHTON (2-5) 29
Belfast picked up its fourth-straight win behind Tony Logue's game-high 20 points. Matt Weaver added 18 of his own for the only other Belfast player in double-digits. Other Belfast scorers: Kaiden Logue (6), Max Miller (2), Matt Cater (2), Kyle McCumiskey (2). Malachi DeGolyer led Houghton with 17 points. Hugo Huang had six, Jack Prentice scored four, and Chris Habecker netted two.
BATAVIA-NOTRE DAME (9-3) 61
HOLLEY (4-5) 46
ALBION (0-3) 29
OAKFIELD-ALABAMA (10-0) 70
SCIO/FRIENDSHIP (6-6) 37
ANDOVER/WHITESVILLE (5-6) 46
C. G. FINNEY (3-9) 52
HARLEY-ALLENDALE-COLUMBIA (6-3) 41
FILLMORE ()
BOLIVAR-RICHBURG ()
HONEOYE ()
SOUTH SENECA ()
GENESEE ()
HINSDALE ()
To report scores, please email photos of that night's scorebook pages to scores.pickinsplinters@gmail.com.