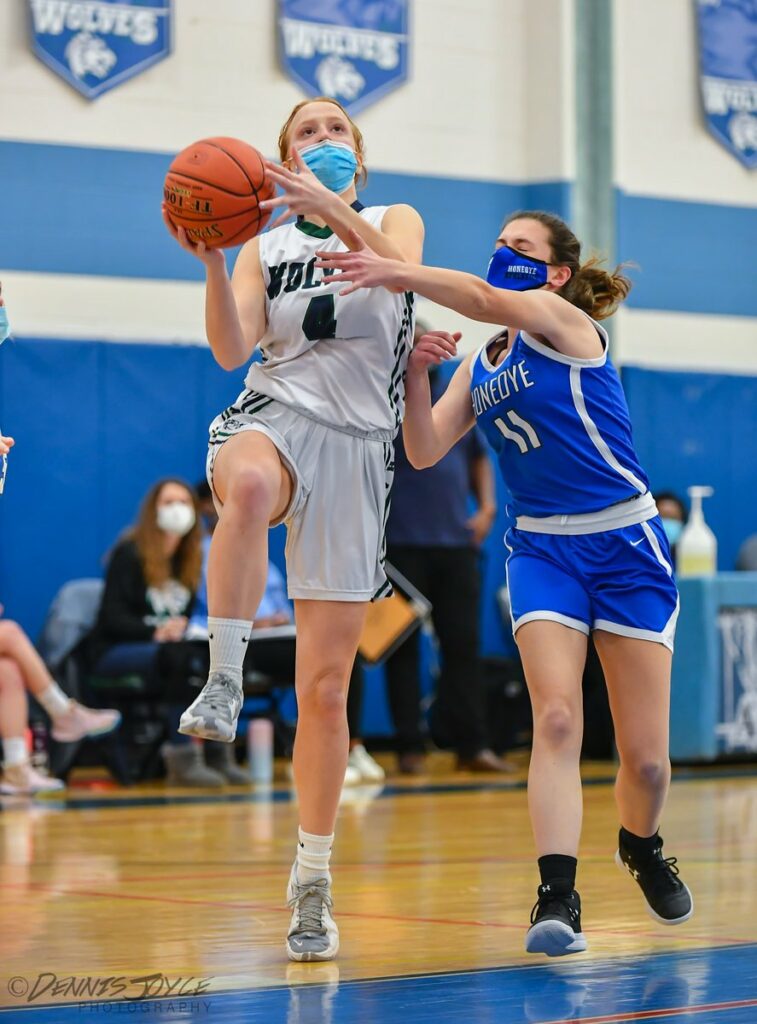 GIRLS
CLYDE-SAVANNAH (7-1)
FINNEY (3-2)
ROCHESTER ACADEMY (1-4) 35
GENESEO (5-5) 43
Tessa Reilly scored a team high eight points to lead the Blue Devils to victory. Brogan Henderson finished with seven points on the night. Caroline Capel collected six points. Morgan Wolcott and Mary Claire Rollins added five points apiece. Regina Cucchiara and Emily Lamb scored four points apiece. Both Tessa Salatel and Sofia Breemes-Illescas finished with two points on the night.
ROCHESTER PREP (1-5) 18
KENDALL (9-1) 43
ELBA (4-4)
OAKFIELD-ALABAMA (10-0)
MARCUS WHITMAN (4-4) 21
PENN YAN (6-3) 53
Kaley Griffin scored a team high 17 points to lead the Mustangs to their third win in a row. Sierra Harrison finished with 14 points. Jammie Decker and Corinne Barden each added six points apiece. Hannah Parsons finished the night with four points. Maihue Miranda, Hailey Trank, and Lexy Smith each score two points.
BLOOMFIELD (6-3)
ROMULUS (2-5)
FILLMORE (9-0)
BOLIVAR-RICHBURG (2-7)
WATERLOO (9-0) 77
GENEVA (0-9) 9
HONEOYE (0-8) 17
HARLEY-ALLENDALE-COLUMBIA (6-1) 61
Eliza Nicosia posted a double-double, scoring 20 points and hauling in 13 rebounds. Anna Thomas earned her first triple-double, scoring 12 points, adding 10 assists and 12 blocks. Chloe Fowler also earned a double-double, adding 12 points and grabbing 10 rebounds. Ella Prokupets finished with 8 points. Also scoring for the Wolves was Morgan Fowler (5) points and Aryana Saedi (4).

HOLLEY (1-7)
BYRON-BERGEN (6-3)
ALEXANDER (6-5) 61
LYNDONVILLE (8-1) 65
PAVILLION (9-0) 52
NOTRE DAME BATAVIA (7-2) 26
Karlee Zinkievich scored a team high 16 points to lead the Golden Gophers to their ninth consecutive win. Lauren Kingsley finished with 15 points and corralled five steals. Shea Amberger earned a double-double, scoring 14 points and grabbing 14 rebounds. Paige Landers finished with three points. Kylie Conway and Makayla Washburn added two points apiece.
RED JACKET (2-7)
SOUTH SENECA (2-5)
DUNDEE/BRADFORD (2-7) 49
NAPLES (0-4) 7
Kendall Parker earned a triple-double, scoring a team high 14 points, hauling in 11 rebounds and grabbing 10 steals to lead the Scotsmen to the victory. Hailee Knapp finished with 11 points on the night. Jade Rousell collected eight points and corralled five rebounds. Kailey Yeoman added six points. Savannah Eaves and Trisha Edminster added four points apiece. Mikayla Schoffner finished with two points. Adiah Northrop scored a team high five points for Naples. Kaylee White added two points.
ANDOVER (7-2) 43
GENESEE VALLEY (7-3) 47
EAST ROCHESTER (10-0) 80
MARION (1-7) 19
Samantha Lewis, Lily Funk, and Lebria Hickman all earned double-doubles and led the Bombers to their tenth straight win. Lewis scored a team high 16 points and grabbed 10 rebounds. Funk added 15 points and corralled 10 rebounds. Hickman finished with 10 points and hauled in 20 rebounds. Aniyah Eldridge finished with 15 points. Emma Romach collected nine points. Giovanna Morealle finished with 7 points. Also scoring for the Bombers was Zarriah Eldridge (4), Faith Daniels (2), and Gianna Romach (2).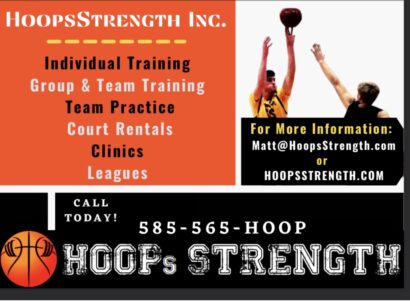 BOYS
VICTOR (10-0) 64
CHURCHVILLE-CHILI (4-7) 55
Five different players scored in the third quarter when Victor stretched a seven-point lead to 13. AJ Queri connected on a pair of 3-pointers and Phil Nwugwo scored seven in the clinching frame. Nwugwo finished with 17 points. Queri had 12. Cam Ryan and Nick Leonard scored 10 apiece. Ryan Dodge added seven while Rohan Chitre and Brennan Hopkins both scored four. Churchville-Chili's Jason Gibbs led all scorers with 20 points. The junior guard connected on a pair of 3-pointers and scored 12 in the fourth quarter when the Saints tried to put together a rally. Amir Thomas added 11 points for the game. Robert Munding had 10. Ricardo Legares scored nine and Mac Bean had five points for C-C.
CANANDAGIUA (6-2) 48
GREECE ARCADIA (5-5) 39
Kenyon Mahoney scored six of his team-high 14 points in the third quarter when Canandaigua pulled away from a one-possession game to win for the fourth time in its last five outings. Mahoney connected on a pair of 3-pointers in the stanza and four overall in the contest. Derek Andrews scored 14 points in the win. Nick Ferris had 11 points while Bryce Ceravolo (7) and Callum Outhouse also scored for the Braves. Canandaigua led 21-20 heading into the half before outscoring Arcadia 16-6 in the third frame. Arcadia's Latrell Rowe scored 10 points to lead the Titans. Gabe Taylor had eight. Mike Bolger accounted for seven points. Vinnie Cacia (6), Ryan Mineo (5) and Marlon McCullough (3) also scored for Arcadia.
GREECE ATHENA (8-3) 92
GREECE ODYSSEY (0-10) 40
Izaiah Stewart had a game-high 24 points to lead the Trojans to their third straight victory. James Reaves finished the night with 18 points. Terell Wilson earned a double-double, scoring 17 points and hauling in 12 rebounds. Khorie Reaves finished with 14 points. Jaden Madrid and Brandon Krout added six points apiece. Also scoring for the Trojans was Frankie Oropeza (5) and Connor Osier (2). Josh Tantalo scored a team high 13 points, collecting three 3-pointers for the Leopards. Maron McDonald finished with 12 points. Gavin Williams and Camden Metzler added five points apiece. Jazir Larkins finished with four points and Josh Colon finished with one point.
HILTON (4-5) 66
GATES-CHILI (3-6) 38
Preston Prince registered a double-double, and Derek Cavey finished with a career-high points as Hilton, playing for the first time in two weeks, won its second straight game. Prince finished with a game-high 27 points, the seventh time this season the senior has scored 20 or more in a game. Prince also grabbed 15 rebounds. Cavey scored 13 points. Matt Mastowski also corralled 15 rebounds and scored nine points in the win. John Bianchi and Michael Whelehan added seven apiece. Riley Pendleton (2) and Mac Emrich (1) also scored for Hilton. Ryan Santiago and Sammy Seymour scored 15 points apiece to lead Gates-Chili. Kani Mitchem added six while Ayden Grinion and Cameron Brown both had two points.
BROCKPORT (3-8) 51
BATAVIA (2-6) 41
Cooper Hassall scored six of his game high 12 points in the first quarter and led Brockport to their third win of the year. Justin Sillen finished with 10 points. Bryce Tyndell and Peter Leicht added nine points apiece. Francis Nwokonke collected six points. Also scoring for Brockport was Kaeden Laureano (3) and Haiden Herring (2). Javin McFollins and Carter McFollins scored a team high 12 points apiece for Batavia. Sawyer Silverling and Mikey McKenzie added six points apiece. Tanner Mountain finished with five points.
PENFIELD (3-6) 66
BRIGHTON (6-3) 74
Eli Desandis scored 10 of his team-high 20 points in the fourth quarter when Brighton rallied from a five-point deficit to win for the fourth time in the past six games. Desandis connected three times from the floor and converted 4-of-6 free throws over the final eight minutes. Reggie Smith, Jr. added 15 points in the win. Andrew Falter accounted for 13 while Matt Howe had 12. Andrew Kotrides chipped in five points for the Bruins. Kyle Smith (4), Trygve Watkins (3) and David Tisa, Jr. (2) also scored in the game. Penfield's Aiden Cook hit six 3-pointers and led all scorers with 25 points. Caden Harrington had 13 points. Matt Karpen scored 12. Derek Torres (7), Daniel Gregory (4), Jackson Beganny (3) and Charles MacDougall-Knapp (2) rounded out the scoring for the Patriots.
RUSH-HENRIETTA (5-4) 51
IRONDEQUOIT (7-2) 71
Ryan Heath scored 10 of his 21 points in the fourth quarter when Irondequoit pulled away for its fifth straight win and sixth in the last seven. Heath connected five times from the floor in the final stanza when the Eagles outscored R-H, 25-12. Xavier Gissendanner led all scorers with 24 points. Charles Barnes added nine. Damon Brumfield had six. Quinn VanKerkhove, Kenyen Lovett and Evan Leonardo each had three points. Javier Flowers rounded out the Irondequoit scoring with two points. Irondequoit held RH to one second-quarter field goal to establish a 36-23 lead at the half. Mason Giorgione and Tyler Simmons combined for 11 points in the third quarter when the Royal Comets opened the stanza on a 10-2 run to pull within five midway through the quarter. The pair finished with 14 points apiece. Izigk Fisher had 12 points. Myles Collins-Howard accounted for five points while Nasir Hunter (4) and Abdulfatah Bori (2) also scored for R-H.
WARSAW (5-5) 38
AVON (7-2) 77
Zach Colvin scored 18 points, and Michael Rowland had 10 as Avon won for the third time in four games. Lee Hartke accounted for nine points. Bailey Schell led Warsaw with 13 points, Ty Joy had 10. The Tigers played without junior captain Matthew Auble.
DANSVILLE (8-2) 66
LIVONIA (4-6) 50
Visiting Dansville never trailed in the game and led 34-20 at the half. A pair of threes by Jackson Cook and three more triples from Chris Coyle cut the lead to 10, but Livonia couldn't get any closer. Dansville's Drew Morrow led all scorers with 34 points. Coyle led the Bulldogs with 23 points and six rebounds. Cook had a career-high 13 points and five rebounds.
YORK (5-4) 69
KESHEQUA (0-11) 35
Jake Pangrazio scored 19 and Maddox Timothy had 17 to lead York. Greg Jaroszek added nine points. Keshequa's Tyler Mallaber had 15 points.
CANISTEO-GREENWOOD (7-4)
JASPER-TROUPSBURG (8-4)
PITTSFORD SUTHERLAND (5-3) 50
HONEOYE-FALLS LIMA (6-5) 60
Senior point guard JT Killenbec scored 13 of his team-high 17 points in the second half, and HF-L won for the fifth time in the past six games. Killenbec added eight assists and seven rebounds in the win. Junior forward Nolan Smith had a double-double with 11 points and 12 rebounds while junior forward Carson Joint was the third Cougar in double figures with 13. Drew Angelo scored seven of his 9 points in the fourth quarter, HF-L scorers: Nate Weber (5), Trent Wager (3) and Sam Vogt (2). Pittsford – Sutherland had three guys also in double figures: Sam Pisanelli (16), Max Michalski (12) and Tyler Mullin (10). Everett Wilcox (5), Bobby Dodge (5) and Ivan Goettler (2) also scored for Sutherland.
PALMYRA-MACEDON (5-5) 60
WAYNE (7-3) 57
It seemed like whenever Palmyra-Macedon needed a big shot, senior guard Paul Goodness was the man for the job. With Wayne being up one point with less than a minute to play, he delivered. READ MORE.
NORTHSTAR CHRISTIAN (8-2) 90
BISHOP KEARNEY (0-6) 67
Ryan Garwood scored a game-high 37 points and led NorthStar Christian Academy to their seventh straight victory. Andrew Eschner added 26 points and hauled in 13 rebounds. Ben Gritsak finished with 12 points. Colin Gentile scored a team-high 24 points for Bishop Kearney. Zacari Johnson added 21 points.
MARCUS WHITMAN (5-6) 51
NEWARK (6-5) 56
Brayden Steve scored seven of his team-high 20 points in the fourth quarter as Newark won for the third time in four games. Steve connected three times from the floor including one 3-pointer in the final eight minutes. Raeshawn Howard scored 12 points in the win while Gabriel Caraballo had eight. Isaiah Camp and Zach Herd scored seven apiece. Stevie Brown chipped in with two points. Marcus Whitman's Connor Tomion led all scorers with 25. Nolan Lee had 15 points and Connor Gorton scored seven.
LETCHWORTH (5-9) 37
LE ROY (9-2) 58
Merritt Holly finished with 15 points, 16 rebounds and five blocks as Le Roy won for the eighth time in the past nine games. Mitchell Hockey led the scoring with 17 points while handing out three assists. John Panepneto had 10 points and four assists. in the win Finn Shelby accounted for six points and seven rebounds.
WAYLAND-COHOCTON (4-8) 54
HORNELL (6-4) 59
CALEDONIA-MUMFORD (9-1) 71
PERRY (3-7) 43
Kyle Wade led Cal-Mum to its fourth straight win with 24 points, 11 rebounds, five steals and four blocks. Alex Carnes added 20 points in the win. Evan Raniewicz had 19 points, five rebounds and three assists. Jeremy Raymond chipped in with four points and four rebounds. Cam Reed collected five rebounds, five assists and three steals. Perry's Matt Givens led all scorers with 30 points. Teammate Bryce Tallman had six, and Wyatt Arbo scored four points.
CAMPBELL-SAVONA (6-5) 65
HAMMONDSPORT (1-10) 42
Kade Cochran scored nine of his game-high 23 points in the first quarter, and Campbell-Savona went on to win its fourth straight game. Kaden Bolt added 16 points. Lucas Feldman had 15. Nathan West scored five while Mitchell Nichols (4) and Carter Crooker (2) rounded out the scoring for the Panthers. Cooper Watson led Hammondsport with 14 points. Isaiyah Ali scored eight, and Cody Cook had six. Liam Kressly and Preston McConnell both scored five.
AVOCA/PRATTSBURG (11-0) 88
ADDISON (4-67 55
Caleb Johnson scored 12 of his game-high 25 points in the third quarter when Avoca/Prattsburg took a commanding lead. Johnson connected on a pair of 3-pointers and converted on all four of his free-throw attempts in the frame. The senior also collected 13 rebounds and four assists in the game. Evan Campbell added 17 points in the win. Pacey Hopkins finished with nine assists, eight points and six steals. Sophomore Macoy Putnam had 14 points, seven assists and seven steals. Jamel Crowder scored 14 points off the bench. Jamie Reagan (6) and Tucker Gerych (4) rounded out the scoring for A/P. Addison's Alberto Miranda hit four 3-pointers and led the Knights with 19 points. Brayden Bills scored 12 points. Brady Wheatcraft added nine. Jackson Nichols and Jake Eckstein had four apiece. Elijah Scribber scored three.
GENEVA (3-4) 46
MYNDERSE (5-4) 55
To report scores, please email photos of that night's scorebook pages to scores.pickinsplinters@gmail.com.