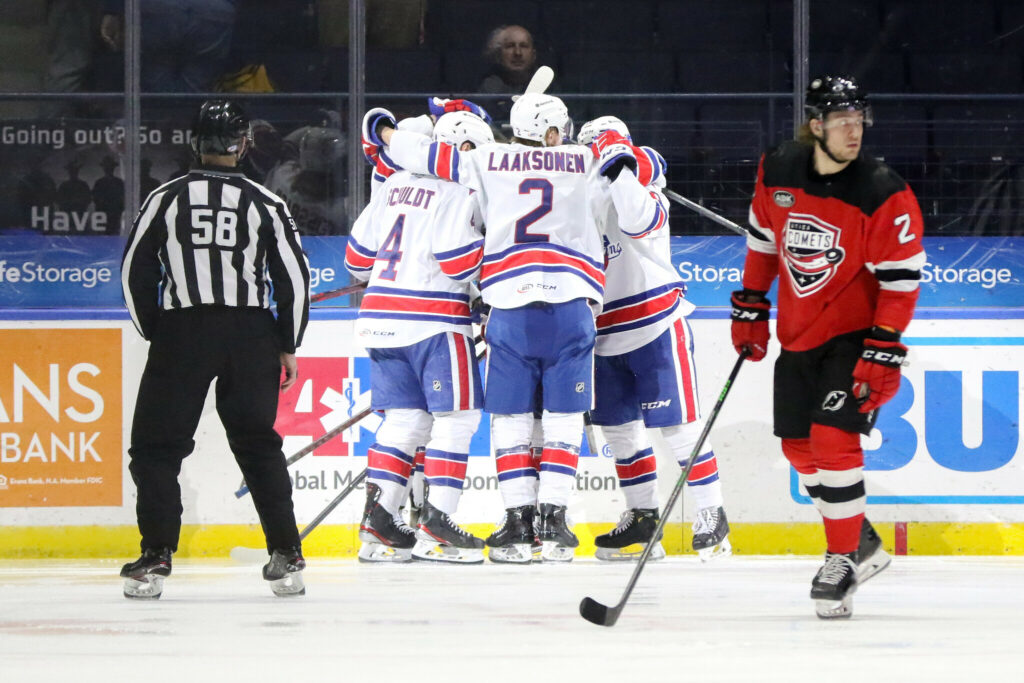 By KEVIN OKLOBZIJA
The game was barely halfway over and here was Oskari Laaksonen already with a career-high four assists for the Rochester Americans.
It was that kind of night, where his shots from the point or his flat, on the tape passes ended up creating goals for the Amerks in what became a 7-6 victory over the Utica Comets on Wednesday at Blue Cross Arena at the War Memorial.
A point shot turned into a rebound goal for Brandon Biro just 57 seconds into the game. His pass from the center point to Biro at the top of the left circle created a power-play goal at 8:59. His outlet pass to Arttu Ruotsalainen enabled the Finnish center to play give-and-go with Jack Quinn in the Utica zone for another goal in the final minute of the first period for a 4-2 lead.
Of course, Laaksonen's offensive prowess – especially on the power play — has never been an issue. His creativity at the point, his vision and his ability to get shots through to the net or to make the perfect pass to set up a one-timer by a teammate are special qualities.
But that skillset alone won't get the 22-year-old native of Tampere, Finland, to the NHL. And while he has 3 goals, 18 assists and 21 points in 29 games this season, most among American Hockey League defensemen, he's definitely not on the cusp of joining the Buffalo Sabres.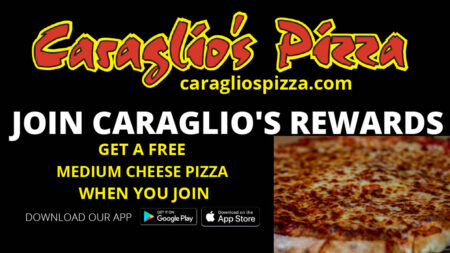 He has, however, made significant strides.
"The last few games, I think his offensive game has been below standard and his defensive game has been above, and I like that right now," Amerks coach Seth Appert said after his club improved to 19-11. "He is defending much harder right now, he is earning more quality minutes five-on-five because his care level, and his detail level defensively is improving at a good rate right now."
Which is where progress must be made in order to become an NHLer, and he's well aware of it.
"That's the main thing we're working on and it's going to be a process," Laaksonen said.
Gaining weight (he's listed at 6-foot-2, 185 pounds) and getting stronger are also priorities, but those goals are best accomplished in the offseason. Learning how to successfully defend against elite players is priority 1 right now.
The fact he is playing late in the third period or getting regular-strength shifts in one-goal games is proof of his advancement.
"He wouldn't have been out there in any key defensive moment from Day 1 last year until the last couple weeks," Appert said. "Those are things you have to earn.
"Part of the American League is development, we put guys in situations to challenge them, but part of it also is the understanding that things at this level and above, if you want to play at the next level, have to be earned."
Some of his opportunity came out of necessity, when Casey Fitzgerald and Ethan Prow were on recall and Jimmy Schuldt was out of the lineup due to injury and then COVID-19.
Still, if the coaching staff didn't believe he could defend, he they would have turned elsewhere.
"He's starting to earn more five-on-five defensive minutes and that's great to see," Appert said. "If Laaksonen wants to play in the NHL, it can't just be, 'I'm good on the power play.' It has to be, 'I'm a really good defensive player and I'm a transitional, puck-moving defenseman."
Confidence plays a part. When you feel good offensively, you feel good in your own end, he said. And when you know assistant coach Mike Weber is rolling you out in key situations at even strength, the confidence also grows.
"It helps when you play more; you feel like you're trusted more," Laaksonen said.
An exceptional two periods
There was plenty of trust for 40 minutes for every line and D-pairing on Wednesday as the Amerks built a 7-3 lead on goals by Jobst, Matej Pekar, Biro, Ruotsalainen, Linus Weissbach, Mitch Eliot and Quinn.
"We were outstanding for 40 minutes," Appert said.
The wide-open, saves-were-optional hockey led to a bit of overconfidence in the third period, however.
"It's tough to keep the habits you want," Quinn said, "but I think it was good we ended up fighting it off at the end."
Sabres debut Tuesday, back with Amerks Wednesday
Quinn was solid, even very good, in his NHL debut with Buffalo on Tuesday, a 6-1 loss to the Tampa Bay Lightning.
But while the Sabres headed to Nashville for a game Thursday with the Predators, Quinn was sent back to Rochester.
"That was the plan all along," said Quinn, who also assisted on three goals in the victory over Utica.
When said general manager Kevyn Adams told him on Sunday that he would play against the Lighting, then rejoin the Amerks.
All-day drive for Amerks goalie
Both Amerks goalies, Michael Hauser and Aaron Dell, were called up to Buffalo so Mat Robson rejoined the Amerks from ECHL Cincinnati.
And he did so by driving to Rochester – a good eight hours – on Wednesday and then suited up to play upon arrival. So it's maybe not a surprise he allowed six goals – not all his fault – on 29 shots.
Utica goalie Mareks Mitens gave up seven on 28 shots.
In losing back-to-back games in regulation for the first time this season, the Comets dropped to 19-4-3. They have allowed 27 goals in the past five games after giving up just 30 in their first 17 games (a 16-1 record).