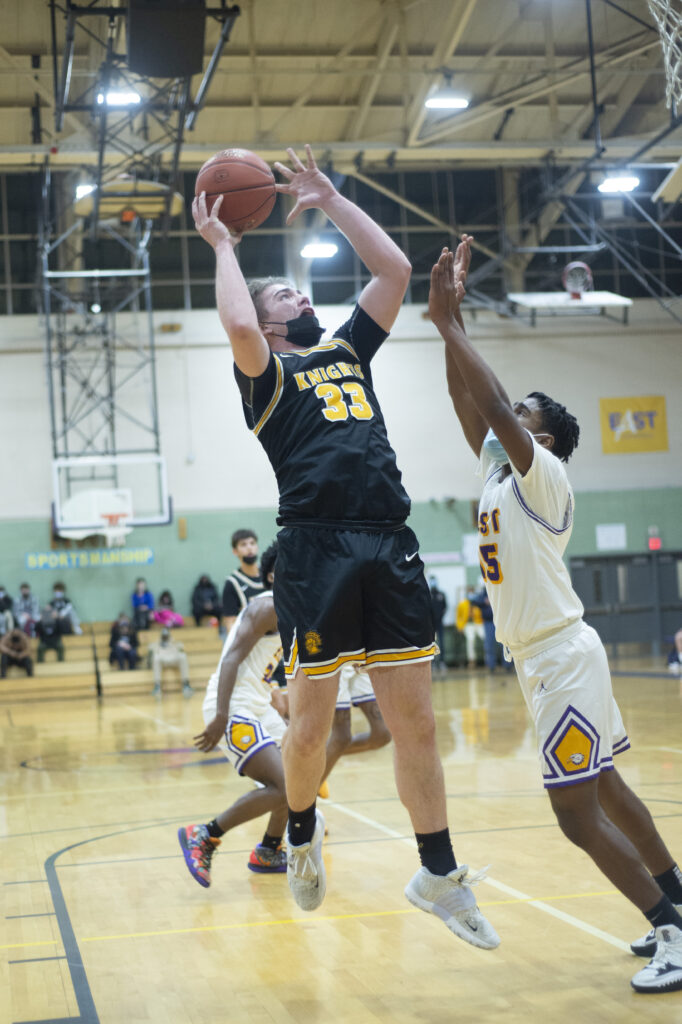 For more photos from this game by Ron Andrews click here
By TIM IRVING
"Us playing together is what won the game, not me, not my teammates, us playing together."
McQuaid senior center Max Schalm deflected credit after scoring a game-high 23 points and the Knights dominated in the paint in defeating East 65-56.
The Knights came out hot as junior Ian Florence hit two early three-pointers.
The 6-foot-5 Schalm scored two baskets inside and the Knights opened up a 16-4 lead in the first quarter.
"Going into the game, our focus was taking care of the ball. The guys do a great job of forcing turnovers, getting deflections, things like that, " said McQuaid coach Jack Leasure.
In the second quarter, Damani Barley and Shamir Caruthers started getting into the passing lanes and got the lead down to six.
Caruthers scored 10 in the second quarter but the Knights closed the quarter with Schalm also getting 10 points in the frame and a 36-29 lead at the half.
Chris Woodard took a kick out from Colin Bavibidila for three to open the third quarter.
But then East's guards got the defense going, Caruthers knocked a ball free for Barley for a dunk to cut the lead to two.
Schalm and Casey Montesano hit big buckets inside and the lead got back out to 46-40 by the end of the third.
Barley scored nine of his team-high 22 points in the fourth quarter for East (5-2) but the Knights have worked on closing games.
"We work on those situations in practice, where we're up six or up three and make sure we maintain leads and win the game," Schalm said.
The Knights have won six of their last seven games with contests against Edison Tech (January 11) and Victor (January 15) up next on the schedule.
"You sort of have to temper the idea that this is a huge win and get wrapped up in the excitement off all of that while at the same time realizing hey, maybe we won but we still gotta clean up x, y, and z," Leasure said.

SCORING
McQuaid
Will Taylor 2, Ian Florence 10, Colin Bavibidila 10, Casey Montesano 6, Chris Woodard 12, Max Schalm 23, Anthony DiMarco 2
East
Damani Barley 22, Marcus Robertson 2, Quinton Gordan-Smith 3, Kenny Edwards 4, Kai McCullough 11, Nigel Copeland 1, Shamir Caruthers 13.