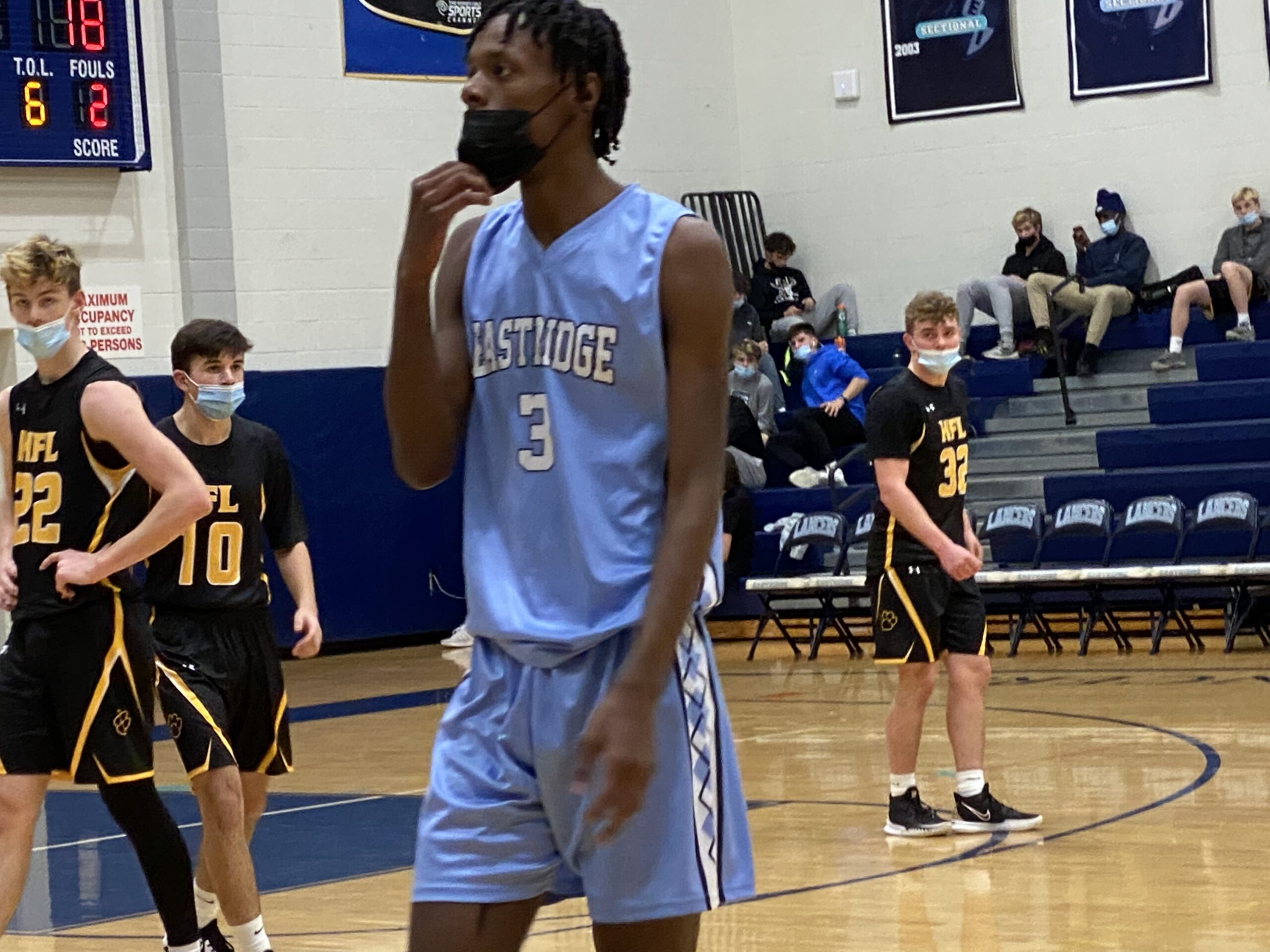 By CHUCKIE MAGGIO
The Eastridge Lancers who returned from last year's boys basketball season remembered the bitter defeat they suffered to Honeoye Falls-Lima in the sectional semifinal round. Eastridge was held to just 13 points over the second and third quarters in that game, losing 58-40.
"They were a little bit focused on it and were ready, definitely to come out and play hard," Lancers head coach Dan Roser remarked. "And HF-L, they're always a tough team. They always come ready to go and well-prepared."
The Lancers returned the favor on Friday night, outscoring HF-L 37-23 in the middle quarters after a back-and-forth opening period. Eastridge prevailed 71-51, improving its Class A2-best record to 8-0.
Caquan Wester asserted himself in the post, leading all scorers with 25 points. The 6-foot-7 Wester was the tallest player on the floor, with an inch on HF-L big man Nolan Smith, and played like it by putting back his team's misses for layups and and-one opportunities. Smith contributed 22 points himself, tallying four field goals in the fourth quarter as the Cougars temporarily cut the lead to single-digits. 
"Caquan played great. He's a big part of our offense and he knows a lot of stuff is going to go through him," Roser commented. "He was really up for the test tonight. They've got a really good big guy as well (Smith) so he was ready. And he just gets himself in good positions. Our team helps him get in good positions to get good buckets. He really goes after the rebounds hard, hits the boards well."
Eastridge's defense contained HF-L, which produced its lowest point total since its last loss on Dec. 21. The Lancers finished quarters strong: an 8-2 run to end the second quarter; a 12-3 run to end the third quarter; and an 8-0 run to close the game.
"We just kind of live and die with how we play defense right now," Roser assessed. "We get a lot of steals, get a lot of layups but at the same time, we kind of give up some layups and easy buckets at the other end, too. We've gotta shore up our defense a little bit more, not give up so many easy buckets for them and, again, still try to make it a source of our offense."
Emmanuel Torres contributed 17 points, including two of Eastridge's three 3-pointers. Cordell Young hit the other 3, part of a 15-point night, while Emmanuel Leftenant attacked the basket for 10 points to become the fourth Lancer in double-figures. Jalonie Pittman scored four points to round out the Lancers' scoring.
Eastridge's win not only avenged last season's sectional loss, it snapped a four-game HF-L win streak in the Lancers' gym. That streak, unlike EHS's undefeated run nearly halfway through the regular season, is over.
Honeoye Falls-Lima scorers: Smith 25 points, JT Killenbec 10, Drew Angelo 5, Carson Joint 4, Sam Vogt 4, Nate Weber 3, Trent Wager 3