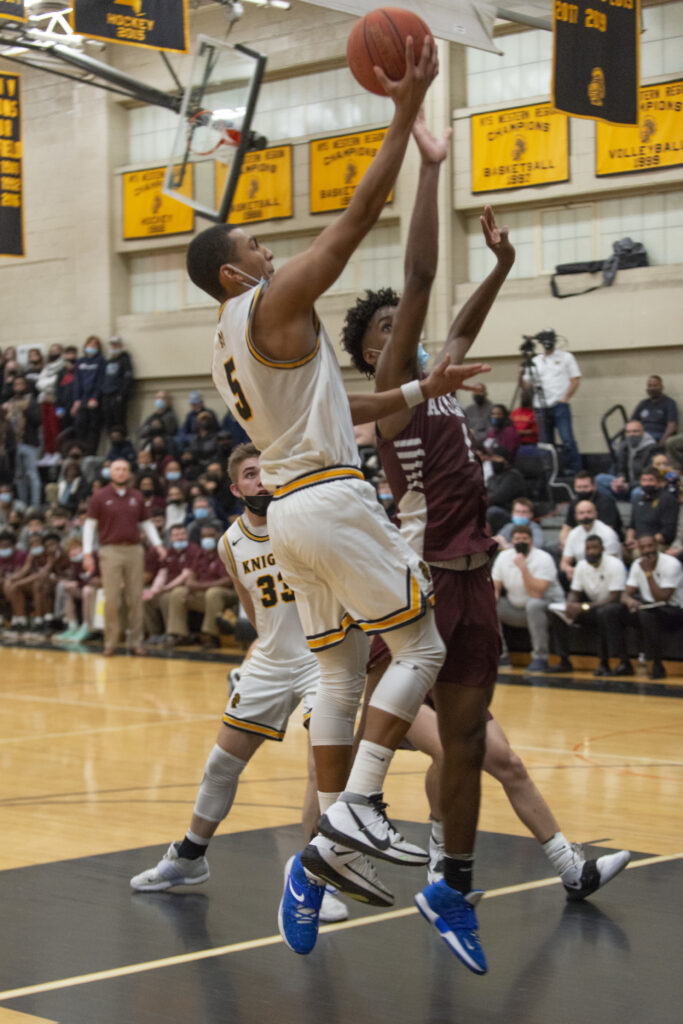 By PAUL GOTHAM
ROCHESTER, N.Y. — Using a 13-7 run midway through the third quarter, the McQuaid Jesuit Knights took a lead they did not surrender and defeated longtime rival Aquinas 66-63 in non-league action, Monday night from the John H. Ryan Memorial Gymnasium.
Ian Florence and Casey Montesano combined for three 3-pointers during a six-possession sequence in which the Jesuit Knights gained the advantage.
"In the first half, we just didn't play super smart," ninth-year McQuaid head coach Jack Leasure said. "We were running some stuff and then maybe breaking it off early and taking some quick shots. In the second half, I thought we had some possessions where we did a better job of running through, executing, finding what we were really looking for. That turned out to be some better shots in the second half."
Florence gave the Jesuit Knights a brief lead at 36-35 with his third of four triples on the night. Two trips down the floor later, Montesano took an inside-out feed from Colin Bavibidila and made it a 39-37 game.
McQuaid did not trail again.
"When you guard, it's a little bit easier to play offense," Leasure noted. "What we said at halftime was we got to do a better job of just being smarter defensively. We were fairly tough the whole game, but then we just missed assignments at times. In the second half, I thought we were a little more sound with that."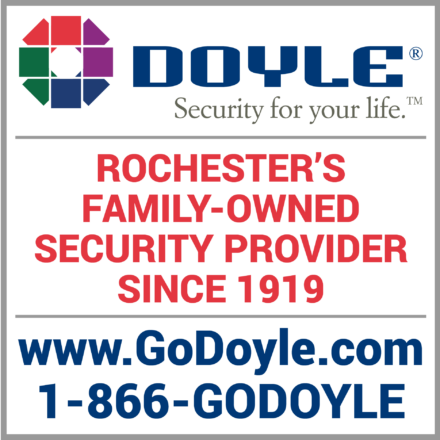 Florence made it a two-possession game with his next trey.
Four different Knights combined to connect eight times from long range for the game.
Casey Montesanto makes good on the inside-out feed from Colin Bavibidila. pic.twitter.com/2UceMfZYtL

— Paul Gotham (@PickinSplinters) December 21, 2021
"Coach teaches us setting good screens gets you open every time," Florence said. "That's what we did every time. I made it my mission. I haven't been good with setting screens earlier in the year, but I've gotten better at it and it's created more space for everybody."
The game contained four ties and six lead changes in the first half. Bavibidila's three off the glass from the top of the key gave McQuaid the largest lead of the night for either team at 59-52 with less than 2:30 remaining in the game.
Bank 3 from Colin Bavibidila and McQuaid leads 59-52 pic.twitter.com/vwSnhskbW1

— Paul Gotham (@PickinSplinters) December 21, 2021
Aquinas scored the next four points and sophomore Mason Blackwood converted a pair of free throws to make it a 61-60 game with 46.3 seconds left on the clock.
"We had to slow everything down," Florence said. "That's what coach has taught us, run the press break and be strong with the ball."
"They're really good," Leasure said of Aquinas. "After they beat Canisius and UPrep last week, you saw the type of balance they had. The types of things they can do, making shots and flying around the rim."
The win was the third straight for McQuaid which improved to 4-2 on the season.
"It's always a work in progress," Leasure said. "We did somethings well. We'll go back and look. There are somethings we'll have to improve on."
Montesano led McQuaid with 16 points. Florence had 14. Bavibidila and Anthony DiMarco scored 11 apiece. Chris Woodard added eight. Will Taylor and Max Schalm both had three points.
Anthony DiMarco gives McQuaid a 63-60 lead with 15.5 remaining pic.twitter.com/JEF3C1KhrF

— Paul Gotham (@PickinSplinters) December 21, 2021
Blackwood hit four 3-pointers and converted on all six of his free throw attempts to lead all scorers with 26 points. Robert McCullough added 11 points. Will Scanlon had eight. Jack Bleier and Myles Blackwood scored six apiece. Mykel White accounted for four points. Chris Leysath chipped in with two points.
Mason Blackwood cuts the deficit to 3. pic.twitter.com/woBgJpD3bt

— Paul Gotham (@PickinSplinters) December 21, 2021
The same two teams are scheduled to meet on February 17th.
McQuaid hosts Franklin on Wednesday for a 6:30 p.m. start.
Aquinas travels to Buffalo to play St. Joe's on Wednesday.