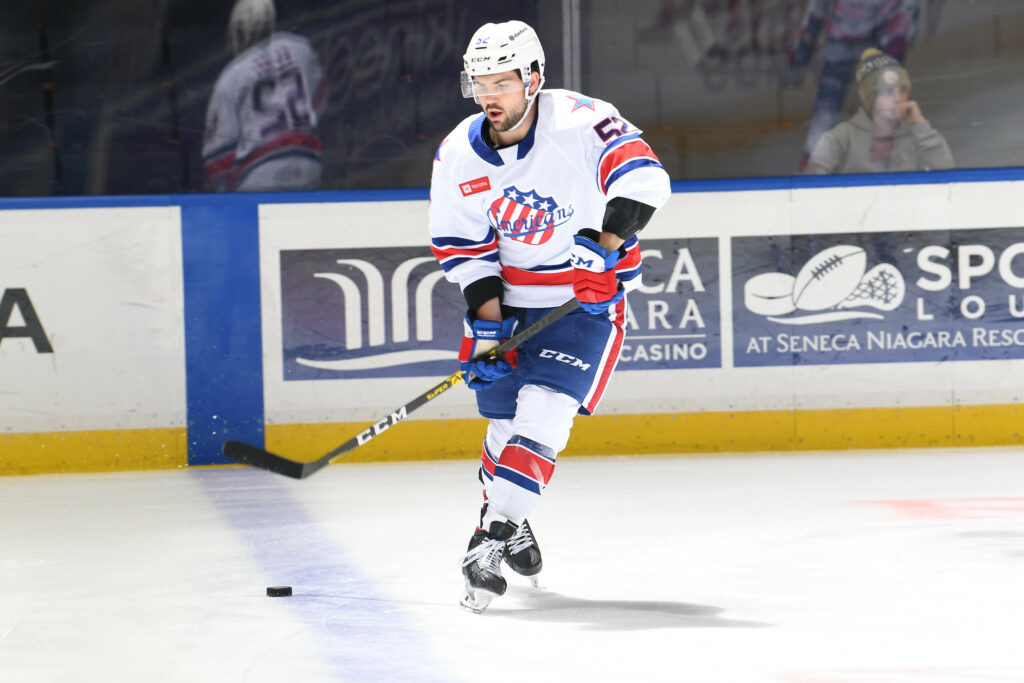 By KEVIN OKLOBZIJA
The speed bumps – not to mention a road closed sign or two – certainly were in place to derail the streaking Rochester Americans this week.
There was the pause in the season due to COVID-19 protocol that finally ended Wednesday after 11 days.
Their head coach, Seth Appert, and defensive assistant coach, Mike Weber, were forced into virus-mandated isolation.
A more common illness, the flu, forced forwards Jack Quinn, the American Hockey League's leading rookie goal-scorer, and Mason Jobst out of the lineup.
Two of their top offensive players, Mark Jankowski and Brett Murray, are on recall to the parent Buffalo Sabres, as are both goalies, Ukko-Pekka Luukkonen and Aaron Dell.
And yet the Amerks keep winning, thanks to their adapt-and-overcome mentality.
"That's kind of the M.O. of our team, guys step up," said captain Michael Mersch, who scored his team-leading 12th goal in Friday's 5-3 victory over the Laval Rocket at Blue Cross Arena at the War Memorial.
Five different players scored goals – with defenseman-turned-forward Mitch Eliot firing home the game-winner – as their winning streak reached five while their record improved to 13-6.
"This week lined up with up nothing but excuses for us," acting head coach Michael Peca said. "We're playing with short lineups, and guys that are in your lineup aren't 100 percent themselves and they're logging a lot of minutes and you're playing with a goalie (Mat Robson) that just got called up (from ECHL Cincinnati) earlier in the week.

"There's a lot of reasons we could have come up with excuses, but we didn't allow them to believe that. They love winning. They've had the taste of that, and they don't want to lose that."
Indeed, rather than dwell on who's not playing, someone else simply steps up and shows why they should be playing.
Like Brandon Biro, whose first goal of the season tied the score at 12:02 of the first period, just 2:21 after Laval took the lead.
Like Eliot, playing in just his fifth game and at forward instead of his natural position of defense, whose goal 5:14 into the third period became the game-winner.
Like defenseman Josh Teves, cut more times in his career beginning in youth hockey right up to Junior A than he can even count, assisting on two goals while continuing to log major minutes on the blue line.
"We have a practice drill called the Bobby Orr and I joked with him the other day that when 'Apps' is back, I'm going to lobby to rename the drill the Teves drill," Peca said. "The minutes he's logging, the responsibility he's been given, he and Ethan Prow together have been outstanding."
Teves is perhaps the poster child for this team. Sure, there are highly touted prospects, the most in fact on an Amerks team since the 2004-05 NHL lockout season. But the unheralded players are the glue.
"He's stepped up big for us," Mersch said. "He's been just a calming presence for us."
There's also much more of a belief in team when every part is playing a part.
"When you go through a winning streak in any sport, you're never going to look at one guy that's been the one guy to bring you that success," Peca said. "It's been Josh Teves, it's been Ethan Prow, the last two games it's been Matthew Robson.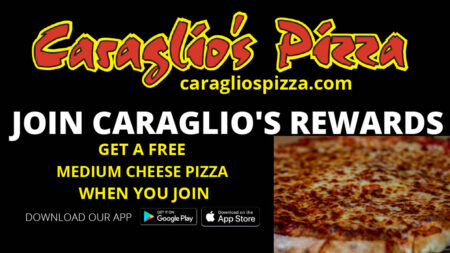 "Tonight we were short and we get great minutes and play from Eliot up front and (Ryan) Scarfo, Dominic Franco. We really are collective. We really rely on our team; not individuals, not lines, not D-pairs but our whole group, and that's what makes us special."
And so, even when they don't play their best hockey – which was the case in Wednesday's 4-3 overtime victory over Utica – they still find a way to win.
"We're kind of just taking the punches as they come and it's a testament to the character of our team," Teves said. "Mitch Eliot's a great example of that. He's had some adversity this season and he got put in a role that he's not really comfortable with (playing forward) and he was a huge part of that win tonight.
That shows everyone stepping up. The same with Robson. Coming in, not with a ton of time with us, and he's been playing amazing, so those two guys have been the epitome of our group's success."