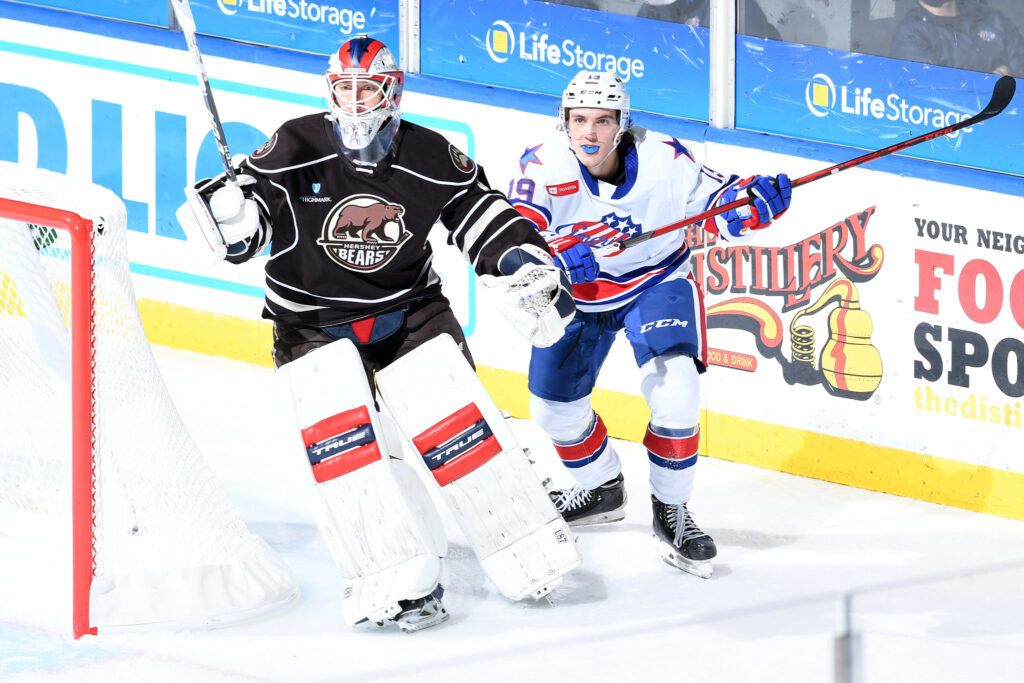 By KEVIN OKLOBZIJA
The American Hockey League's oldest rivalry was renewed on Friday night between the Rochester Americans and Hershey Bears, and it was just like olden times.
A little old-time hockey mixed in with new-age talent turned into a 7-3 blowout victory for the Amerks.
There were three fights, three game misconducts, a few dirty checks, a little stickwork in frustration, a goalie (Pheonix Copley) going after the final goal-scorer of the game and 125 total minutes in penalties (79 on the Bears, 46 on the Amerks).
This from two teams that hadn't played since Jan. 19, 2020, and just two Amerks took the ice that night and Friday: goalie Ukko-Pekka Luukkonen and center Sean Malone.
"It was two teams fighting hard to the end; it was a fun game," said Amerks center Mark Jankowski, who scored the last goal as the Amerks improved to 10-6.
Michael Mersch scored two goals; Ryan MacInnis, Malone, Mason Jobst and Jack Quinn one each while rookie winger Peyton Krebs assisted on four, including three power-play goals as the Amerks went 4-for-9 with the man advantage.
Hockey may have changed, but every now and then the game of yesteryear crops up.
"They have a heavy, veteran team, some real mean, nasty players," Amerks coach Seth Appert said. "We're trying to fight to be a team that has a physical element to our game, we don't want anybody to push us around."
They showed it in front of 5,066 loving-every-minute-of-it fans against the Bears.
"It might have been a bit of an eye-opener for some of our younger players but no one stood down," Malone said.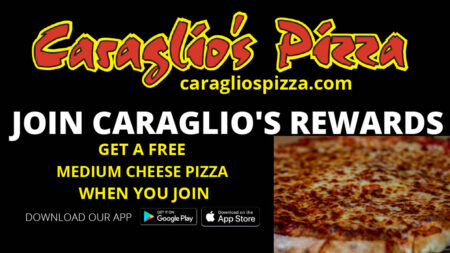 Which clearly seemed to be the Bears' hope after they fell into a 3-0 first-period hole because of roughing, tripping and cross-checking minors. The first goal technically wasn't on the power play, but it came just as Kale Kessy was leaving the penalty box.
"There's a lot of different ways to respond to a team that's trying to bully you and tonight we did it on the power play," said Mersch, who leads the team with nine goals.
The Amerks had to kill a pair of Hershey power plays in the first period and did so. Thus, the difference in the game.
"Tonight the special teams were outstanding, and they had to be," Appert said. "They had opportunities on their power play in the first period and our penalty kill did the job, and we had opportunities on our power play and our power play did the job.
"So you probably have an even first period and you're leading 3-0 because goaltending and special teams."
The game demonstrated that toughness is very much a part of how any team must play.
"Physicality and toughness and not being intimidated is still a part of contact sports," Appert said. "It's not as much part of it as it was 20 years ago. It's not as much a part of football as it was 20 years ago. But physical play and willingness to be in hard areas offensively, defensively and physically, there's still value in the sport."
The emphasized value today is high-end skill, which Krebs has been showing off recently. Obtained Nov. 4 by the Buffalo Sabres in the trade that sent Jack Eichel to the Vegas Golden Knights, Krebs now has 1 goal, 6 assists and 7 points in 9 games with the Amerks and 1-11-12 in 11 AHL games overall.
There was an adjustment period but he has settled in nicely.
"You have to remember it was a big move," Appert said. "You're traded from a franchise that's on the west coast and you don' t know the guys and how we want to play and all those things.
"I think his game in Utica Saturday was elite and he probably should have walked away with three or four points. Maybe because of goaltending or missing some opportunities, he doesn't get any."
How good was he against the Comets on Nov. 20? Appert said he was part of 10 scoring chances five-on-five. And yet, his point total never changed.
"He and I watched video today and the message was, keep playing the right way and the points will come," Appert said. "You worry sometimes with young offensive players because they stop playing the right way when points don't come, and then their game suffers."
Notes: Defenseman Mattias Samuelsson was hurt when pounded hard into the end boards on a second-period check. Appert said he doesn't believe it is anything serious.
The Bears were without coach Scott Allen and goalie coach Alex Westland because they tested positive for COVID-19 in the morning and returned to Hershey.