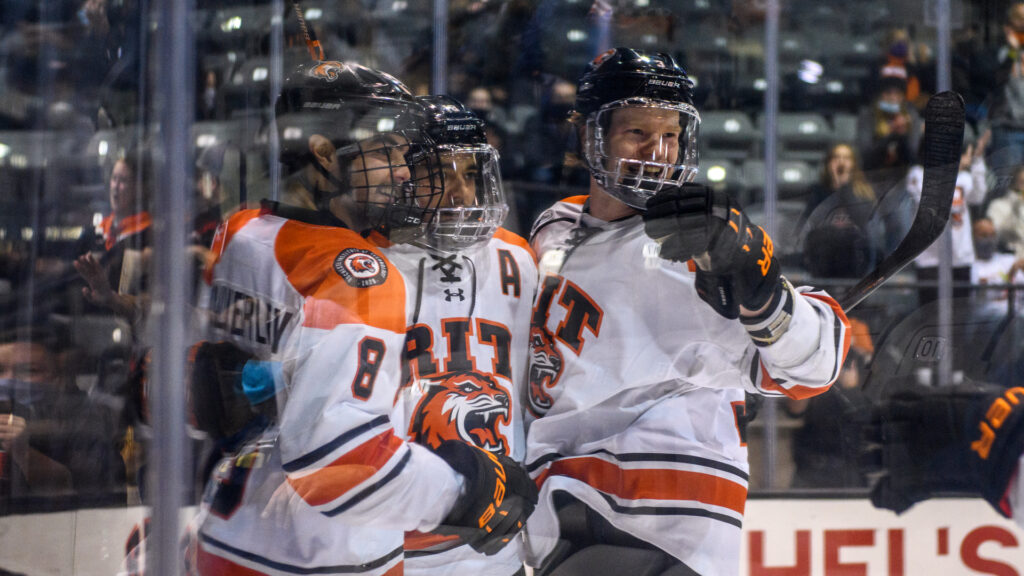 By KEVIN OKLOBZIJA
Not everyone hits the ground running when a season begins.
Pucks that found the net in years past instead hit a skate or are stopped by the goalie. Passes that were on the tape instead clank off the blade.
Such was the case this year for Rochester Institute of Technology senior Nick Bruce.
While it seems everything linemate Will Calverley has shot has gone in the net – the senior center has eight goals in 14 – Bruce seemed to be facing Andrei Vasilevskiy every time he has had the puck in the slot.
Through his first 11 games, the left winger didn't have a goal. He did have four assists, but none in the past six games.
The Tigers coaching staff had been patient – until last Saturday at Canisius, when they made Bruce a healthy scratch.
"That was hard for me to do, and it was hard for him to understand a bit," RIT coach Wayne Wilson said. "When it happens, it's kind of a 'boom.' "
Bruce responded on Saturday night, scoring two goals in the first 3:50 as RIT opened an instant 3-0 lead and then held off Holy Cross 4-3 at the Gene Polisseni Center.
Jake Hamacher and Kobe Walker also scored for the Tigers, who swept the weekend series to improve to 7-5-2 overall and 5-3-2 in Atlantic Hockey.
The quick outburst of three goals before the game was four minutes led to the natural reaction of "This is going to be easy."
"You get up three goals like that, human nature is to get a little complacent," Bruce said.
But Holy Cross (2-10-1, 2-5-1) provided a wake-up call by pulling within 3-2 just 1:39 into the second period, and had a great chance to at least tie the score when RIT winger Merritt Oszytko was assessed a five-minute major for checking from behind at 13:50 of the second period.
Instead, just nine seconds into the penalty kill, Walker scored on a breakaway. The short-handed goal came after he stole the puck high in the RIT zone and sped away by himself for his fourth goal of the season.

"That short-handed goal was as big as anything," Wilson said.
On an individual front, the goals scored by Bruce were also pretty big. He produced 4-12-16 in 18 games last season after 3-14-17 in 34 games in 2019-20.
While he's not going to be RIT's leading goal-scorer, he is expected to contribute.
"It's been frustrating, for sure," the senior from Fall River, Nova Scotia, said. "But when one goes in, you hope they start to go in after that."
Which is just what happened on Saturday. He and Calverley worked a gorgeous two-on-one from center ice, after a slick backhand pass by Walker sent them away.
Bruce fed Calverley in the left of the slot but, instead of shooting, he passed quickly back across and Bruce buried it into the net just 37 seconds into the game.
Hamacher's rebound goal 59 seconds later bumped the lead to 2-0, and Bruce's power-play goal at 3:50 ended the night for Holy Cross starting goalie Thomas Gale.
It was the type of goal that goal-scorers score. Or that maybe signal the end to a slump.
Bruce had little to shoot at when he got the puck in the left of the slot yet found room under the arm and above the pad.
Sitting out the game last weekend provided a little time to refocus and also some irritation.
"You take a good look in the mirror," Bruce said. "You make sure you get in the mindset that it doesn't happen again and you use it as motivation."