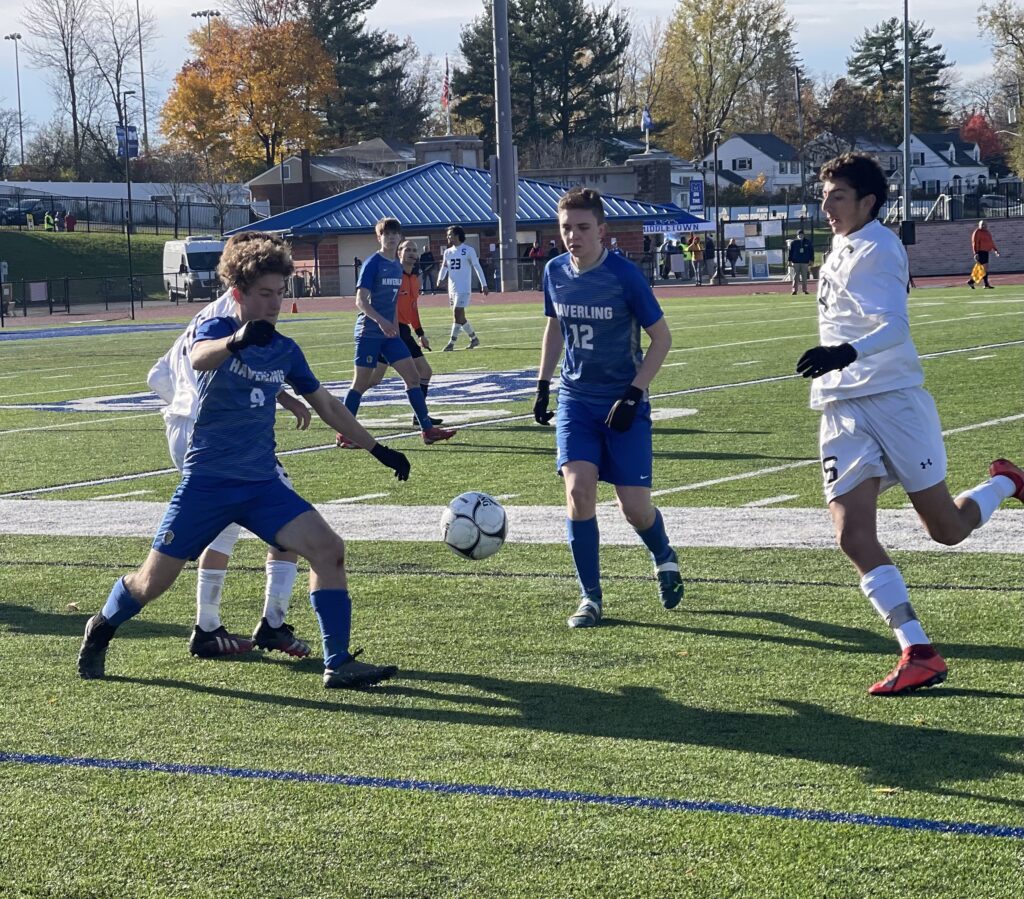 SATURDAY 
GIRLS
CLASS AA
PENFIELD (16-2-1) 0
MASSAPEQUA (VIII) 3
Unbeaten in 17 straight, Penfield fell to eventual state champion, Massapequa.
CLASS A
SOUTH SIDE (VIII) 1
SPENCERPORT (19-0-2) 1 South Side advances on PKs 4-3
Aleena Solana scored the lone Spencerport goal late in regulation.
CLASS C
CARLE PLACE (VIII) 2
BYRON-BERGEN (19-4-0) 0
CLASS D
MOUNT ACADEMY (IX) 2
FILLMORE (21-1-0) 1
BOYS
CLASS AA
HILTON 3
MAMARONECK (I) 2 OT
With one nod of the head, Ian Fediuk beat a pending weather front and sent the Hilton Cadets to the 2021 New York State Class AA Boys' Soccer Championship Game. Less than two minutes into the first overtime, the senior midfielder redirected a Johnny Resnick cross lifting the Hilton Cadets…READ MORE.
CLASS B
BATH-HAVERLING 7
BEEKMANTOWN (VII) 0
Section V had two teams play at the same time with extremely different field conditions. Hilton played Mamaroneck (I) in a game which went into overtime on the pristine turf field. On the opposite end of the press box and bleachers, Bath-Haverling matched up with North Country champion Beekmantown (VII) on the muddy, swampy grass field. The Rams embraced the challenge and dominated from kickoff…READ MORE.
CLASS D
FILLMORE 0
CHAZY (VII) 0 Fillmore advances on PKs 6-5
Sometimes, everything just seems to come full circle. Junior goalkeeper Luke Colombo lined up for the penalty kick, shuffled four steps forward and launched the ball into the back of the net to send Fillmore to the state final. The last time the Eagles advanced to the state final in 2000, Noah Voss, the goalkeeper, converted the clinching penalty as well. READ MORE.

SUNDAY 
BOYS
CLASS AA
WEST ISLIP (XI) 5
HILTON (19-2-1) 0
Deadlocked in a scoreless tie after 22 minutes of action, the Cadets eventually went into halftime trailing 3-0. Brendan McMahon nodded in a corner kick with 17:23 left in the opening stanza to start the scoring. Nearly 11 minutes later, Aidan Lodie finished a breakaway to double the advantage. READ MORE.
CLASS B
SKANEATELES 2
BATH-HAVERLING (22-1-0) 1 OT
The Bath-Haverling Boys' Soccer team had two goals to achieve on Sunday morning: avenge a 2019 state semifinals loss to Skaneateles (III) and win the program's first state title since 1996. For 82 minutes, both of those seemed within grasp. READ MORE.
CLASS D
MOUNT ACADEMY (IX) 3
FILLMORE (19-3-0) 1
The last time Mount Academy boys soccer won the championship, it was declared a co-championship in 2017. In 2019, they fell in the final. READ MORE.