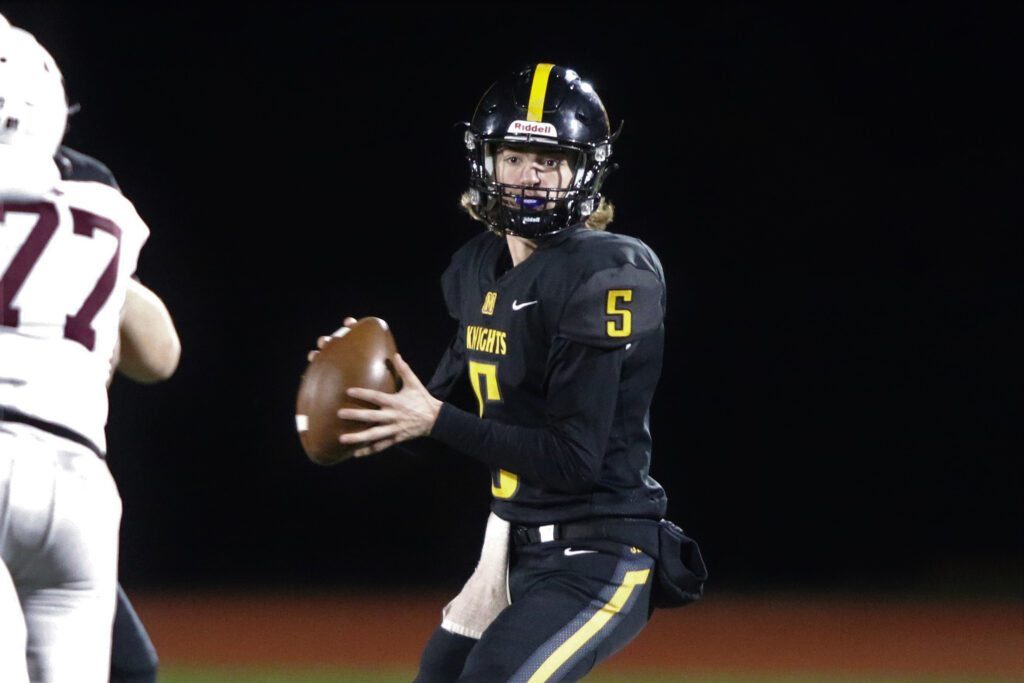 By KEVIN OKLOBZIJA
To hear Parris Smiley describe his role for the McQuaid Jesuit Knights, you'd think the senior wide receiver just played on third down or was targeted on passing routes only if others weren't open.
"I say I'm pretty much a role player on the offense," Smiley said.
Here's what the role player did on Saturday night in McQuaid's 28-14 victory over rival Aquinas Institute in the Section V Class AA championship showdown:
** With 1:15 remaining in the first quarter, he leaped above two defenders in the left corner of the end zone to snare at its apex a pass from quarterback John Mahar, then somehow held on as he and the defensive backs fell to the turf as McQuaid tied the score 7-7.
** With 34 seconds left in the first half, he hauled in a 10-yard pass from Mahar, curled toward the sideline, darted past a would-be tackler at the Knights 46 and then sped untouched down the right sideline for a 65-yard touchdown catch and run to put McQuaid ahead 14-7.
** On third-and-goal at the Aquinas 3 with 11:52 remaining in the game, Smiley caught a Mahar pass in the left flat and sauntered into the endzone with the decisive score and a 21-14 lead.
Role player indeed. It's called starring role.
"Parris is a big part of our team so him saying he's a role player, that's Parris being humble Parris," McQuaid coach Bobby Bates said after his team improved to 9-1 and earned a date in the state Regionals. The Knights play Section VI champion Bennett/Olmsted/Middle Early College/East High (8-1) at 6:30 Saturday at Williamsville South.
Even with Smiley's three touchdowns and 163 receiving yards on just six catches, the Knights needed a critical four-down stop of the Li'l Irish on the McQuaid 21 with 4:41 remaining, an interception by Anthony Dimarco on the next Aquinas possession with 2:31 to play, and then a recovery by Max Schofield of the fumbled exchange in the Aquinas backfield with 1:59 left before they could celebrate.
That moment came when senior fullback Kendal Burno, who played the starring role on defense from his control-the-field linebacker position, bulldozed his way 17 yards for the clinching touchdown.
"This game swung so many different ways," Bates said. "Aquinas has a very dynamic offense and their defense swarms the ball."
Ahead 28-14, jubilant Knights players on the sideline began holding up three fingers to their classmates in the stands at Hilton's LeBeau Field while screaming "Three-peat."
For a school that went 41 years between sectional titles, 1978 to 2019, McQuaid has now made a habit out of hoisting trophies, having won three straight.
"I remember back to my freshman year, and it was always close but no cigar for McQuaid," Burno said. "Now to be a senior and a member of a team that made history, it's unbelievable."
Now, winning isn't the dream, it's the expectation.
"It was always Aquinas is No. 1 and we're No. 2," Smiley said, "but we've set the newfound standard."
Smiley had a lot to do with maintaining the bar where it had been set with title blocks in 2019 and then again last spring during the COVID-19 altered 2020-21 school year.
The Li'l Irish (8-3) had taken a 7-0 lead 5:22 into the game when a McQuaid mis-hit punt following a poor snap went right into the hands of Sean Riley, who ran it back 26 yards for the game's first touchdown.
McQuaid didn't make a first down until its third possession, this time after a shanked Aquinas punt gave the Knights great field position deep in Li'l Irish territory.
Then the Smiley show began. Mahar threw toward the left front of the end zone for Smiley, but defenders C.J. Cammack and Eimaj Giddens converged and appeared to have position.
"It was open when I threw it but then I saw the other defender moving over," Mahar said. "It made me a little scared but with Parris, you can always count on him making a play."
This was more than just a play. This was THE play of the night.
Catch of the year candidate: Parris Smiley

McQuaid senior wide receiver (@parris_smiley) goes up over TWO defenders for the touchdown catch

#YouGotMossed pic.twitter.com/Rtc2prM2Jf

— Dan Fetes (@danfetes) November 14, 2021
Smiley, who was behind Giddens and alongside Cammack, soared above both defenders and snatched the ball out of the air just as it seemed Giddens could either intercept or bat it down.
"That's one of the best catches I've ever seen in high school," Bates said. "He was able to pluck it out of the air, hang on to it and maintain the catch with two defenders on him. That was a college play. It was special play by a special player."
Smiley's 65-yard catch-and-run score just before halftime put McQuaid ahead, and they were marching for another touchdown midway through the third quarter.
But on first-and-10 from the Li'l Irish 22, Aquinas defender Jahill Johnson leaped to bat and then intercept a Mahar pass at the 20, and he sprinted 80 yards for the defensive touchdown and a 14-14 tie.
There was no panic by the Knights, however, especially since the only points they allowed were on a punt return and an interception return.
"I feel like for the past three years I've been saying this," Bates said, "but these kids are very, very resilient."
Indeed, on the next possession, McQuaid methodically marched 64 yards in 11 plays over 5:15 of clock time – 28 of those yards coming on five rushes by Sean Oberlies – before Mahar found Smiley wide open in the left flat for the go-ahead touchdown.
The Knights defense then took over and refused to let Aquinas get near the endzone, ensuring yet another sectional title.
"We wanted to make sure we made a mark," Mahar said. "Three in a row just signals the tradition is staying."