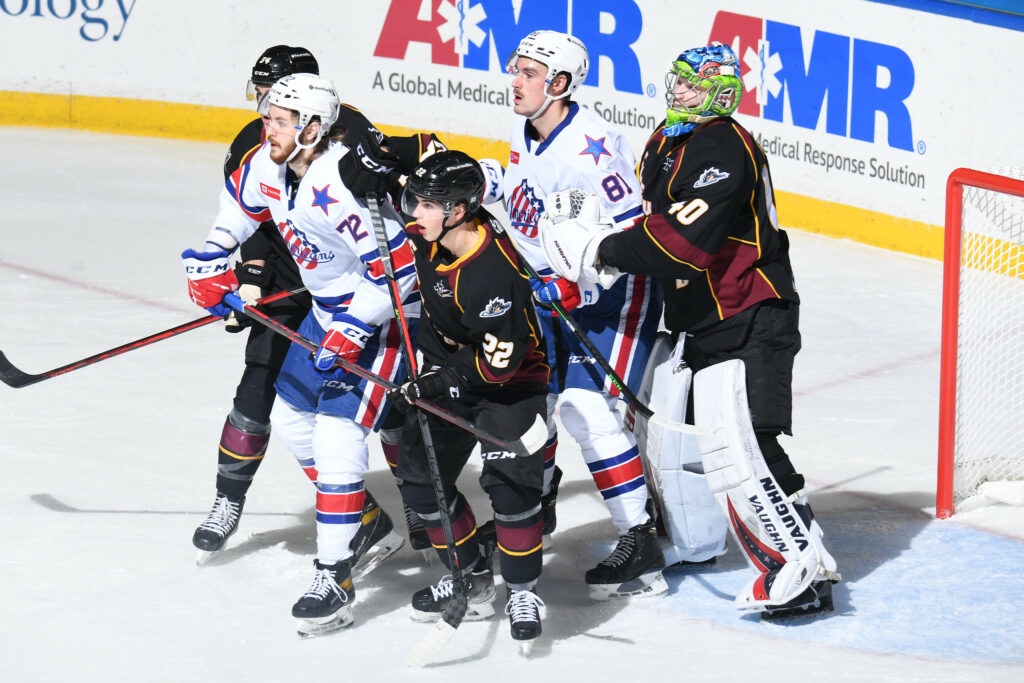 By KEVIN OKLOBZIJA
With a dart up the ice, an acrobatic inside leap around a defenseman and a perfectly placed wicked wrist shot, Jack Quinn in four seconds showed why he's on the fast track to the NHL.
The Rochester Americans rookie winger electrified the crowd and his teammates with his SportsCenter Top 10 short-handed goal midway through the third period on Friday night against the Cleveland Monsters.
"Ten out of 10," teammate Mark Jankowski said when asked to rate it.
Quinn even dazzled himself. In spinning his stick to start his post-goal celebration, he dropped it.
"So I had to improvise," he said of his arms raised, shoulder-check splash into the Plexiglas.
But Quinn's ability to create instantaneous razzle-dazzle with the puck isn't the only reason he's going to play for the parent Buffalo Sabres sooner rather than later.
He was pointing the finger of blame at himself for what turned out to be a 4-3 loss to the Monsters at Blue Cross Arena at the War Memorial.
He thought he gambled and lost, ended up out of position and watched the player he was supposed to cover, Carson Meyer, score the winning goal with 4:31 to play.
Monsters winger Tyler Angle had charged his way up the ice, mostly avoided a check by Michael Mersch in the neutral zone, then absorbed a check from defenseman Casey Fitzgerald and at the same time chipped the puck ahead to linemate Tyler Sikura.
At that point, with Quinn thinking Fitzgerald would win the puck battle with Angle, the Monsters were two-on-one into the zone and Meyer was free to put Cleveland ahead.
"I just thought we were going to win it and curled offensively, cheated a little; terrible read," Quinn said. "Obviously the 50/50 went the other way, made it a two-on-one and my guy was too far away at that point. I can't loop I guess, that's for sure."
His coach, however, wasn't nearly as critical.
"That's a 50/50 play," said Amerks coach Seth Appert after his club fell to 6-4. "I think Quinner started to break toward the offensive side, anticipating us winning that, and we lost it. If we win that 50/50 puck, we're probably on a line rush for. Instead, it's a line rush against."
Perhaps it was a learning moment. After all, that's why Quinn is in the American Hockey League, where he has produced 8 goals, 6 assists and 14 points in 10 games this season.
But Appert said he doesn't want to stifle the talents of his dynamic offensive forwards.
"I don't want a player to play cautious," Appert said. "He has to trust his instincts and his instincts were that player was going to win that 50/50 battle."
What he couldn't accept was the overall sloppiness in the team game, or the delay of game penalty by defenseman Mattias Samuelsson that led to the tying power-play goal by Justin Danforth at 11:32.
Samuelsson's penalty came with Mark Jankowski already in the penalty box for roughing.
"That was a mental mistake to take that next penalty and it can't happen," Appert said. "That really was a mistake that changed the momentum there."
And the better team on Friday ended up winning.
"I thought that Cleveland was really good tonight, I thought they deserved to beat us and even though we put ourselves in position to win late, I didn't think we were good enough tonight," Appert said.
"We can't turn the puck over that many times, you can't play hockey that way."
Twice the Amerks opened one-goal leads – on goals by Jankowski at 9:10 of the first period and Brett Murray at 17:01 of the first – but the Monsters tied it each time in what was a chippy game between teams that play in downtown Rochester again at 6:05 tonight.
Jankowski often was in the middle of skirmishes.
"There was a lot of feistiness, just both teams playing hard," he said. "You have to stick up for yourself, you have to stick up for your teammates if you think they're taking liberties or they'll keep doing it."