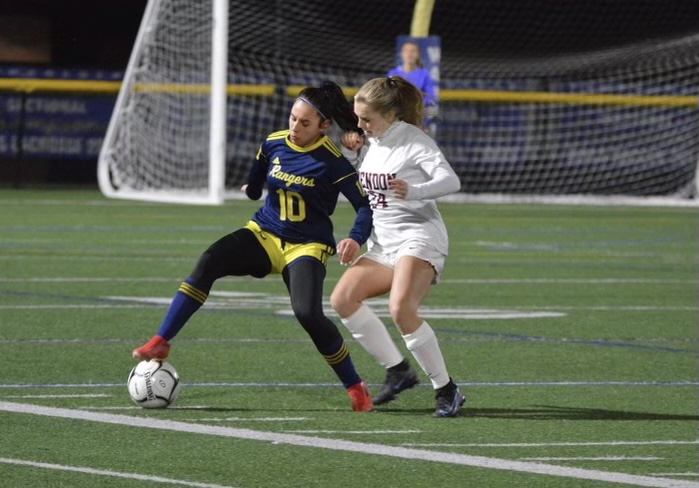 BOYS
CLASS AA CHAMPIONSHIP
No. 4 FAIPORT (13-3) 0
No. 2 HILTON (17-1-1) 2
Mike Ellicott didn't go far to find his game plan for Tuesday's Class AA title game. The seventh-year head coach of the Hilton Cadets looked to his players, and they provided the right scheme. READ MORE.
CLASS A CHAMPIONSHIP
No. 2 CHURCHVILLE-CHILI (14-3-2) 0
No. 1 PITTSFORD SUTHERLAND (17-1-2) 1
Henry Walbaum connected on the game winner with 11:10 remaining in the first overtime as Pittsford Sutherland defeated Churchville-Chili in Tuesday's Section V Class A championship. READ MORE. 
CLASS C REGIONAL QUALIFIER 
WILLIAMSON (15-3-1) 0
KESHEQUA (17-2) 4
Reese Powers found the back of the net twice as Keshequa advanced to the New York State Far West Regional for the second time in three years. Powers scored in the 27th minute and the 58th minute. Ian Hinrich and Sterling Strain both added goals in the second half. Powers and Avery Strobel picked up assists. Keshequa will play Maple Grove on November 5th.
CLASS D REGIONAL QUALIFIER 
C. G. FINNEY (9-6-2) 0
FILLMORE (17-2) 1
Graham Cahill scored the game-winner unassisted in the first half, and Fillmore advanced to regionals. The Eagles will square-off against Ellicottville on November 5th.
GIRLS
CLASS A REGIONAL QUALIFIER
PITTSFORD MENDON (15-4-1) 0
SPENCERPORT (18-0-1) 2
Alyssa Hackett fell one goal shy of a hat trick during Tuesday's Class A regional qualifier against Pittsford Mendon, denied when her shot clanked off the right post 10 minutes into the second half. She thought the shot was finding the back of the net. READ MORE. 
CLASS B REGIONAL QUALIFIER 
PALMYRA-MACEDON (18-2) 2
HAVERLING (18-2) 1
Kylie Waeghe netted the game-winner in the 64th minute as Palmyra-Macedon moved on in the Class B regional. Reagan Diehl assisted the game-winner, and Diehl had her own goal in the 10th minute. Molly Seither assisted the tying goal. Sydney Burns had the lone goal for Haverling in the first half. Clare Boesel saved nine shots in goal for the Indians. Palmyra-Macedon will square-off with the winner of Lewiston Porter and Roy-Hart.
CLASS C REGIONAL QUALIFIER 
BYRON-BERGEN (18-3) 3
WARSAW (20-1) 2
Byron-Bergen eighth-grader Libby Starowitz worked all season at midfield while classmate Mia Gray led the Bees' girls soccer team in scoring and while her older sister, Emma Starowitz, served as a catalyst for the offense, never getting a goal for herself. You could say she has a flair for the dramatic. Her first varsity goal came with 40.3 seconds left in regulation as Byron-Bergen advance to the Class C Far West Regionals with a 3-2 victory over previously unbeaten Warsaw. READ MORE.
CLASS D REGIONAL QUALIFIER 
BATAVIA-NOTRE DAME (15-3-2) 0
FILLMORE (20-0) 5
Hope Russell and Torann Wolfer both netted two goals to lead Fillmore past Batavia-Notre Dame in the Class D regional qualifier. Hope converted bother her goals in the first half, during the 14th and 23rd minutes. Wolfer scored the first Eagle goal in the third minute on an assist from Emily Krzeminski. Wolfer had her final goal in the 49th minute. Grace Russell scored the only other Fillmore goal. Preslee collected four saves for the Eagles. Fillmore will play Ellicottville in the Far West Regional.