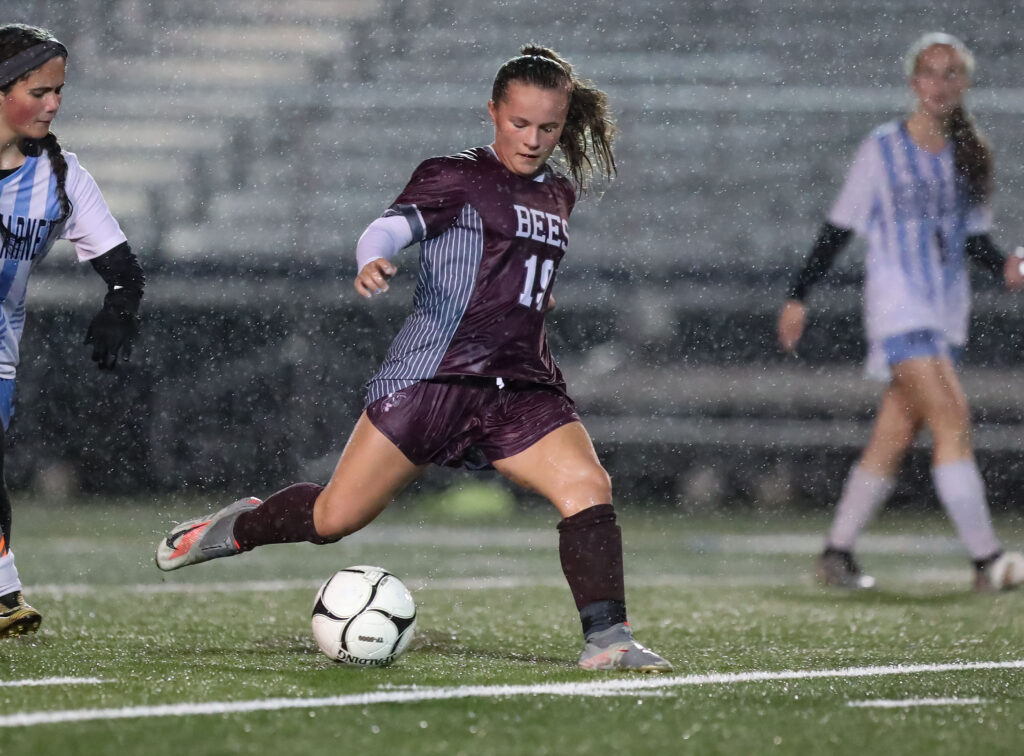 See more photos by Chris Cecere here
By TIM IRVING
Byron-Bergen eighth-grader Libby Starowitz worked all season at midfield while classmate Mia Gray led the Bees' girls soccer team in scoring and while her older sister, Emma Starowitz, served as a catalyst for the offense, never getting a goal for herself.
You could say she has a flair for the dramatic.
Her first varsity goal came with 40.3 seconds left in regulation as Byron-Bergen advance to the Class C Far West Regionals with a 3-2 victory over previously unbeaten Warsaw.
The Regional qualifier game at Cal-Mum was scoreless in the first half but the Bees attacked coming out of the half and 15 minutes in, took the lead as Emma Starowitz got the ball in the midfield and fed Mackenzie Hagen and then kept going. Hagen gave it back to her and she deposited it inside the right post to give the Bees the lead.
"She gets a lot of turnovers up front that people don't see, " coach Wayne Hill said afterwards.
It took just under two minutes for the Tigers to equalize. Chloe Hubbard's shot was blocked but Emma Tangeman fired the rebound in from 28 yards out.
That got Warsaw attacking and Morgan Langdon sent Hubbard in alone on Bees keeper Brooke Jarkiewicz and the senior made a kick save.
Four minutes later, Makaylah Higgins sent Hubbard in alone and this time, the junior netted her 31st goal of the year to give the Tigers a 2-1 lead.
"They are so scary going forward. You had to hold your breath every time Chloe touched the ball, or Emma. Thankfully, we got in front of them enough times to turn the ball our way," Hill said.
With 4:22 left, a foul was called at the top edge of the box and Ava Gray's shot glanced off the keeper's hands and in to tie it for Byron-Bergen.
That gave the Bees some momentum and with a minute left, they drew a corner kick. Mia Gray played it short to her sister and moved to her left. Ava gave it back to Mia for the cross, which hit a defender and bounced to Libby Starowitz.
With the keeper sliding out at her, she kept her cool and put the ball in for the winner.
"I was just worried I was gonna miss or the goalie was gonna get it, but the last touch felt great," she said about the biggest goal of her career, so far.
The Bees will be back at Cal-Mum Saturday for the Class C Far West Regionals when they play Frewsburg with the winner earning a spot in the State semifinals.