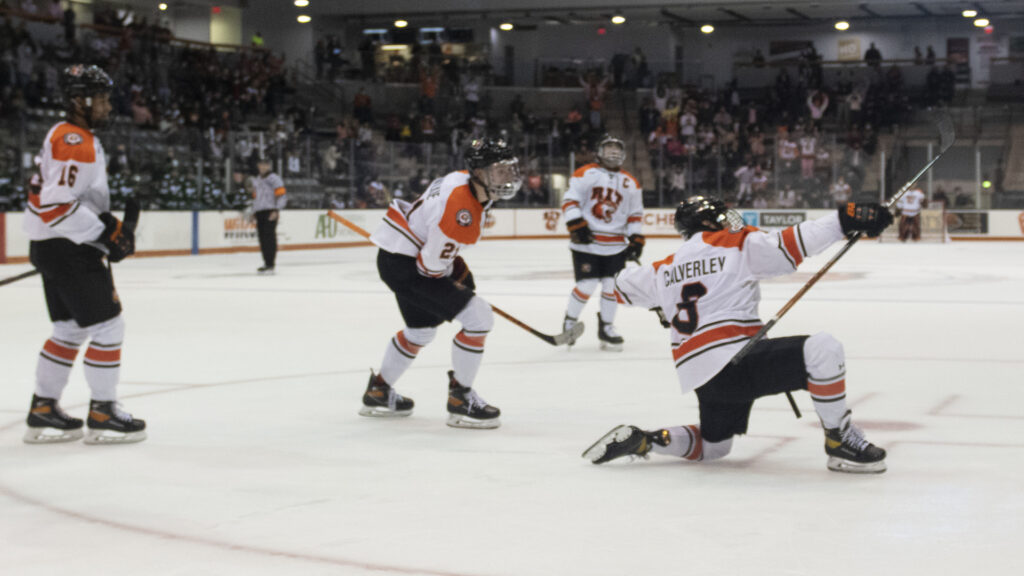 By KEVIN OKLOBZIJA
Considering the way Kolby Matthews has been playing in goal, Dan Willett figured if his shootout move – make that moves, with many plurals – could work on the junior netminder in practice, then there's a very good chance it work on an opponent in a game.
So when Rochester Institute of Technology coach Wayne Wilson sent Willett out to shoot first in the tiebreaker shootout against Mercyhurst on Friday night, the senior defenseman went to his favorite move(s).
And scored.
RIT's second shooter, senior winger Jake Hamacher, also scored while Matthews stopped Lakers top guns Austin Heidmann and Carson Briere as the Tigers officially tied the Lakers but gained the extra point in the Atlantic Hockey Association standings by winning the shootout.
Ahead 3-1 after two periods on the strength of goals by Kobe Walker, Will Calverley and Carter Wilkie, the Tigers (3-2-2 overall, 1-0-2 in AHA play) ended up relying on Matthews in overtime to give them a chance at a shootout win. Calverley has five goals in seven games.
"If that shootout doesn't go our way, it would have been a real bummer, to be up 3-1 at home and not win," Willett said.
Through the first six games, Willett wasn't producing points but was instead doing his best imitation of his roommate, the goalie Matthews. He had blocked 24 shots, most in the nation, and got in front of four more on Friday.
But the fifth-year senior also had a chance to contribute offensively when Wilson chose him for the shootout.
Willett attacked slowly, perhaps as slowly as anyone can skate while still moving forward, and then as he neared the hash marks in the slot, he began his series of dekes, head fakes and jukes before finally pulling the puck to his forehand and sliding it past the right leg of goalie Hank Johnson.
"That was a really, really nice move," Hamacher said. "He pulled that same move in practice yesterday."
Which is why Willett went to it on Friday.
Hamacher, meanwhile, opted to shoot. He attacked from off the right wing, saw opening to the far side and fired a perfect knee-high wrist shot.

"I actually scored a penalty shot goal on that same goalie (Johnson) last year," Hamacher said, "so I was kind of in mental warfare."
Does the goalie remember and prepare for it? Does he use it again?
He decided if it worked once, why change. And for the first time this season one of his shots found the net. While it's not an official goal, it's a confidence-booster nonetheless.
Through his first fives games, Hamacher didn't have a point and was even held out of the first game of last week's two-game series at Notre Dame.
But perhaps Friday will jump-start the production. His perfect feed to the goalmouth set up Wilkie's goal for a 3-1 lead at 19:05 of the second period, and then he helped win the shootout.
"It feels good to put a puck in the net," Hamacher admitted. "I needed a good game. I want to contribute; I feel like I'm an integral part of the team."
Matthews definitely has been a key contributor. He is 3-0-2 with a 2.13 goals-against average and sparkling .932 save percentage.
"He gives us confidence to play our game," Willett said. "If we do end up having a mistake, he's bailed us out.
While he only was credited with 22 saves on Friday, at least seven were of the five-star variety, including a sparkling glove save to rob Heidemann with 1:40 remaining in overtime. He also stopped two breakaways during regulation.
"When we give them up, we really give them up," Wilson said.
Matthews has risen to the occasion, however.
"He's been lights out this year," Hamacher said. "He's a backbone back there.
"And that's the thing; you can get a great save at any point in the game, but getting those timely big saves is so important."