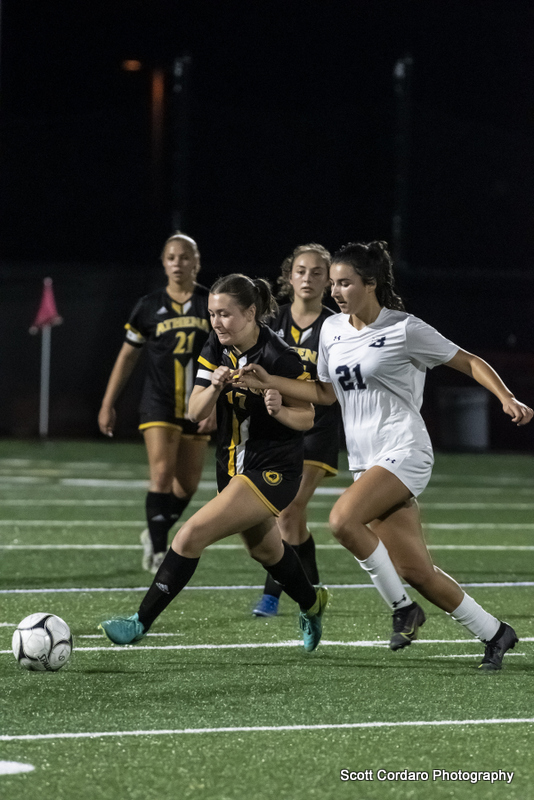 GIRLS
BRIGHTON 2
GREECE ATHENA 5
Wrianna Hudson and Julie Welling finished with two goals and an assist apiece as Athena (10-4-0) won its second straight game. Welling had a goal and an assist in the first half to help Athena to a 2-1 lead at the break. The duo scored back-to-back goals in the first 10 minutes of the second half to take a commanding lead. Larissa Johnston also found back of the net for the Trojans. Abby Ranalletta, Ashley Accorso and Isabella Astudillo had an assist apiece. Emilee Montagliano made 17 saves for Athena. Maggie Cregan scored both Brighton goals. Meredith Reynolds assisted on Cregan's first marker of the game. Cregan leads Brighton with 23 goals on the season.
PITTSFORD SUTHERLAND 1
PITTSFORD MENDON 0
Ella Wilmot's first half goal stood as Sutherland (8-5-0) won its fourth straight game. Abby Dunigan assisted on the play. Moran Pochtar made six saves for the shutout – fourth straight and sixth overall.
GREECE ODYSSEY 0
BATAVIA 9
Lily Miller netted a hat trick – her first three goals of the season, and Batavia (8-4-1) won for the third time in four games. Anna Varland scored twice to go along with an assist while Olivia Halpin finished with a goal and three assists. Kylee Brennan contributed a pair of goals, and Morgan Murray rounded out the scoring with her first marker of the campaign. Campbell Riley added an assist. Maddie Barone made four saves for the shutout.
BROCKPORT 1
HILTON 2
Karlee Hargather scored once and assisted on Caitlin Nelson's game winner. Brynn Sidebotham assisted on Hargather tally. Ashlee Carter made seven saves.
OUR LADY OF MERCY 0
SPENCERPORT 1
Aleena Solano's goal 18 minutes into the second half was the difference in a rematch of the 2020 Section V Class A final. Bre DeHond assisted on the goal. Cate Burns made eight saves for the shutout, Spenceport's seventh straight and 10th overall. DeHond has 11 assists on the season to go with 21 goals. The senior is tied for eighth among Section V scoring leaders.
VIEW MORE SCOTT CORDARO PHOTOS HERE.
ATTICA 1
GREECE OLYMPIA 7
Kuditra Derosa scored four goals and added an assist as Olympia (12-2-0) won its sisxth straight game. Julayshea Derosa, Sarah Tawaf and Sienna Carlenius had a goal apiece. Tawaf, Julayshea Derosa, Morgan Welch and Grace Gominiak each had an assist. Kuditra Derosa leads Monroe County and is third in Section V with 29 goals and six assists for 64 points.
LYNDONVILLE 1
EASTRIDGE 5
Nevaeh Bunch posted a hat trick while Sierra Manning finished with one goal and four assists to lead Eastridge. Alexa Ange also scored for the Lancers. Jayda Colon contributed an assists. Ella Lewis scored the lone Lyndonville goal.
AQUINAS 4
BISHOP KEARNEY 2
Four different players found back of the net as Aquinas (6-5-2) remained unbeaten in its past six games. Hanna Fenton and Sarah Kretchmer scored on unassisted efforts while Samantha Brescia and Amaris Watts scored with help from Jordan Calus and Lola Arauz. Alyssa Yanosh and Caroline O'Gara both scored for Kearney. Kaia Goode had an assist.
KESHEQUA 1
YORK 1
Ava Thayer scored for Keshequa with an assist from MacKenzie Gillen. The two teams tied when they met earlier this season.
WARSAW 3
LETCHWORTH 0
Chloe Hubbard scored twice as Warsaw (No. 2 NYSSWA Class C) stayed unbeaten at 14-0-0. Emma Tangeman added a tally. Emily Klump and Morgan Langdon had an assist apiece. Sarah Cox made two saves for the shutout – Warsaw's 11th on the season.
AVON 1
LE ROY 3
Bella Condidorio finished with a goal and an assist to lead Le Roy (6-5-3) to back-to-back wins. Megan Rinker and Zoey Humphrey added a goal apiece. Kailyn Tresco and Kenna MacKenzie both had an assist.
PERRY 1
CALEDONIA-MUMFORD 5
LIVONIA 1
HORNELL 2
Maddie Moore and Ayla Prior scored on a pair of unassisted efforts to lead Hornell. Juliet Marino made two saves.
PAVILION 3
MOUNT MORRIS 0
Shea Amberger finished with a goal and an assist to lead Pavilion. Ashley Carli and Ella Tillotson added a goal apiece. Blake Holthaus contributed an assist. Madison Jablonski made two saves.
DANSVILLE 3
WELLSVILLE 1
Maddie Lee had two goals and Aynsley Belcher scored off a corner from on one of Sidney Stone's two assists. Megan Tyler also had an assist. Abbey Belcher made one save.
BYRON-BERGEN 0
OAKFIELD-ALABAMA/ELBA 1
SOUTH SENECA 2
RED JACKET 3
WHEATLAND-CHILI 1
HOLLEY 0
Emily Parker's goal 10 minutes into the first half was the difference. Hannalee Hotaling assisted on the play. Marena DeBruyne made nine saves for the shutout.
BOLIVAR-RICHBURG 4
GENESEE VALLY/BELFAST 3
BOYS
GREECE ARCADIA 4
CANANDAIGUA 2
Ethan Cesario, Ryan Mitzler, Julian Silva and Keebu Soy scored a goal apiece to lead Arcadia. Aidan Lewandowski finished with two assist. Beckam and Julian Silva had one assist apiece. Gabe Taylor made three saves.
GREECE ATHENA 1
SPENCERPORT 5
Sujan Rajamohan scored twice while Kyle Milburn added a goal and an assist as Spencerport (7-5-1) stayed unbeaten in its past three games. Rajamohan opened the scoring 11 minutes into the contest. Milburn connected with four minutes ramining in the first half, and Jacob Malone gave the Rangers a 3-1 lead heading into the break. Austin Mandarano contributed two assists. Justice Hinman added a goal. Joey Weaver also had an assist. Gavin Rice scored the lone Athena goal with help from Landon Ambeau.
EASTRIDGE 0
HONEOYE FALLS-LIMA 3
David Brassie scored twice, and Valentino Maiola collected a pair of assists to lead HF-L. Zachary Zollo also scored for the Cougars. Ryan McClane had the helper on Zollo's marker.
GREECE ODYSSEY 2
BATAVIA 3
Ryan Michelsen finished with a goal and an assist for Odyssey. Mayken Perez Aguilar also scored for the Leopards. Gabriel Cobo had an assist.
PITTSFORD SUTHERLAND 0
PITTSFORD MENDON 1
Simon Goldstein connected on the game winner late in the second half as Mendon avenged and earlier loss to its cross-town rival. Colden Forney assisted on the play. Wyatt Kelley made five saves for the shutout.
WORLD OF INQUIRY/EDISON/FRANKLIN/SOTA 0
BISHOP KEARNEY 4
Miguel Fernandez finished with three assists to lead Kearney. Luke Tytler, Joey Triassi, Josh Baraka and Martin Valle Rosales scored a goal apiece. Ryan Farrell also had an assist.
AQUINAS 1
SKANEATELES (III) 4
Alfonso Vito scored the lone Aquinas goal. Ali Shabani had an assist.
FRIENDSHIP 0
MOUNT MORRIS 8
GANANDA 0
EAST ROCHESTER 4
Ian Szemcsak continued his torrid scoring pace with two goals and an assist as East Rochester (7-6-1) won its fourth straight game. Jalen McCoy and Jimmy Antonicelli added a goal apiece. Elijah Tanner and Jacen Mitchell contributed an assist apiece.
WILLIAMSON 1
NORTH ROSE-WOLCOTT 2 (OT)
Jack DeFeo's golden goal in the second overtime lifted North Rose-Wolcott. Gilbert Seager's first-half tally gave NR-W the lead. Troy Ingham leveled the match for Williamson with an assist from Tyrone Walker.
MYNDERSE 0
NEWARK 6
Before the game, Newark celebrated its 12 seniors and honored former teammate Cody Luther who passed away last spring. Newark started off strong with a goal in the first two minutes. Gabriel Caraballo finished with a hat trick. Zach Herd scored twice and Elijah Malch added a goal. Ayden Miller and Morgan Miller combined on the shutout. Newark plays Midlakes on Tuesday for its last regular season game. Mynderse faces Batavia on Monday.
BOLIVAR-RICHBURG 3
GENESEE VALLEY/BELFAST 4
JASPER-TROUPSBURG 0
ALFRED-ALMOND 5
CAMPBELL-SAVONA 2
AVOCA/PRATTSBURG 3
HAMMONDSPORT 0
ADDISON 8
CANISTEO-GREENWOOD 0
ARKPORT/CANASERAGA 3