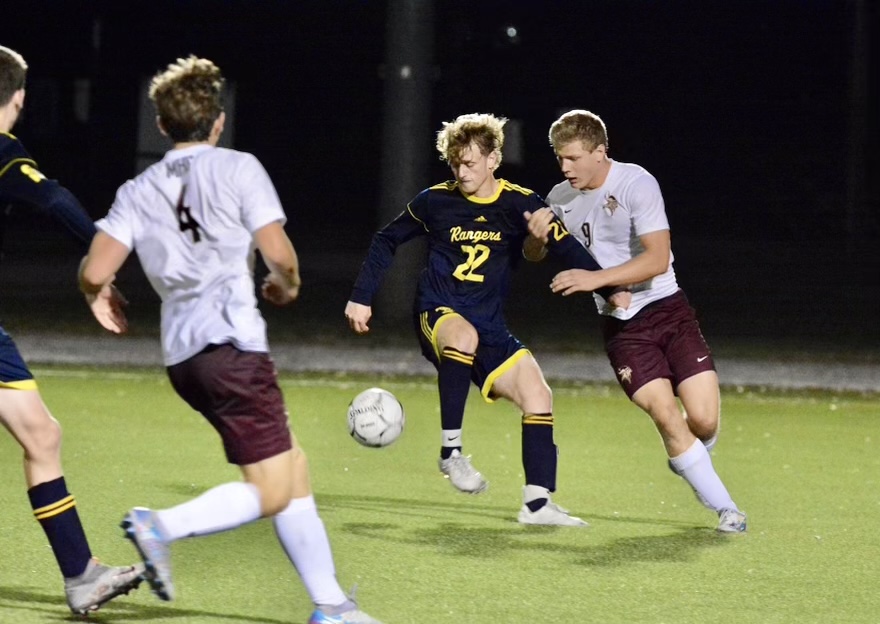 GIRLS
SOTA 0
GREECE OLYMPIA 7
Kuditra Derosa and Aaliyah Serrano scored two goals apiece as Olympia (5-1-0) won its third game. Julayshea Derosa, Hannah Roxstrom and Sarah Tawaf each finished with a goal and an assist. Morgan Welch contributed an assist. Elizabeth Faulkner and Emily Sweeney combined in goal for the shutout.
GREECE ARCADIA 0
WAYNE 3
Jillian Groff made nine saves for the shutout, and Wayne (7-1-0) won its fourth consecutive game. Trinity Surowiec finished with a goal and an assist. Riley Simpson and Katharina Busch added a goal apiece. Kayla Van Bortel and Gianna Ryndock both had an assist.
GRAND ISLAND (VI) 3
AQUINAS 2
Sarah Kretchmer finished with two assists. Amaris Watts and Mya Kotsch scored a goal apiece for the Li'l Irish.
C.G. FINNEY 1
BISHOP KEARNEY 2
Kaia Goode led Kearney (3-3-0) to back-to-back wins with a goal and an assist. Sophia McMullen found back of the net in the first half for BK. Akon Awouk assisted Goode's second-half marker.
MARCUS WHITMAN 3
WATERLOO 4 OT
In a game that featured five goals scored in overtime, Tabatha Winter accounted for three scores in leading Waterloo (4-1-3) to its third win in five games. Deadlocked at one after 80 minutes of play, Winter delivered the winner in the game's 97th minute. Morgan Caraballo also for Waterloo with Winter and Samantha Paige both adding an assist. Lana Burnett, Maddie Daggett and Taylor Bond each scored for Marcus Whitman. Katherine Cline and Zoelle Payne both contributed an assist.
HONEOYE 2
MIDLAKES 0
Mickayla Scheele stopped five shots, and Honeoye (7-0-0) turned in its fifth clean sheet of the season. Sydney Pulver and Leah Green scored a goal apiece. Alexa Colon and Olivia Dibble both had an assist.
GENEVA 0
PENN YAN 4
Sierra Harrison paced the Penn Yan offense with three goals. Emma Eichenhofer also found back of the net for the Mustangs. Morgan Andersen contributed two assists. Irelynd Densmore and Maihue Miranda-Wiltberger also had helpers in the win.
NAPLES 5
RED JACKET 1
Victoria Hegarty scored for Red Jacket with an assist from Maddie Chase.
WILLIAMSON 3
RED CREEK 1
Elizabeth Brandt netted a pair of first-half tallies to give Williamson (4-3-0) a lead it did not surrender. The Marauders went on to win for the third time in four games. Cayleigh Newby added a second-half marker. Paige Jordan, Reagan Mangos and Anna Henner contributed an assist apiece for Williamson. Chloe Jordan stopped nine shots for the win. Mackenzie Ferguson scored the lone Red Creek goal.
GANANDA 2
MARION 3 OT
Abigail Marotta connected in overtime, and Marion (5-2-0) won its fifth straight. Emily Gushlaw assisted on the game winner. Marotta also assisted on Abby Conover's second-half goal. Delaney Szostak scored on an unassisted effort for the Black Knights. Katie Rothwell and Ella Lathrop collected goals for Ganada. Nicole Cruz assisted on Lathrop's marker.
SODUS 0
NORTH ROSE-WOLCOTT 5
Reilly Batzold finished with two goals and an assist to lead NR-W. Alydia Mcintyre had a goal an assist while Hanna Stubbe contributed two helpers. Tori Cooper and Avery Boogard scored a goal apiece. Sydney Cuykendall had an assist. Lexi Countryman made three saves for the shutout.
WARSAW 4
PERRY 0
Sarah Cox made two saves as Warsaw (8-0-0) notched its fourth shutout in the past five games and sixth overall. Chloe Hubbard scored two goals and assisted on another. Emma Tangeman had a goal and an assist. Emily Klump added a marker, and Peyton Cartwright an assist. Perry keeper Aurora Berry stopped 28 shots.
WAYLAND-COHOCTON 1
CANISTEO-GREENWOOD 4
Brooke Burd had a goal and an assist to help Canisteo-Greenwood to a 2-nil lead. Sarah Coddington assisted on Burd's goal and later connected on her own in the second half. Lily Rexford scored an unassisted goal. Lillian Mullen made saves in the win. Autumn Bell scored the lone Wayland-Cohocton goal.
ADDISON 0
BATH-HAVERLING 6
Ella Yartym collected three goals and an assist to lead Bath-Haverling. Meredith Cjazkowski and Lillian Dickson both had a goal and an assist. Gillian Osinski, Keegan Smith, Lillian Dickson and Cadence Stermole also scored for the Rams. Sydney Burns had an assist. Bath-Haverling finished with an 11-2 advantage in corner kicks and 19-1 shots on goal.
Bath-Haverling coach Braedyn Ordway: "We continued our forward momentum last night with a 6-0 victory over the Addison Knights.  We were able to find the back of the net off a couple 'ground to six' balls last night which I always like to see as a coach.  I will say that this was also an outstanding performance for our defense.  They did not let them have a single look at goal all night.  Natalie Krelie leads us in the back from the sweeper position, and Kelsey Thorp, Leah Krelie, and Emma Luckenbach round out the back four.  Our record improved to 5-1 last night, and our next match is home against Letchworth tonight at 6:30."
JASPER-TROUPSBURG 0
ALFRED-ALMOND 1
Chloe Hann scored midway through the second half with an assist from Jessica McMahon to lift Alfred-Almond. Chloe Bracken and Gracen Dusinberre combined on the shutout.
HAMMONDSPORT 2
FRIENDSHIP/SCIO 3 OT 
Lexi Crossey's unassisted goal in the first overtime capped a Friendship/Scio rally. Trailing 2-1 at half, Logan Roberts leveled the match with an assist from Claire Calhoun to send the game overtime. Hannah Hoerter gave Hammondsport an early lead with an unassisted effort. Logan Roberts provided an equalizer before Hoerter connected again before the end of the first half. Gabrielle Doyle assisted on Hoerter's second tally.
BOYS
FAIRPORT 2
WEBSTER THOMAS 1
Myles Palmer and Garrett Kucera connected on second-half goals as Fairport (6-1-0) won its third straight game. Marco Ferri assisted on both goals. Fairport has outscored opponents by a combined total of 8-1 during the recent stretch.
RUSH-HENRIETTA 4
CANANDAIGUA 3
Angelo Lebron notched a hat trick, and Subash Rai added the game winner to lift Rush-Henrietta. Cole Santiago assisted on Rai's goal. Alex Herrera also had a helper for R-H. Canandaigua's Dominick Spychalski had a goal and an assist while teammate Austin Wolfe contributed two assists. Zane Mullaly and Casey Elliott also scored for the Braves.
PITTSFORD MENDON 2
SPENCERPORT 3
Kyle Milburn netted a hat trick, and Spencerport (4-2-0) won its fourth in a row. Sujan Rajamohan had two assists. Jacob Malone also had a helper.
EASTRIDGE 0
BRIGHTON 3
Chase Alexandre scored twice and Daniel Barraclough-Tan added a goal of his own to lead Brighton. Jacob Flores and Adrian Storozynsky both had an assist.
AQUINAS 1
GREECE ARCADIA 0
Bennett Valentino scored with an assist from Iesa Mohammed to lift Aquinas.
PITTSFORD SUTHERLAND 2
MCQUAID 1
Henry Walbaum's goal with 25 minutes remaining in the contest proved to be the difference as Sutherland (No. 3 NYSSWA Class A) improved to 6-0-0 on the season.
"We were ready for tonight," Sutherland head coach Sean Hopkins said. "We were fired up. We were ready to go."
McQuaid (7-1-0/No. 18 NYSSWA Class AA) entered the game having outscored its opponents by a combined total of 25-0 over the first seven games. READ MORE.
BROCKPORT 7
WILSON/MONROE/EARLY COLLEGE 0
Jacob Miller notched a hat trick and Samuel Bonisteel added two goals to lead Brockport. Thomas Sidore started the scoring and Caleb Christiansen chipped in with a second-half tally and assist. Austin Davis contributed two assists. Jacob Rightmeyer, Liam Fitzpatrick and Xavier Markel each added a helper.
NORTHSTAR CHRISTIAN 5
HOUGHTON 0
FILLMORE 8
JASPER-TROUPSBURG 1
CUBA-RUSHFORD 0
WELLSVILLE 8
PENN YAN 5
WATERLOO 0
Kaden Steele scored twice while Landon Berry, Zackary Townley and Alex Reyes Leon added a goal apiece for Penn Yan (7-0-1). David Reid, Dylan Hassos, Brigham Hansen, Joe Droney and Owen Bishop contributed an assist apiece. The shutout was the sixth this season for the Mustangs which have outscored opponents 23-2.
AVON 2
MOUNT MORRIS 3
HORNELL 6
WAYLAND-COHCOTON 2
PERRY 1
CALEDONIA-MUMFORD 5
LIVONIA 5
LE ROY 1
PAVILION/YORK 1
KESHEQUA 4
DANSVILLE 2
LETCHWORTH/WARSAW 3
John Mertsock had a goal and an assist to lead Letchworth/Warsaw. Patrick Klump and Nik Eustace also scored in the win. DJ Lamonte and Reed Martin had a goal and an assist apiece for Dansville. Colin Gray made 13 saves for the Mustangs.
WHEATLAND-CHILI 0
KENDALL 2
Michael McCue finished with a goal and an assist to lead Kendall. Louis Conte also scored.
HOLLEY 0
ATTICA 5
GENESEE VALLEY/BELFAST 2
BOLIVAR-RICHBURG 4
FRIENDSHIP 0
HINSDALE 6
SCIO 6
ANDOVER/WHITESVILLE 0