By PAUL GOTHAM and ZACHARY HARNISCHFEGER 
DII BLUE (5-0-0) 11
DII RED (1-4-1) 4
Colin MacLean (Pittsford Sutherland) and Henry Shutts (Gananda) recorded two RBI apiece to lead DII Blue. Shutts finished the night 2-for-4. MacLean also scored twice. Jacob Natale (Penfield), MacLean and Anthony Getty (Hilton) combined to throw a two-hitter for the win. Natale started and struck out six without allowing a hit over three scoreless innings. MacLean fanned three over three innings. Getty struck out one in a scoreless frame of work. Brady Beganny (Penfield) drove in one in a five-run second inning when Blue took a commanding 6-0 lead. Dylan Cole (Greece Athena) went 1-for-3 with an RBI in the game. Ryan Struzik (Penfield) also brought in a run.
Colin MacLean handles the comebacker to finish off a 5-pitch bottom of the fourth. DII Blue 6 DII Red 0 pic.twitter.com/JkNbonfQKG

— Paul Gotham (@PickinSplinters) August 23, 2021
Jackson Frisa (Spencerport) drove in a run for DII Red with a two-out bunt single. Tim Leary (Northstar Christian) tossed three scoreless innings of relief for Red. Ethan Light (Penfield) worked an inning and two-thirds of scoreless relief with two strike outs and one walk.
Parker Goodness across the diamond to Trey Rankin III for the final out of the top of the fourth. DII Blue 6 DII Red 0 pic.twitter.com/etRfDDR4vC

— Paul Gotham (@PickinSplinters) August 23, 2021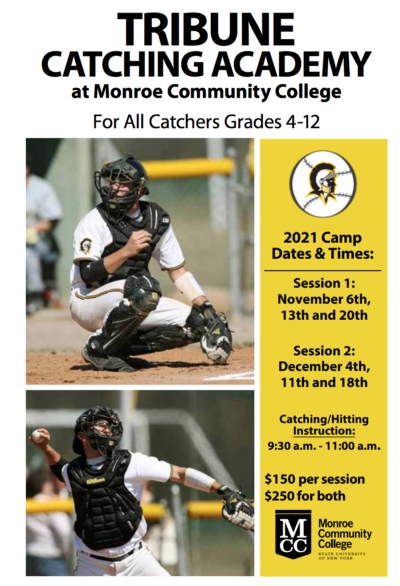 DI BLUE (3-3-0) 7
DI ORANGE (1-4-0) 3
Jack Salerno (Brighton) connected on a two-out single that brought home a pair to highlight a five-run sixth as DI Blue rallied for the victory. Mason Haarr (Brockport) scored to give Blue its first lead of the game and Blake Bucenec (Fairport) came home with the eventual game winner. Caleb Wilson (Aquinas) came home on an error. Trailing 2-0, Charlie Sim (Williamsville South), Gavin Haarr (Brockport) and Christian Morrison (Palmyra-Macedon) worked consecutive base on balls to start the inning. Donovan Wallace (Greece Athena) brought home the first run with a base hit. Mason Haarr and Bucenec reached on back-to-back fielder's choice. Wilson brought in a run with a walk, and Salerno followed with his second hit of the night.
Alex Green starts the scoring with his second double in as many games. This oppo job scores Preston Foryt from second. pic.twitter.com/PYpIwVBaoe

— Paul Gotham (@PickinSplinters) August 24, 2021
Brian Nassivera (Greece Arcadia) allowed one run on one hit and four walks over three innings of relief to pick up the win. Wallace started the game and struck out five over two innings. Nate Hill (Webster Thomas) finished off the win with an inning and two-thirds of scoreless work. Sim scored two runs in the game. Nassivera walked and crossed home once. Wallace added two RBI.
Brian Nassivera takes it himself for the third out of a scoreless bottom of the third. DI Orange 1 DI Blue 0 pic.twitter.com/IVThoQramw

— Paul Gotham (@PickinSplinters) August 24, 2021
Antonio Jorge (Fairport) started and struck out 10 over five scoreless innings of work for DI Orange. The right-hander limited Blue to two hits and two walks. Alex Green (Wellsville) gave Orange a lead in the first with a double that scored Preston Foryt (McQuaid Jesuit). Drew Wilson finished 2-for-3 on the night, and his fifth-inning single plated Broderick Hatfield (York) for a 2-0 Orange advantage. Green walked and scored in the sixth when Orange loaded the bases.
Broderick Hatfield scores from second on Drew Wilson's two-out single. Five full: DI Orange 2 DI Blue 0 pic.twitter.com/Nmpw4YQ4eC

— Paul Gotham (@PickinSplinters) August 24, 2021