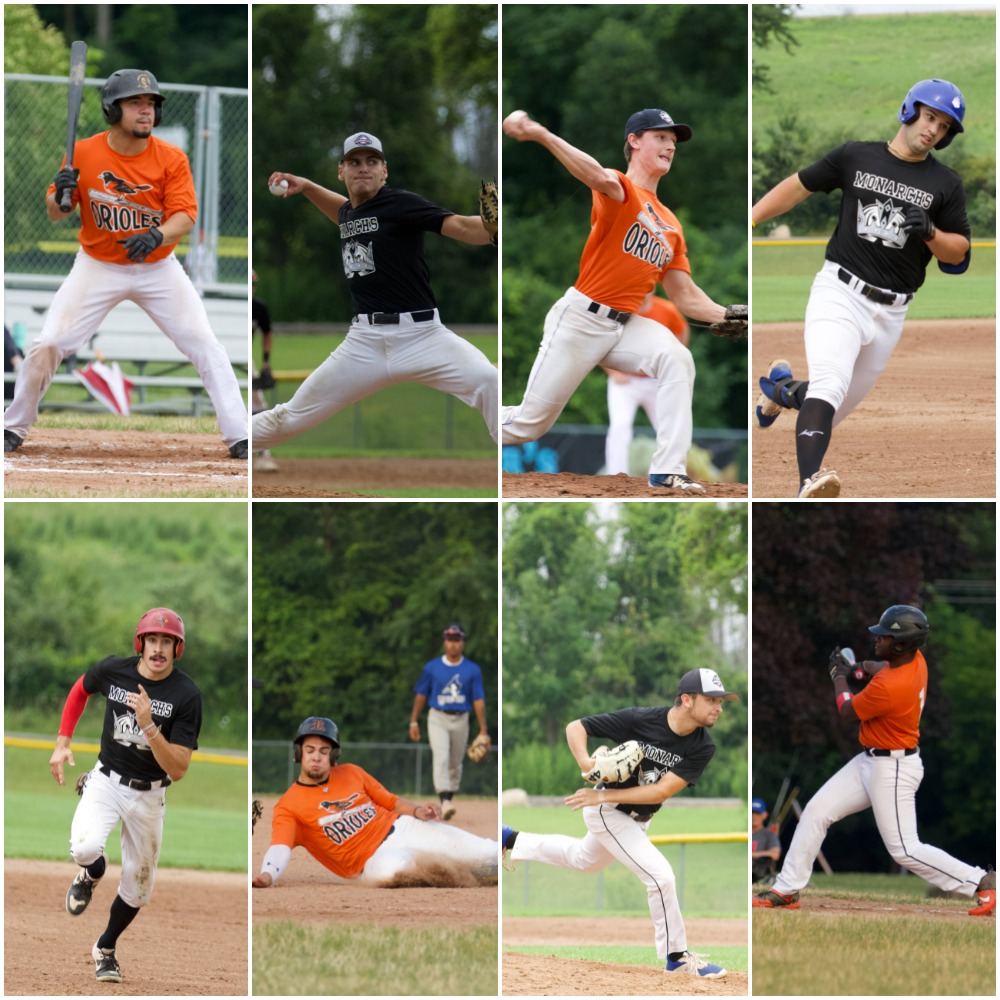 By PAUL GOTHAM
ROCHESTER, N.Y. — With a title on the line, the regular season champions face the team currently riding a league-high winning streak.
The Orioles (16-7-1) and Monarchs (13-7-1) meet Friday night to decide the 2021 Interstate Collegiate Baseball League Championship
The Orioles opened the 2021 season with four wins. On July 11th, they led the league by percentage-points and went on to win their next five to clinch the title in second-to-last week of the season.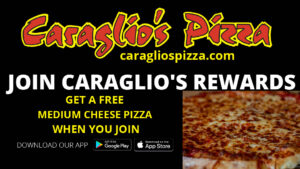 The Monarchs have won eight straight and outscored opponents by a combined total of 53-16 during that stretch.
The two teams have faced each other five times this season. They finished in an 8-8 tie on June 24th (the league's only such result of the season) in a game that went eight innings before being called due to town-enforced time limit.  Three other head-to-head meetings have been decided by one run. One of those contests went eight innings and another decided on a walk-off. The Orioles won two of the first three meetings. The Monarchs took the last two including a 2-1 decision on Wednesday night to clinch a spot in tonight's championship.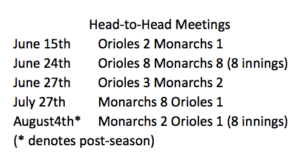 The Monarchs have lost two in a row on two occasions this season. The Orioles will need replicate that tonight in order to win the double-elimination tournament.
Players to Watch: Gavin Moore (Orioles/Alfred State) leads the league in stolen bases (18 in as many attempts) and is second in on-base percentage (.523). Maxx Countryman (Orioles/Finger Lakes CC) is tied for the league lead with eight doubles. Grant Rodriguez (Orioles/Finger Lakes CC) ranks fourth with a .368 batting average. Will Porter (Orioles/RIT) has a league-high 18 walks.

Aidan Wallace (Monarchs) leads the league in home runs (3) and RBI (19). Tyler Henshaw (Monarchs/Potomac State) has league best 0.85 ERA. Lucas Sulimowicz (Monarchs/Finger Lakes) is third in the league with an on-base percentage of .519. Patrick Kravitz (Monarchs/St. John Fisher College) is sixth in the league with a .362 batting average.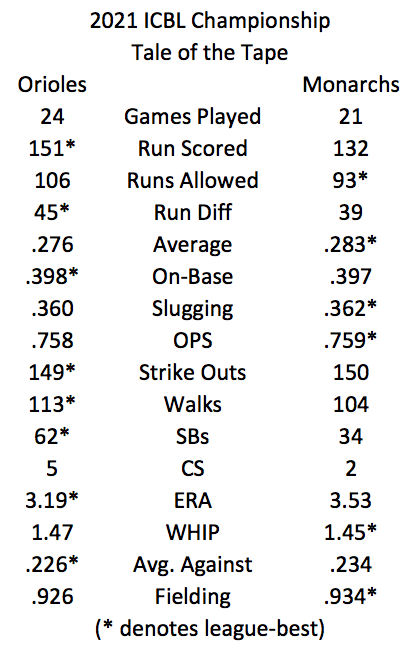 Coaches: Kieran Murphy (Orioles), Todd Kirkey (Monarchs)
Details: The Monarchs need one win tonight. The Orioles have to take two.
First pitch of game one is scheduled for 5:30 p.m. at Penfield's Bachman Field. Game two (if necessary) will follow 30 minutes after the completion of game one.