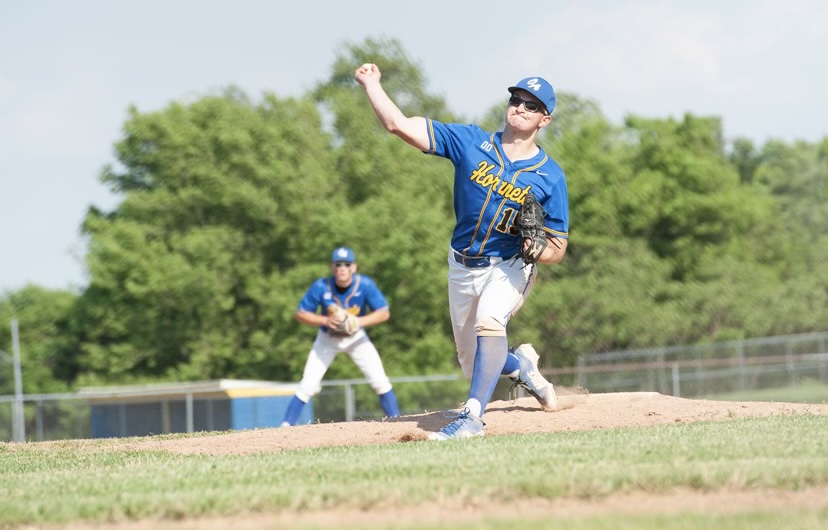 By PAUL GOTHAM
Three sports wasn't enough for Peyton Yasses as the Oakfield-Alabama ace made sure to leave his mark on the school's athletic program.
The senior right-hander got the decision in half of the Hornets' wins on the way to clinching a No.1 seed.
That was just part of the reason Yasses earned the 2021 Section V Class C2 Player of the Year.
"It definitely feels surreal," the senior said of the honor. "You dream of getting these kinds of awards ever since you were young. I'm very happy that I got it. Definitely a big shout out goes to all my teammates and all my coaches over the years. They always put time and effort into me. Without them I definitely don't get this award."
VIEW MORE KRISTIN SMITH PHOTOS HERE
Yasses made eight appearances (seven starts) on the mound and finished 6-1. In 43.2 innings of work, he allowed 16 runs (eight earned) for an ERA of 1.28.
"Peyton is a one-of-a-kind athlete and a one-of-a-kind person," Oakfield-Alabama head coach Mike Anderson commented. "To say that he is hard-working, humble and has a team-first mentality is an understatement."
He struck out 50 batters while issuing 12 walks and allowing 36 hits for the season.
"When he is in position to contribute, you just have this confidence as a coach that the play is going to get made," said Anderson the 2021 Class C2 Ed LaRock Coach of the Year. "There is something to be said about throwing out your senior to have him pitch in any sort of tough game or big environment. It just gives you this confidence. He goes out there day-in and day-out giving it his all."
"He works fast and throws well," said Lyndonville head coach Shane Price whose squad had won seven straight games heading into its matchup with O-A. "He uses his off-speed and works ahead in the count."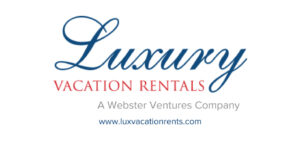 Oakfield-Alabama handed Lyndonville its second loss of the the season, an 11-1 decision.
"A big part of that was Peyton," Price said.
At the plate, Yasses hit .407 for the season with 15 runs scored and 13 RBI.
"He's a true competitor," Anderson said. "He refuses to let anyone out work him. I know it's cliché, but it's true. He's always the first one in and the last one to leave (practice)."
O-A opened the season at Dwyer Stadium with a 3-1 win over Notre Dame-Batavia. The Hornets went on to post an 11-2 mark in the regular season outscoring opponents, 133-30.
"We hadn't played baseball in two years," Yasses said of opening the season after losing 2020 to the pandemic. "At that moment on that big of a stage, I think we all realized, Wow! We could really do something good this year."
Earlier in the year, Yasses helped the school's basketball team to its first sectional title since 1975. He was part of the O-A/Elba football team that earned a spot in the Class D post-season. Less than 10 days after football season ended, he was on the diamond. O-A lost to Campbell-Savona in the semifinals on June 9th. Two days later, Yasses was on the links with the school's golf team which won the Section V Class C title.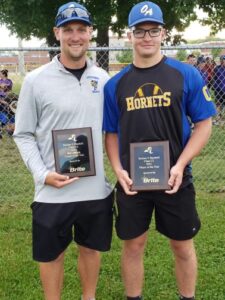 "I did some golf practices when we had days off for baseball," Yasses said. "The day after we lost in baseball, I went to golf practice. For senior year, I decided to take advantage of every opportunity I could. I think that whatever you can do, you do. I try not to specialize. I play every sport imaginable. It's just that there are only so many seasons I can participate."
Yasses plans to attend SUNY Brockport in the fall where he will study Physical Education and Health.
"I'm going to try and convince him to come back and coach a little bit because I don't want to lose him," Anderson commented.
Yasses was joined on the 2021 Section V Baseball Class C team by teammate Cooper Colantino along with Trey Buchholz (Bolivar-Richburg), Trent Chamberlain (Cuba-Rushford), Kade Cochran (Campbell-Savona), Nate Dillenbeck (Lyndonville), Ben Green (Naples), Clayton Harris (York), Alex Sassaman (HAC) and Cole Tillotson (Pavilion).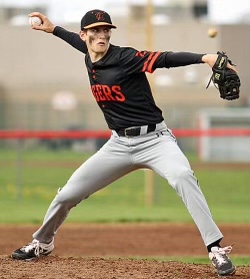 Colantonio hit .404 and stole 12 bases. He scored 19 runs and drove in 13. The junior worked 12 walks for an on-base percentage of .541. Buchholz posted a 3-1 mark on the mound. The freshman struck out 38 in 38.2 innings and allowed four runs (one earned) for an ERA of 0.18. He limited opposing hitters to a .108 batting average. At the plate, Buchholz hit .458 with four doubles, two triples, 21 RBI and 28 runs scored.
Dillenbeck hit .472 with 18 extra-base hits including eight doubles, seven triples and three home runs. The senior collected 30 RBI and 30 runs scored. He was 3-0 on the mound with a 1.02 ERA. Cochran hurled 34 innings and posted an ERA of 2.04. The junior right-hander averaged 14.2 pitches per inning. He hit .420 with 13 RBI and 11 runs scored.
Green finished with a .409 batting average. The senior collected two doubles, a triple a home run, 10 RBI and 10 runs scored. He stole 11 bases in 12 attempts. Harris went 5-2 on the mound with a 2.17 ERA. The senior struck out 58 batters while issuing six walks in 42 innings of work. At the plate, he had seven extra-base hits including one grand slam. He drove in a team-high 22 runs.
Sassaman hit .426 with 20 runs scored and 21 RBI. The junior catcher finished with a .550 OBP. He had two doubles, three triples and three home runs for a slugging percentage of .787. Tillotson hit .627 on the season. The senior finished with 32 hits including nine doubles. He drove in 14 runs and scored 12 more. Tillotson posted a 2-0 record with one save in 10 appearances on the mound. He had an ERA of 2.29.