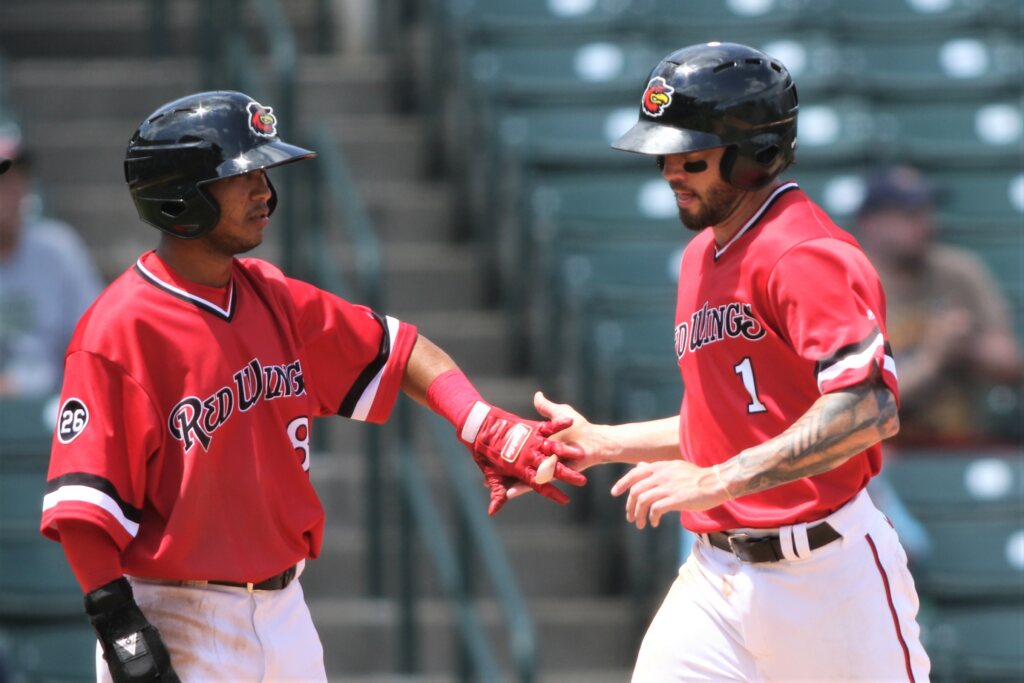 By KEVIN OKLOBZIJA
It's become a Sunday tradition for kids to run the bases at Frontier Field following Rochester Red Wings games.
One could argue, however, that today's late-afternoon procession of kids on the basepaths was merely a reenactment of the week that was for the Wings against the Worcester Red Sox.
As they did in Worcester three weeks ago, the Wings pummeled Red Sox pitching all week, winning the final five games of the six-game series to improve to 20-28.
Jake Noll and Rafael Bautista each collected three hits on Sunday to pace a 14-hit attack as the Red Wings opened a 5-0 lead after two innings and rolled to an 8-4 victory.
"That's what the team can do," said Bautista, who was 7-for-14 for the week and is 12-for-31 (.387) against Worcester this season while just 9-for-60 (.150) against the rest of the league. "If we keep it like that and focus and do the little things every time we take an at-bat, we can keep this up for the whole year."
Rochester's dominance at the plate against the Red Sox probably has no logical explanation. After all, Worcester is 29-19 overall and 26-10 against teams other than the Wings.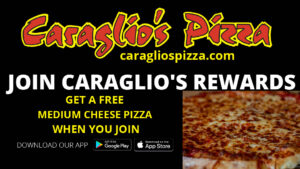 Sometimes, though, one team has another team's number.
"As a manager this is probably the most extreme that I've ever had," Wings manager Matthew LeCroy said. "We had three games where we had 20-plus hits. That's crazy; you don't see that at all.
"For us to do it against a team of this caliber just shows what we can do when we're locked in as a group."
During the six-game series at Worcester June 1-6, the Wings scored 56 runs, including 18 twice. This week, they piled up 45 runs, including 13 on Thursday and 10 on Saturday. As a team they're hitting .335 with 28 home runs against the Red Sox and just .211 with 29 homers against Lehigh Valley, Scranton/Wilke-Barre, Buffalo and Syracuse.
Those 101 runs scored by the Wings are 43 percent of all the runs given up by Worcester pitchers this season.
"It's hard to explain, the way we've attacked their starting rotation and their bullpen," LeCroy said. "We just have to be able to keep being consistent and turn it around against some of these other people we play.
"I do think as a whole we're having better at-bats, getting in better counts, we're using the whole field and it doesn't seem like we're cheating as much anymore."
After 1-2-3, two-strikeout top of the first by Rochester starter Sean Nolin, the Wings offense went to work immediately, scoring three times in the bottom half of the inning.
Noll delivered an RBI triple – just the second triple for the Wings all season – and Tres Berrera had a run-scoring single.
Carter Kieboom then doubled home two runs in the second, Bautista belted a solo home run in the third, Humberto Arteaga had an RBI double in the sixth and Blake Swihart capped his two-hit, four-run afternoon with a solo homer in the eighth.
Meanwhile, Nolin was in total command until tiring in the fifth, when he allowed a two-out solo homer, followed by a single and walk. Ben Braymer and Alberto Baldinado each pitched two innings of relief.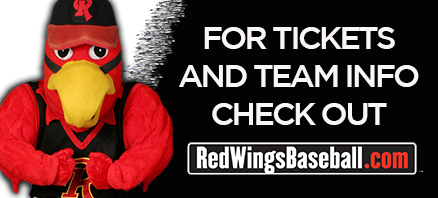 Nolin had started the series opener against Worcester on Tuesday and didn't make it out of the fourth inning, allowing nine hits and four runs.
But he was much more aggressive on Sunday, had his good fastball (90-91 mph) and effective off-speed pitches.
"Last time I wasn't aggressive in the zone so much," Nolin said. "It was different pitching styles, really. I feel this is more me, attacking the zone."
The Wings head to Syracuse for six starting Tuesday, then are back home to play Buffalo starting July 6.
Notes: Noll had his team-leading 15th multi-hit game … Daniel Palka's 12-game hitting streak came to an end when he went 0-for-4.