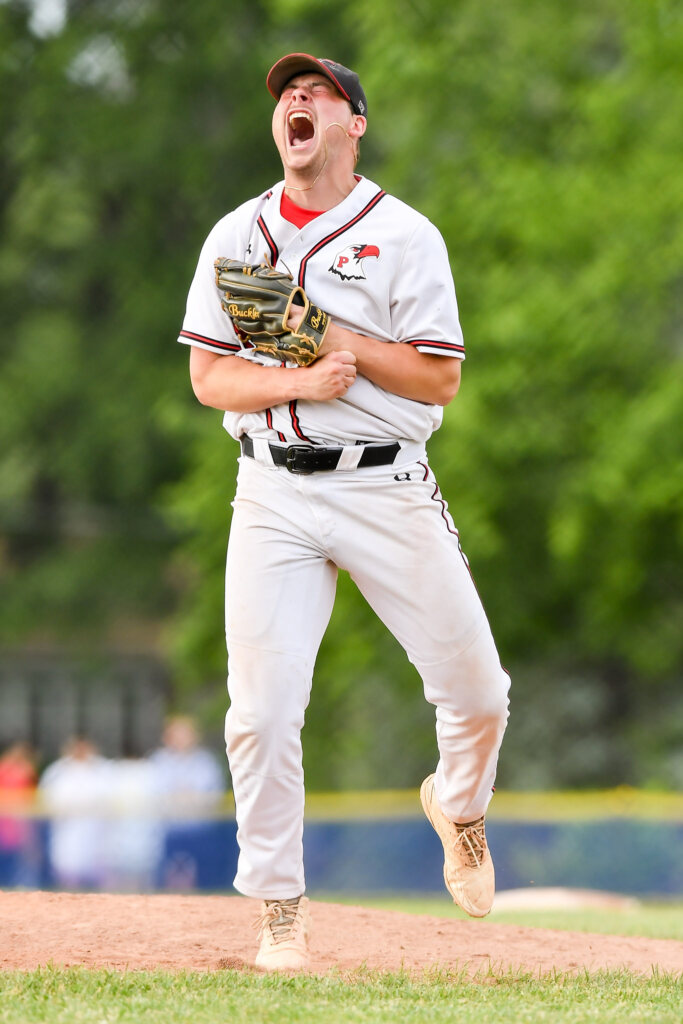 By CHUCKIE MAGGIO
The anxious energy emanated from Penfield's dugout as the Patriots batted during the bottom of the sixth of Tuesday's Class AA final. Star pitcher Gage Ziehl jumped around as he watched the action, shadowboxed with catcher Nathan Sobko and prepared to record three more outs.
Ziehl informed the Penfield coaching staff on Monday that he wasn't giving up the baseball until the game went final. His performance, and efficient pitch count, ensured his complete game.
Ziehl allowed only a hit and a walk, striking out 12. He threw just 86 pitches. The Patriots won 6-0, avenging their 2019 title game loss to McQuaid and completing their 21-inning shutout streak in the sectional tournament.
VIEW MORE DENNIS JOYCE PHOTOS HERE.
"He just continued to do what he did all year," Penfield head coach Nick Marcin remarked. "He was very efficient, working ahead, commanding all of his pitches… He's just been special all year. He's been special all year.
"I figured, I told myself four was the number. I felt like if we could put four runs up, it would be really tough for them to do that. They might be able to piece a run together here or there if we made a mistake, but our philosophy was we were gonna make them get multiple hits in an inning. We thought if we could put up four, that should be good enough to stand."

The Patriots reached-and surpassed-their magic number in the third inning. They plated three first-inning runs, highlighted by Brady Ventura's two-run single that scored Ziehl, who reached on catcher's interference, and Nicholas Ianniello, who reached on a fielding error.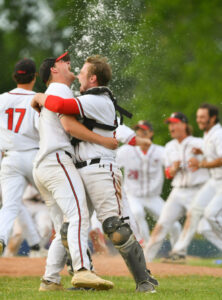 Sobko's two-run triple and Peyton Pace's squeeze bunt extended Penfield's edge in the third inning, which Ziehl matter-of-factly said was "so satisfying, because I knew I wasn't gonna let up any runs."
"Brady Ventura has just been amazing for us all year. It actually started with him in the top of the first, that diving play he made (at second base to throw out James Capellupo)," Marcin assessed. "And for him to come up, his last two at bats in the semifinals against McQuaid were great at bats; he barreled up both of them and just hit the ball right at people. So we knew he was swinging the bat really well and was a dangerous six-hitter.
"One of the things we said is we had wanted to put a run up within the first nine batters. We figured that if the game were 0-0 heading into the third, fourth, fifth, that's when anything can happen. So we were hoping that before the lineup turned over, we could put at least one up. So for him to get that two RBI in that first inning, and we ended up putting up three, it certainly made it a bit more comfortable."
Ziehl helped his own cause by reaching base safely in all four of his plate appearances, hitting two singles and earning two intentional walks. One of the game's high-leverage plays, meanwhile, was made by a player who didn't even bat.
Penfield used a designated hitter for senior right fielder Matthew Mady, but kept him in the field for his defense. The decision paid off for Marcin when, with Hilton's first and only runner in scoring position at second with one out in the top of the fourth, Mady dove to snag Carter Clark's fly ball and likely save a run.

"There are just a lot of high school players that can't stay focused defensively if they're not hitting," Marcin acknowledged. "For him to know that he's out there because he's such a great outfielder, and to make that play, it just shows you how special these kids are and how committed they are to winning as a team."
The team, along with family members and friends, sprinted to the outfield at the conclusion of the trophy and awards ceremony to snap more pictures in front of the still-lit scoreboard. Players and coaches alike admitted that winning the championship at home added some meaning to the evening.
"I know everyone talks about playing at Frontier, and sure, it's cool," Marcin noted. "But to have our home field, and our home fans, and to have the student body run out after the last out to celebrate it, pictures in front of our scoreboard, that was just perfect. And those seniors, what an amazing group. An amazing group, and they were just special.
"We're gonna miss them, but boy they played like champs today."