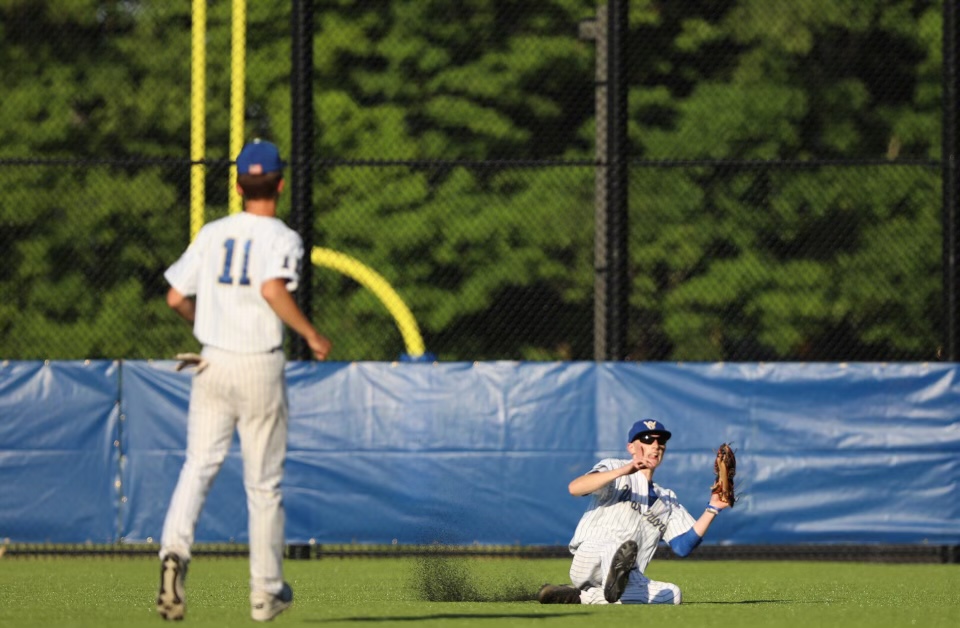 By PAUL GOTHAM 
WEBSTER, N.Y. — Michael Salina hurled a complete game and delivered a key hit in the first inning as the top-seeded Webster Schroeder Warriors advanced to the Section V Class AA semi-finals with a 4-2 win over Rush-Henrietta, Wednesday.
Salina struck out five while allowing six hits and two walks for the win.
"He's a horse," Schroeder head coach Matt Knight said. "He comes to play, and he thrives in the pressure situations. He likes to be under stress. He gets mad and he pitches harder."
After allowing a run in the second inning, the junior right-hander settled in and retired nine of 12 starting with a double play in the third inning and extending  to the sixth with a pair of sliding catches in the outfield by teammates Zach Hosmer and Alex Simons.

"It feels great," he said. "My teammates helped me out in the field. Our team played hungry and ready to go. We got another game on Friday. We got to get ready for that now."
Michael Salina has retired 10 of 13. Schroeder 4-1 Mid 6. pic.twitter.com/noAajvOZD8

— Paul Gotham (@PickinSplinters) June 9, 2021
Salina's two-run triple in the first inning gave Schroeder a lead it did not surrender.
Hosmer reached on a walk to start the inning. Nick Thorpe followed with a single through the right side. One out later, Salina sent an outside fastball into the alley in right center.
"It was a 3-2 count," he recalled. "I wanted to see a pitch I could drive. I got a pitch I could drive and happened to get a triple on it. I knew it was going to be hit. I didn't know it was going to be a triple."
Michael Salina gets the scoring started with a 2-run triple. pic.twitter.com/U1d3NZz3bY

— Paul Gotham (@PickinSplinters) June 9, 2021
Schroeder tacked on a run each in the second and fourth innings.
"The first one is always tough," Knight said of the opening victory in sectionals. "I walked around school with butterflies in my stomach the whole day. Getting the first win makes me feel better, makes me calm down a little bit."
Thorpe plated Alex Touloupas with a two-out single in the second. Touloupas singled and eventually scored on a Hosmer sacrifice fly to give Schroeder a 4-1 lead heading into the fifth inning.
Alex Touloupas scores on Zach Hosmer's sacrifice fly. Schroeder 4-1 2 outs in the fourth. pic.twitter.com/YxxIpdFtkm

— Paul Gotham (@PickinSplinters) June 9, 2021
Cam Ritchie singled and scored Rush-Henrietta's first run. Caleb Koehler drove in his teammate with a two-out single in the second.
The Royal Comets added a run in the seventh. Koehler reached second on an error and eventually scored on a Joe Grzeskowiak ground out.
Chris Sleeper finished 3-for-3 at the plate for R-H.
Schroeder will host No. 4 Hilton in Friday's semi-finals.