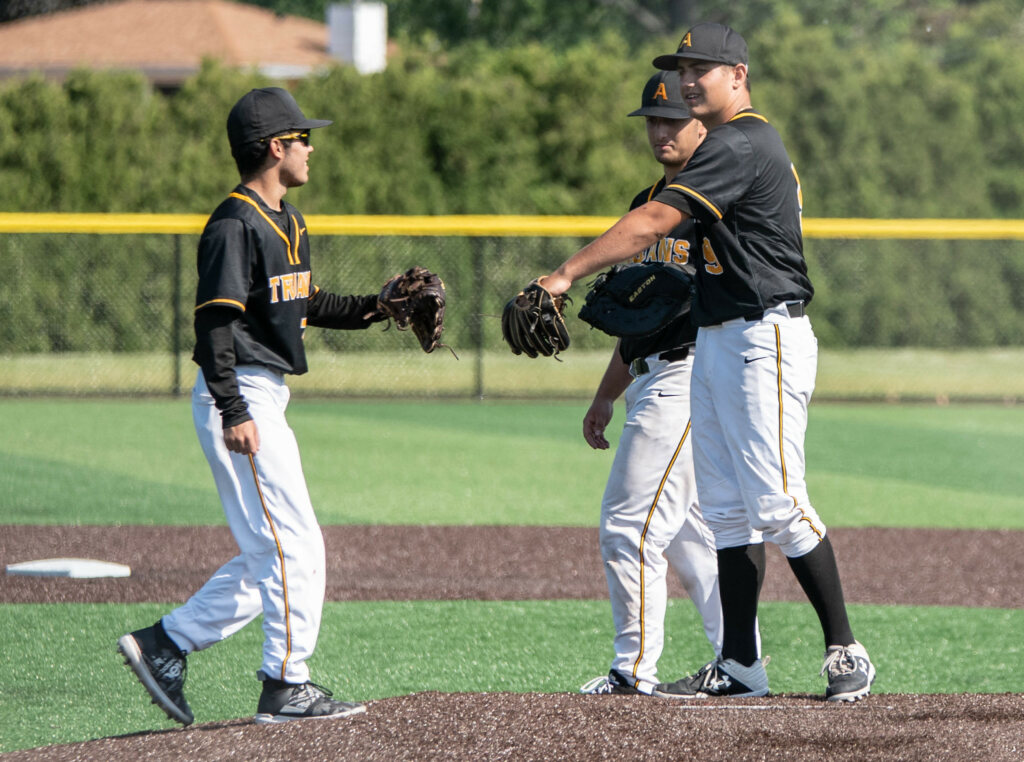 By KEVIN OKLOBZIJA
Jaden Madrid had just laid down a perfect one-out bunt for a single in the bottom of the sixth inning and now was doing a little dancing off first base, trying to create a distraction and/or lure a throw.
Third-seeded Greece Athena had already scored once in the inning, extending its lead to 7-4 over Pittsford Mendon, and Madrid and the Trojans were looking for more.
From across the diamond in the third base coaching box, Athena coach Jason Bunting could be heard yelling to Madrid, "You're gonna give me a heart attack."
What we don't know, however, is: will it be because of Madrid's push-the-envelope daring on basepaths, or simply because the frenetic energy with which he plays the game stirs the offensive pot for the Trojans?
Probably a little of both, which Bunting is more than willing to live with, because the sophomore infielder has the ability to create something from nothing when Athena needs it most.
"He's a special player and he makes us go," Bunting said following Wednesday evening's 10-4 Section V Class A quarterfinal victory over No. 6 Mendon at the Greece Olympia diamond. "He does make me nervous but he has that motor that doesn't stop."
The Trojans (16-4) needed it on Wednesday, especially after the Vikings (11-7) erased a 3-0 deficit with three runs of their own in the second inning and the go-ahead run in the top of the fifth. Brandon Kane's line out to left drove home Tyler Procious with tie-breaking run.
VIEW MORE SUE KANE PHOTOS HERE. 
But that's when Madrid went work from the leadoff spot in the order. He had walked and scored to start of Athena's three-run first, and now in the fifth inning, with one out, he fell behind 1-2 in the count before working a walk.
Four pitches later, he was on third base, having stolen second and third. When Dylan Bliss lined a single to center, Madrid jogged home. Just like that, the game was tied.
"He's on first, then he's third, that's how it always is," Athena first baseman and cleanup hitter Victor Alongi said. "He's the best baserunner I've ever played with."
Casey Saucke followed the single by Bliss with an infield single, beating out his ground ball to third base, then Alongi delivered a run-scoring double to left-center and Athena was back on top 5-4. Two batters later, Saucke scored on a fielder's choice and the lead was 6-4.
"Everybody talks about Casey's home runs but he hit a ground ball to third and beat it out, and that was very important in that inning," said Bunting, whose team will play No. 2 Irondequoit in the semifinals on Friday.
Athena erupted for four more runs in the sixth. The first scored on Matthew Tallini's perfect bunt and the last three were driven home on a lost-in-the-sun double to left field by Alongi.
"I felt confident in my swing," Alongi said.
Mendon had threatened in the top of the sixth, loading the bases with two out, but Athena reliever Connor Osier escaped trouble.
Aidan Muench collected two of Mendon's four hits (all singles). Alongi was the only Athena player with two hits (both doubles) and he drove in four. Aleksander Englert drove in the three first-inning runs with a double.
"They're a really good baseball team," Mendon coach Jeff Amoroso said. "They execute the game within the game. They're as well-coached a team as there is around here."