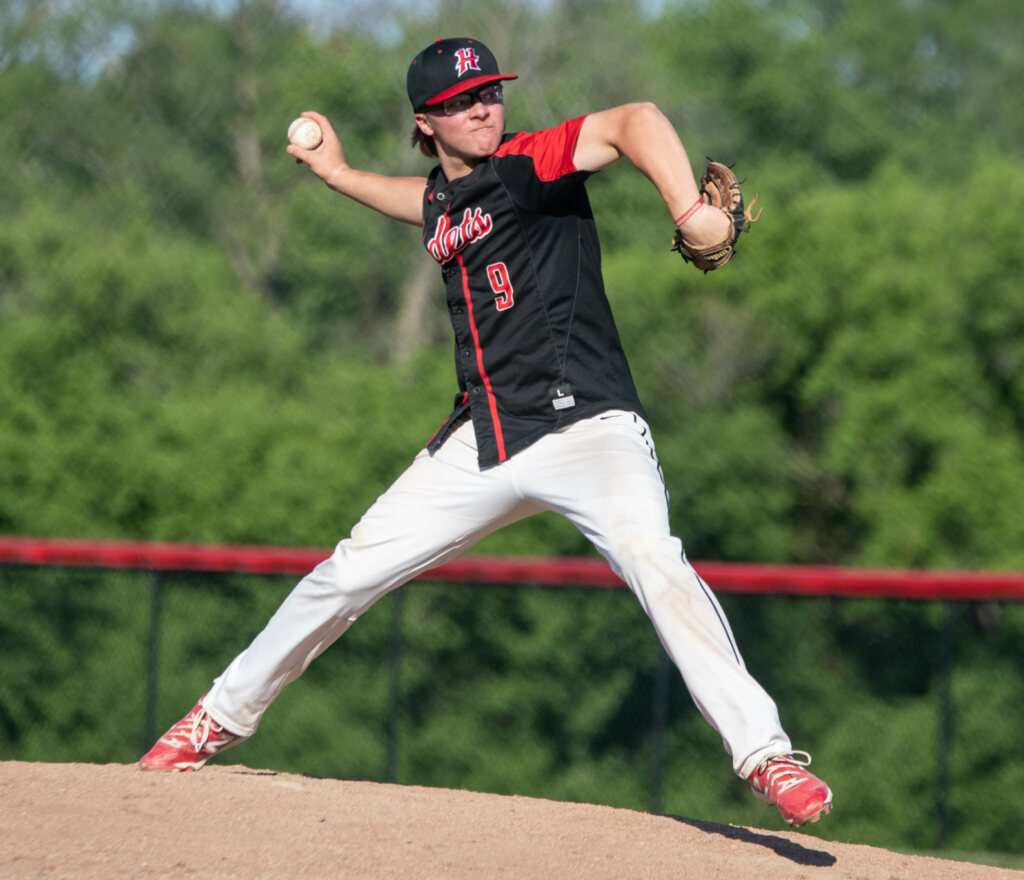 By NIC ROHLOFF
HILTON, N.Y. – Sophomore James Capellupo hurled a complete game, and Hilton advanced to the Class AA semifinals where they will take on top-seeded Webster Schroeder.
Starting his first ever sectional game, Capellupo struck out nine and allowed four hits.
"He is a strike-thrower, been that way all year, and what I love about him the most is that he is a competitor," first-year Hilton coach Kevin Whelehan said. "He wants to win more than anybody or as much as anybody, just a flat-out competitor."
James Capellupo delivers first pitch for Hilton. @PickinSplinters pic.twitter.com/zJvfzky9p8

— Nic Rohloff (@nic_rohloff) June 9, 2021
Capellupo worked his off-speed early and often, getting ahead of hitters without fastballs.

"It was huge to get ahead confidence wise," said Capellupo. "It made my fastball feel harder, and when they were looking curveball, they struggled with my fastball."
The sophomore gave up two runs in the third (one earned) but didn't let that shake up his game plan. "I always got confidence in my stuff, never too worried, never too nervous, and my mindset is always to go throw up a zero."
Capellupo works around a 2-out walk for a scoreless first inning. @PickinSplinters @FCSDSports 0@HiltonVBaseball 0 Mid 1

— Nic Rohloff (@nic_rohloff) June 9, 2021
Junior Preston Prince paced the Cadets at the plate. The right fielder finished the game 3-for-3 including a double and two runs scored. Prince only saw four pitches the whole game, and had a mindset of attacking early.
"Always have to look first-pitch fastball when the guy on the mound is throwing hard, and being the good pitcher that he is, you always have to be ready early," said Prince.

Prince started the two-run second inning for the Cadets with a one-out double, and came around to score on a two-out infield single from Sophomore Michael Whelehan. Whelehan stole second on the very next pitch, and came into score with a Jeremiah Scarpulla single to left field.
VIEW MORE SUE KANE PHOTOS HERE.
With the game knotted at two in the fourth inning, Prince singled up the middle with two outs. The junior moved to second on a wild pitch, and scored the go-ahead run on a Jake Soricone single.
"It's never easy scoring with two-outs, just have to put the ball in-play and see what happens," said Coach Whelehan.
Soricone ended the game 1-for-3 with an RBI, Michael Whelehan finished 1-for-3 with a RBI and a run scored, and Scarpulla went 1-for-2 with an RBI.
For Fairport, Braden Consaul pitched a complete game in the loss. The junior allowed three runs, six hits, and struck out seven. Consaul drove in a run at the plate with a fielder's choice. Julien Mendoza recorded an RBI with a sacrafice fly, Cameron Kingsley had a double, senior Pat Unger racked up two singles, and Connor Sackett added a base-hit. The Red Raiders end the season with a record of 10-9.
The Cadets will play No. 1 seed Webster Schroeder in Webster on Friday.