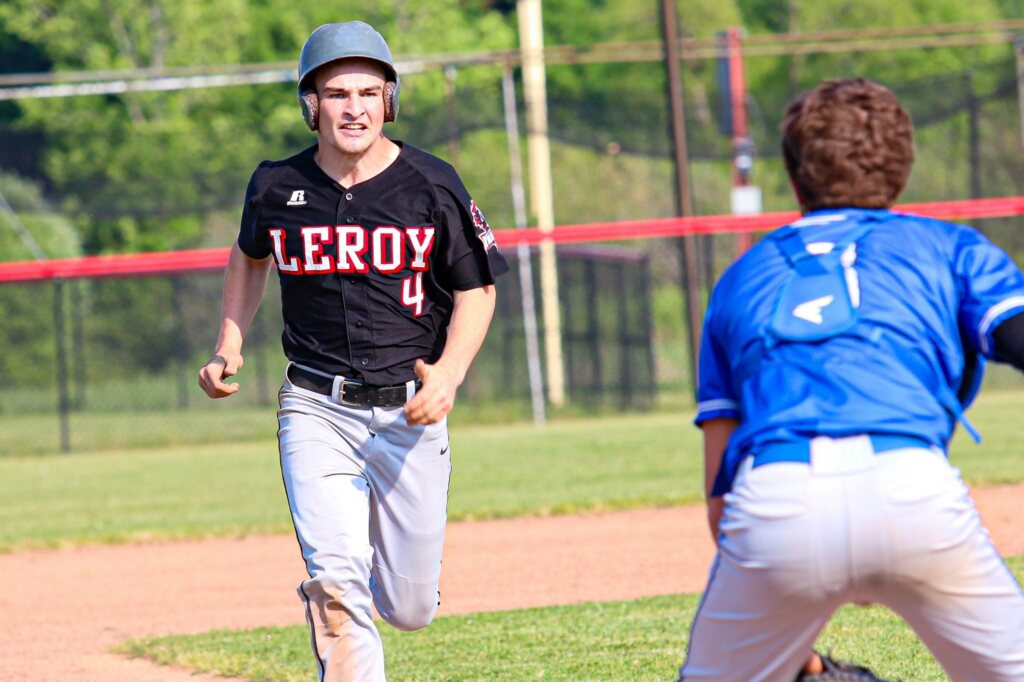 BASEBALL
PITTSFORD MENDON (10-6) 10
GREECE ATHENA (14-4) 9
Trailing 9-5, Mendon mustered five runs to stun Athena in the seventh. Down by three with bases loaded, Daniel Palumbo lined a bases-clearing triple to right to tie the game. Sam Gines followed with a single to take the lead for Mendon and Trey Wallman closed out the game on six pitches for the victory. Cameron Blauvelt and Brendan Kane both finished with three hits and a run scored. Palumbo and Gines each had two hits along with six combined RBI. Tyler Procious, Collin Clark and Brady Miller each contributed two hits as well. Procious and Miller added three and two runs, respectively. Eric Roets tossed three and a third innings in relief. He struck out two, walked eight and allowed two runs on zero hits against. Jaden Madrid was the only player to have multiple hits for Athena. He went 2-for-3 with three runs scored, a RBI and a walk. Connor Osier drilled a three-run shot in the second to put Athena up 7-3. Dylan Bliss and Matt Tallini had a hit and run scored apiece as well.
YORK (9-5) 1
NORTHSTAR CHRISTIAN/HOPE HALL (12-3) 8
Steven Merkel hit his fourth homer of the year in part of a three-hit performance to lead Northstar over York. Gage Wheaton suppressed the opposing offense with 11 strikeouts in four innings of work. Bryce Tyndall filled in for the final two innings on the mound and finished 2-for-3 at the plate. Sophomore Dominic Kurmis went 2-for-4 with a double for Northstar as well. David Cuozzo went 2-for-3 with three stolen bases and the lone run scored for York. Clayton Harris was responsible for driving him in.
HORSEHEADS (15-4) 9
VICTOR (9-10) 11
Andrew Haugh and Aidan Schlarbaum led the offense in game one of the doubleheader. Both went 3-for-4 with a run batted in. Will Tehan, Mason Haarr and Ian Meeks all registered two hits. Haarr contributed four RBI and Meeks added two. Christian Brown tossed four innings for Victor and was relieved by Pierce Mehigan who earned the win over two innings. Danny Melendez picked up the save with three consecutive strikeouts.
HORSEHEADS (15-5) 7
VICTOR (10-10) 8
Ben Weingart finished 3-for-4 with two RBI to extend Victor's win streak to three games. Jayden Morrell and Andrew Haugh each had two hits. Freshman reliever Weston Elkovitch picked up his first varsity level win with three and two-thirds innings pitched, allowing one hit and striking out three.
PERRY (0-11) 4
BATH-HAVERLING (8-6) 20
The Rams jumped out to an 18-0 lead by the second inning to make quick work of Perry in its final game of the regular season. Ten players for Haverling registered a hit in the four-and-a-half innings of play. Cayden Mattison, Brendan Strong and Gavin Buckley bolstered the offense with three hits apiece. They combined for 10 runs, six RBI and four doubles. Hunter Pickering and Dylan Simons each had two hits, a run scored with four and three RBI, respectively. Nate Musso tallied a hit, crossed home three times and added two RBI. Zach Musso, Owen Smith and AJ Brotz all went 1-for-2 and combined for two runs and two RBI. Zohlan Moran also had a hit and run scored. Brotz earned the win after throwing two innings with a strikeout and two hits allowed on 17 pitches. Mattison, Pickering and Nate Musso each threw an inning in relief.
GANANDA (15-3) 14
LYONS (2-10) 3
Dylan Dohse and Patrick Walsh combined for eight RBI and five runs to lead Gananda over Lyons in four-and-a-half innings. After a leadoff walk from Dohse, Walsh got the Blue Panthers on the board with a two run-shot. The pair finished with three and two hits, respectively. Luke Ciprich also had a multi-hit day, finishing with two hits, two runs and two RBI. Sam O'Neil registered a hit, run and RBI in the contest as well for Gananda. After allowing two runs on three hits and a walk in the opening frame, Gananda's Andrew Gleason held Lyons to a hit and a run over the next three innings. Ciprich threw one inning with a strikeout in relief.
SODUS (10-5) 3
LYONS (3-10) 4
Donovan Fillmore and Trent Orrange-Paton both went 2-for-4 for Sodus. Austin Cincinello added a hit as well.
CUBA-RUSHFORD (10-5) 6
WELLSVILLE (7-4) 16
Liam McKinley collected three hits with two doubles and three RBI to lead Wellsville over Cuba-Rushford. Logan Dunbar drove in four with two singles and a walk. Alex Ordiway finished 2-for-3 with two RBI and two runs scored. Cody Costello, Tim Jones and Dom Sawyer each had a hit and two runs scored for the Lions. Jeremiah Havens tossed three-and-a-third innings and allowed one run on five hits, a walk and three strikeouts. Wellsville trailed 5-2 in the fourth before exploding for eight runs in the fourth, two in the fifth and four in the sixth. The hit total finished 10-9 in Wellsville's favor and the game was called in the sixth inning due to mercy rule.
ARKPORT (7-5) 7
WELLSVILLE (8-4) 8
Logan Dunbar and Jeremiah Havens combined for six-and-two-thirds innings of one-hit baseball to allow Wellsville to steal a win in extras. Dunbar threw the first three to start, striking out six, walking one and allowing no hits against. Havens entered an inning later in a 7-7 ballgame and proceeded to close out the close out the game into the eighth. Havens compiled eight strikeouts and allowed just one hit in three-and-two-thirds. Alex Ordiway spearheaded the offense with two hits, a double, a run scored and three RBI. Alex Green also had a multi-hit day with two singles and a run scored. Liam McKinley worked three walks, scored a run, slapped a single and drove in a runner. John Layfield also had a hit and run scored for the Lions.
HOLLEY/KENDALL (3-10) 0
LYNDONVILLE (11-3) 13
FILLMORE (10-4) 19
WHITESVILLE (0-10) 3
BELFAST (7-5) 16
HINSDALE (1-11) 4
BELFAST (8-5) 15
ARCHBISHOP WALSH (VI) 0
BYRON-BERGEN (4-10) 1
ATTICA (11-4) 11
LETCHWORTH (4-10) 0
LEROY (6-9) 13
CANISTEO-GREENWOOD (3-8) 2
CAMPBELL-SAVONA (6-3) 6
BLOOMFIELD (7-5) 2
NAPLES (8-6) 5
Declan Smith had two hits in the loss for Bloomfield. Aaron Walsh, Cal Rogers and Eric Sandle each contributed a hit as well. Walsh tossed six innings and gave up four earned runs. Naples' Owen Hulbert went 3-for-3 in the winning effort.  
MARION (5-9) 15
EAST ROCHESTER (8-8) 4
BLOOMFIELD (7-6) 1
RED JACKET (13-2-1) 5
SOFTBALL
PORTVILLE 5
BOLIVAR-RICHBURG 4
HAVERLING 4
PERRY 1
VICTOR 1
WILLIAMSVILLE EAST 0
NEWARK 6
MYNDERSE 0
VICTOR 1
WILLIAMSVILLE SOUTH 0
SODUS 2
LYONS 7
ELBA 25
WHEATLAND-CHILI 4