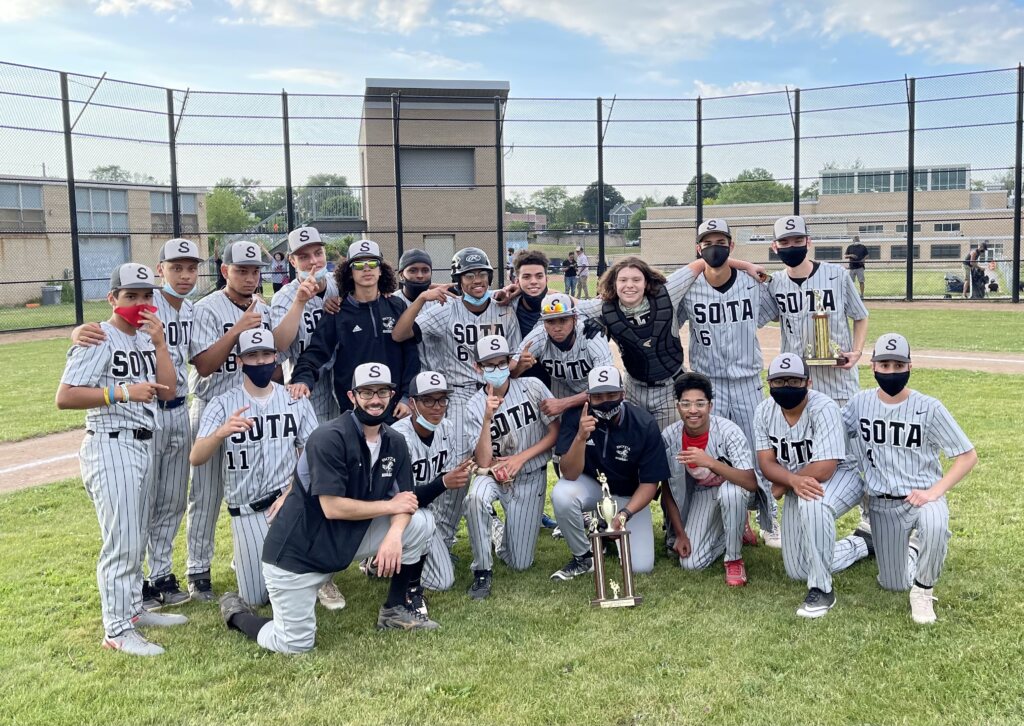 By PAUL GOTHAM
ROCHESTER, N.Y. — Looking to gain a competitive edge heading into Friday's RCAC Championship game, School of the Arts/Monroe starting pitcher Abel Austin found an ally in one of his classroom teachers.
And the "Red Hawks" reaped the benefits.
Austin hurled six-plus innings and his offense sent eight to the plate in a decisive four-run third as SOTA/Monroe defeated East High, 8-5.
The game MVP retired the first five batters he faced and after a two-out rally pushed across a run in the second, he limited East to one more run over the next four innings.
"I really owe it to my AP US History teacher," the junior right-hander said smiling through a mask. "He let me leave a couple minutes early, so I could get dressed. That was really nice."
He finished the game with four strike outs while issuing two walks and hitting two batters.
SOTA's Abel Austin leaves a runner on first with a breaking ball down and in, but not before East pushes one across the plate. Heading to the 3rd tied at 1. pic.twitter.com/xDdQbYSdFZ

— Paul Gotham (@PickinSplinters) June 4, 2021
"I just wanted to come out here, settle in, get used to the mound and throw strikes. Let my defense make plays which they did today."

Deadlocked at one, Justin Rodriguez delivered an RBI triple to start the scoring in the third inning.
"The at-bat before he was just throwing me straight curves," Rodriguez said referring to East starter and friend Pedro Garcia. "All I had to was wait for my pitch. I wasn't going to get aggressive. I was doing my work to get the pitch count up and as soon as I saw that fastball, I knew that was my one opportunity."
Rodriguez plated Abel with his one-out drive to center field.
Dale Janezic followed with a run-scoring single to right, and Steven Lepki delivered with an RBI triple of his own.
"Yesterday we went in and we did a lot of batting practice," SOTA/Monroe head coach Willie Mason commented. "And we said 'you know what, the key to this game if we hit the ball, we will win this game.' It showed out here today."
Donald Smith made it a 5-1 game when he brought home Lepki with an RBI groundout.
Friday's win marked the third this season for SOTA/Monroe over the reigning RCAC champions.
"These guys came in and battled throughout the whole COVID," Mason remarked. "East is the team to beat and to beat them three times in one season that's unheard of. The "Redhawks" as we call it (combining the nicknames of Silverhawks (SOTA) and Red Jackets (Monroe)), they wanted it more. We proved it today."
Austin and Janezic drove in a run apiece in the sixth inning when SOTA/Monroe added three more runs for an 8-2 lead.
Abel Austin beats out an infield single to bring home Zeke Randolph. 6-2 SOTA 2 outs in the 6th. pic.twitter.com/2H7WyvtJPE

— Paul Gotham (@PickinSplinters) June 4, 2021
The championship marked the first in SOTA program history in 13 years.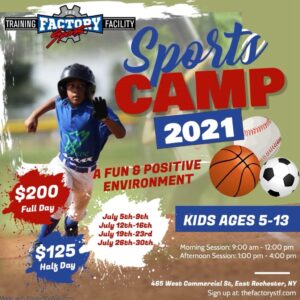 "I've been looking at the banner in the SOTA gym for the whole season," Austin noted. "2008, that's the only one (baseball banner) up there. And now it's going to say 2021. That feels really good. We've been working for months and months now."
East threatened in the fourth inning when the Eagles loaded the bases without any outs. Austin induced a ground ball that Janezic and Rodriguez converted into a double play with Jack Dormitzer finishing off the 4-6-3 at first.
East had two aboard in the fifth when Luis Rivera connected on a line drive, but Janezic took away a sure hit with a grab at second.
"All day long they made great plays," East High head coach Kyle Crandall said. "They earned it. The difference in today's game was they made all of the plays defensively and we did not. They had timely hitting. Generally after we lose in the championship, we rebound well.
"Hats off to Willie. He's done a great job with those kids. They were the better team this season."
Abel Austin minimizes the damages. Bases loaded , no outs the SOTA starter gets the ground ball for a 4-6-3 GDP : Dale Janezic to Justin Rodriguez to Jack Dortmitzer. East gets 1. Heading to the 5th: SOTA 5 East 2 pic.twitter.com/9KwjCfGWr1

— Paul Gotham (@PickinSplinters) June 4, 2021
East loaded the bases in the seventh with Garcia working a walk. Kyle Markham was hit by a pitch and Emile Diaz singled. The Eagles scored three times in the frame.
Lepki came on in relief to get the last three outs.
Steven Lepki comes on in relief and records the final strike. SOTA 8 East 5 SOTA 2021 RCAC Champions. pic.twitter.com/v1PZjEvG1s

— Paul Gotham (@PickinSplinters) June 4, 2021
"It feels great," Rodriguez said of the championship. "I know this has been said so many times, but 13 years in the making? That's a long time. I was four years old when SOTA won the last one. Two years ago, we were on this same field and we lost heartbreaker. It feels good to come out on top."