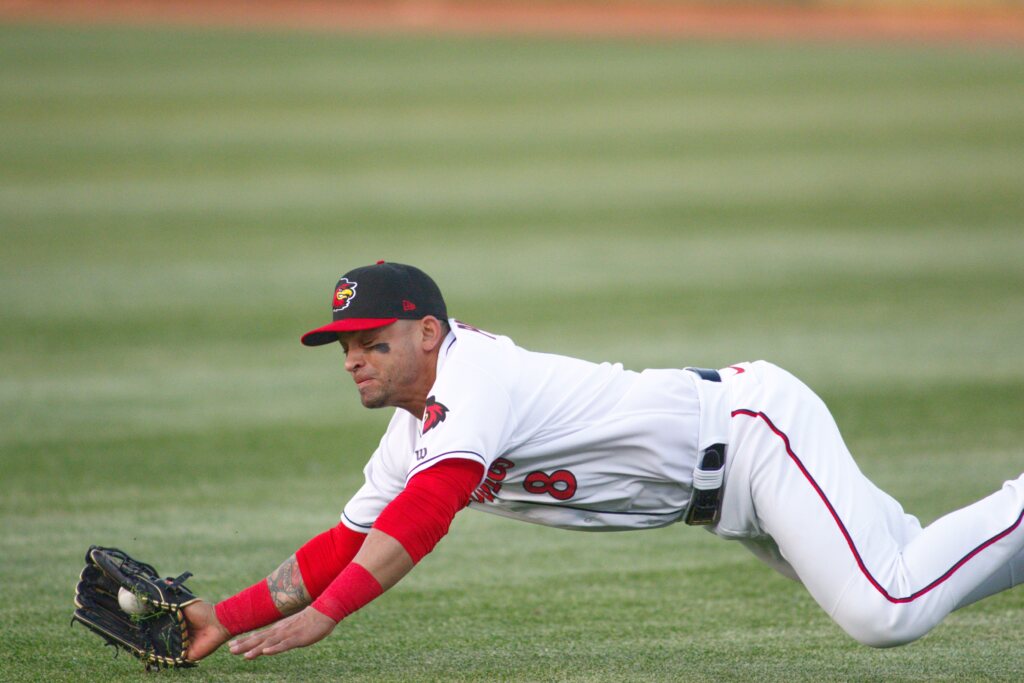 By KEVIN OKLOBZIJA
The Rochester Red Wings held a family reunion last night at Frontier Field, welcoming back fans and baseball to the downtown ballpark.
It was a reunion 624 days in the making — and boy did it ever look good, feel good and sound good.
Who knew you could so miss the sound of baseball cowhide hitting an ash bat? Of a 93-mph fastball popping the catcher's mitt. Of fans rising to their feet to cheer a home run.
Rochester's boys of summer are back, some 21 months after they last pitched, hit and fielded at Frontier Field. Sure, there's a new parent team and an almost entirely new roster. Major League Baseball decided it was better for the Minnesota Twins to put their Triple-A players just 12 miles away from Target Field in St. Paul.
So now the Washington Nationals era with Rochester Community Baseball is underway. They're just the fourth MLB team to stock the Wings roster over the past 93 years, though their introduction to Rochester could have been a whole lot better. Scranton/Wilkes-Barre battered four pitchers for 13 hits and rolled to an 11-6 victory.
Still, it was better than the alternative: not being at Frontier Field. We spent of all 2020 in that mode. That why, as fans filed into the ball park and walked the concourse, fist-bumps and elbow taps were never-ending. Friends who hadn't seen each other since Labor Day 2019 finally were together again at the ballpark. There were a lot of hugs, too, which may or may not have been against CDC guidance.
"Words cannot express how great it feels to be back home with you," general manager Dan Mason told the crowd of 4,527 during his traditional pregame welcome behind home plate.
Their 2020 season canceled by the COVID-19 pandemic, the new-look Red Wings finally returned to Frontier Field to play ball in semi-normalcy. They were back playing in front of fans — masks encouraged.
A few of the fans at the ballpark on Tuesday night have made Wings baseball a tradition for 70 years. For 45 of those years, they have heard the keyboard eloquence of organist Fred Costello, and they heard it again on Tuesday night. "I'm here until I get it right," Costello said with a laugh.
His seventh-inning rendition of "Take Me Out To The Ballgame," as well as his second-inning trivia questions, are traditions. So, too, is the Taco Bell "K man," and the fans didn't need any reminders to root for the K on Tuesday night. Like the Mighty Casey, Scranton/Wilkes-Barre's Socrates Brito did strike out, prompting the loudest, longest roar of the night.
Daniel Palka hit a baseball to the moon in the fifth inning, a titanic 472-foot shot, but a guy striking out in the top of the sixth of an 8-2 game drew a significantly louder cheer. People love their free food.
They also love being able to return to the ballyard. The first pitch was thrown in brilliant sunshine with a game-time temperature of 79 degrees. The last was thrown under starlit skies at a still balmy-for-May 66.
It truly was a pristine night for the return of a century-old Rochester tradition, a perfect night to put the chaos of the pandemic in the rear-view mirror. While the Wings played their first 12 games on the road, there were no fans. So Tuesday was a little special for them as well.
"I hadn't played in front of people since 2019," said Palka, a member of the Wings in 2016 and 2017, "so it was pretty cool to be back."
One member of the Wings family was absent, however. Joe Altobelli, Rochester's Mr. Baseball, died on March 3 at the age of 88. Alto spent a half century with the Wings in some capacity, as a player, coach, manager, general manager and broadcaster.
No one did more for the franchise on and off the diamond, and no one was a better ambassador for the city than Alto. Born in Detroit, he adopted Rochester as his new hometown in the 1960s and never left. He loved the Wings, even when managing the Baltimore Orioles to the World Series championship in 1983, and loved the city.
"First and foremost, he was a tremendous man, and second, he was a tremendous baseball man," said Wings manager Matthew Lecroy, who, as a player with the 2007 Wings, got to know Alto. "He left a legacy here."
That's why the Wings will honor his memory all season with a No. 26 patch on their uniform, and during the first homestand with a white 26 within a black circle in the third base coach's box.
"His legacy will surely impact our organization and our community for years to come," Mason told the crowd, adding, as he teared up, "This season is for you, Alto."
We should not, however, expect the kind of winning baseball the Wings played when Altobelli managed 50 years ago. Yes, the season is only 13 games old, but it's safe to say this Wings team, already nine games under .500 at 2-11, will not bring the first championship to Rochester since 1997. The Nationals farm system is not stocked top to bottom with prime talent.
The Wings brought a .202 team batting average into Tuesday's game. Of the 20 teams in Triple-A East, only Indianapolis was hitting more poorly (.198). They also don't put much pressure on the defense with their baserunning. They've yet to even attempt to steal a base, let alone actually steal one.
Or course, an inability to manufacture runs isn't the worst thing in today's baseball if you have power. Except, until Tuesday, they hadn't show much that either, hitting just nine home runs during the 12-game, season-opening road trip. They hit three in their Frontier Field debut; Carter Kieboom in the first, Palka in the fifth and Yasmany Tomas in the ninth.
The problem is, the RailRiders also hit three, including a majestic, 440-foot blast by Estevan Florial in the third inning that sparked an eight-run uprising between the third and fifth innings, and also collected three doubles and a triple.
That third inning was the undoing of starter Ben Braymer. He retired the first eight batters he faced but walked No. 9 hitter Brandon Wagner on a 3-2 curveball. Florial crushed the next pitch over the small stack of signage behind the right field wall.
"A 3-2 breaking ball with the nine-hole hitter and I think that turned his outing into a direction he didn't want to go," Lecroy said.
There's plenty of time for this club right the ship. But if there's ever a summer to be not-so-good, well, this is it. Winning and losing won't matter nearly as much, at least not for the first few weeks or month. After 624 days without Wings baseball, fans will just be glad to sit under the stars, reminisce with friends and say they were at the ballpark.
NOTE: Kieboom was lifted for a pinch-hitter in the fifth because he was feeling ill. He had just received his second COVID-19 vaccination, Lecroy said.