By PAUL GOTHAM
HONEOYE FALLS, N.Y. — The play didn't go as designed.
But for second options, Reece Joint and Patrick Lustyk were more than capable.
With 10.5 seconds remaining in the second quarter of Saturday's Section V Class B final, Joint took a snap out of the shotgun from the opposing 35-yard line. The senior quarterback looked to his right before rolling left to avoid a rush. He planted his feet at the 42-yard line and let fly with a pass down the left sideline.
Lustyk waited 34 yards away with a pair of defensive backs shadowing his movements. An All-County performer on the hardwood who grabbed nine rebounds per game this past season, the 6-foot-4 receiver made like he was trying to keep the ball alive on the offensive glass when he batted it in the air to himself before clutching it in his hands.
"The catch was hard but then getting in the end zone might have been even harder," HF-L head coach John Russ said of the play. "That kid works out twice a day. I'm not surprised he willed his way into the end zone."
The first defender tried to wrap him up and push him out of bounds. Lustyk shrugged off the attempt and got his shoulders facing the end zone. A second defender was able to firmly grab the tail of his shirt with both hands, but Lustyk dragged him four yards to the goal line which he crossed before a third defender could make a play.
As the half expires Reece Joint rolls out and finds Patrick Lustyk who reaches out for the touchdown. PAT is good. HF-L 28 Batavia 21 pic.twitter.com/Q9WEg09kjx

— Paul Gotham (@PickinSplinters) May 2, 2021
"He's an animal," Joint said of his teammate. "Nobody can stop him. In my opinion, the best wide receiver in Section V. He's just crazy."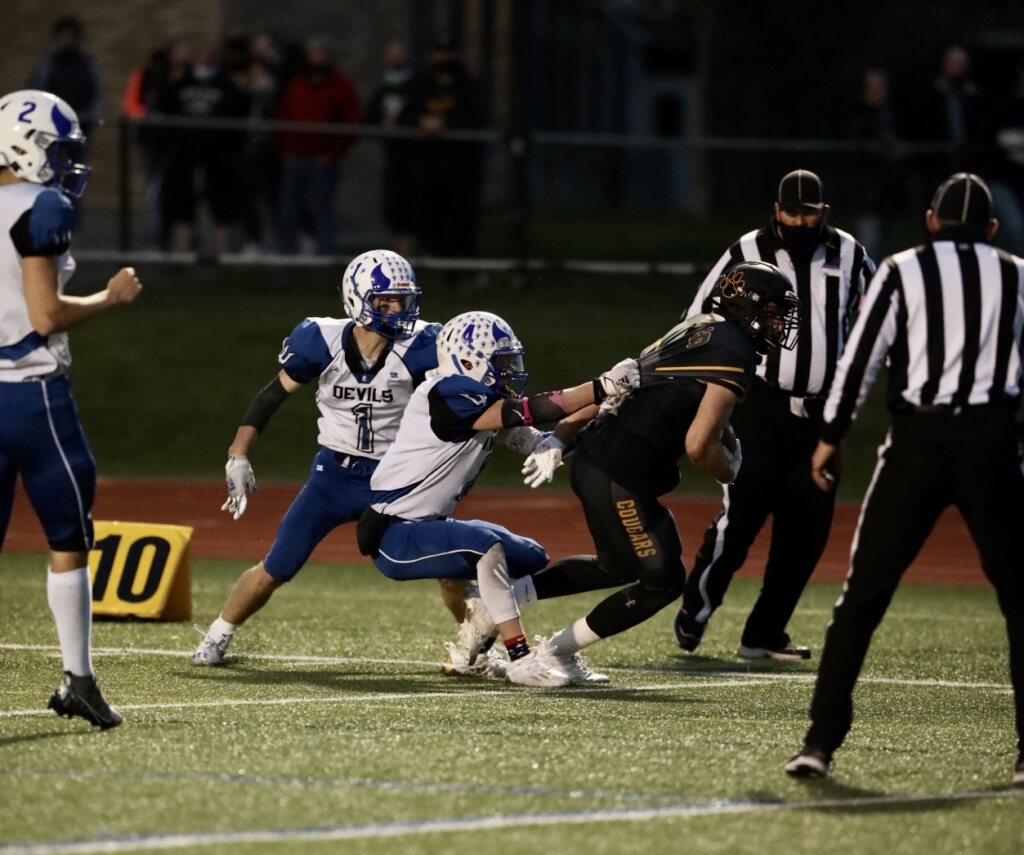 For fans of a certain age, think Kellen Winslow Sr. in the 1981 AFC Divisional game.
The scoreboard at James Dollard Athletic Field showed 0.0 seconds on the clock. Following an extra-point, HF-L led 28-21. It was the Cougars first lead of the game, and they did not surrender it on their way to a 49-28 victory over the Batavia Blue Devils.
Lustyk's late-half effort set the tone for the rest of the game.
Having won the pre-game coin toss and deferred to the second half, HF-L came out of the locker room, took the kickoff and went 66 yards. Jacob Derby scored from six yards out.
The village fire truck parked near the north end zone was just getting warmed up as it ran its siren to celebrate each score.
"To put us up a score going into halftime and then coming back out and getting the kickoff again, that was such an energy booster that raised our confidence so high," Joint said. "We just never let up after that."
The Cougars made it 28 straight points when Joint connected with Nolan Smith from 14 yards out for a 42-21 lead with 8:14 remaining in the game.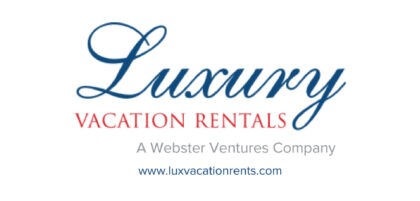 "We were in control," Lustyk said of the mindset coming out of halftime. "We knew there was another half of football to play. We still had to do a job, but it was a great momentum booster for sure."
Reece Joint. Nolan Smith. 8:14 to go HF-L 42 Batavia 21 pic.twitter.com/xA1p7YYAxH

— Paul Gotham (@PickinSplinters) May 2, 2021
Batavia struck first in the game. After HF-L appeared to stop the Blue Devils with a three-and-out on the opening drive, a penalty gave Batavia a first down near midfield. Senior running back Terrez Smith broke off a 53-yard touchdown run.
HF-L responded with six points from Joint to Colt Green. Batavia regained the lead at 14-6 when Jesse Reinhart connected with Evan Cummings. Joint and Lustyk combined on a 14-yard strike. After a two-point conversion, the game was tied at 14. Reinhart hit Alex Hale on touchdown pass and a 21-14 Batavia lead with 4:58 remaining in the half. The Cougars went 68 yards in four plays to knot the game. Joint and Lustyk highlighted the drive with a 35-yard completion. Derby scored from 21 yards out.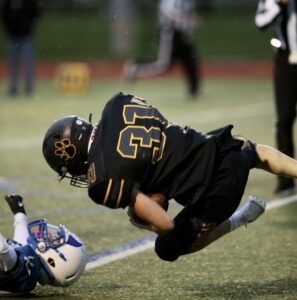 HF-L's defense stopped Batavia on three downs and the Cougars took over at their 46-yard line with 1:13 to go in the half. Joint hit Derby on a screen pass to get the ball in Batavia territory. A nine-yard completion moved the ball to the Batavia 35. HF-L took a timeout with 14.2 seconds remaining. An incomplete pass was the result of the next play setting up Lustyk's heroics.
"We were trying to get both receivers (on the right side) to go underneath on a slant route and throw a wheel behind them," Russ said of the original play call. "That was Reece just not panicking, goes backside and throws it up to Pat.
"You're always surprised when you see something like that happen, but when you have Reece and you have Patrick you're not as surprised."
It was one of Lustyk's nine catches on the day for 190 yards.
"We called a fade, and as Reece scrambles out, I point up," Lustyk said. "I'm thinking 'Reece just throw it. We got nothing to lose.'
"After I caught it, I realized, A, I either got to get out-of-bounds or, B, get in the end zone. I didn't think I had enough time to get out-of-bounds. So I was like I got to force my way into that end zone. I used all my might to get in there."
Joint, the game's MVP, finished 23-of-32 for 343 yards and four touchdowns. Derby rushed for 134 yards and three touchdowns on 22 carries. Smith made three catches for 56 yards. Green had five catches for 36 yards.
Batavia's Aidan Anderson scored the game's final touchdown on a 75-yard run.
Lustyk and Joint were both part of the HF-L team that lost in the 2019 Class B final to Livonia. In March, the Cougars lost to East High in the finals of the Class A2 basketball championship. It was a game in which HF-L trailed  by 17 before cutting the deficit six in the fourth quarter. Lustyk scored 13 in a 67-58 loss.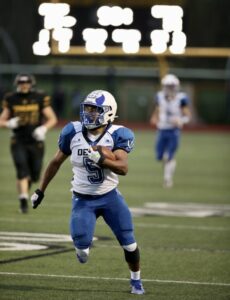 "We learned a lot of stuff in losing," Lustyk explained. "In the previous times when we got to the championship, we were more excited to be there than to actually win. This year, that wasn't the case. We knew what we were supposed to do. We got here and won the whole thing."
Honeoye Falls and the Lima school districts merged in 1969. At halftime, the school honored the girls' volleyball team that took the sectional title earlier in the day. The school's softball team is a reigning sectional champ. The boys and girls soccer programs have enjoyed championships as has the baseball team. Lustyk and his teammates raised the championship brick on the gridiron for the first time in school history.
"It feels great," Lustyk said. "We have a big thing here. It's culture. We're always working off-season. We're in the weight room. We're battling hard. We're getting out here on the turf at 6 p.m. on weekdays. No one requires you to do that. I think it's the little stuff that we put in that helped us to be the first team to do that."
For Russ, a 2002 graduate of the school, the championship took on an added meaning.
"To be a player here and even before that when I was an elementary school kid, I came to the football games and I watched it," the 10th-year coach said. "I just realized how fun and how special football is.
"I knew it was going to take a little while to develop the culture. It's not necessarily these guys that won the sectional title, but it's last year's team. It's the team before that. It's even the team before that when we got into the semi-finals. The kids started saying 'You know what. With a little bit of hard work maybe we'll win one of these things one day.' It really goes back to the kids four or five years ago when we're one-and-seven, playing a lot of sophomores but developing a mindset of winning or being physical, doing the right things, being coachable. I couldn't be any more proud than I am of these kids and the families, my coaching staff, my athletic director. Everybody has their hand in this."
*Individual statistics were updated after original publishing of article.