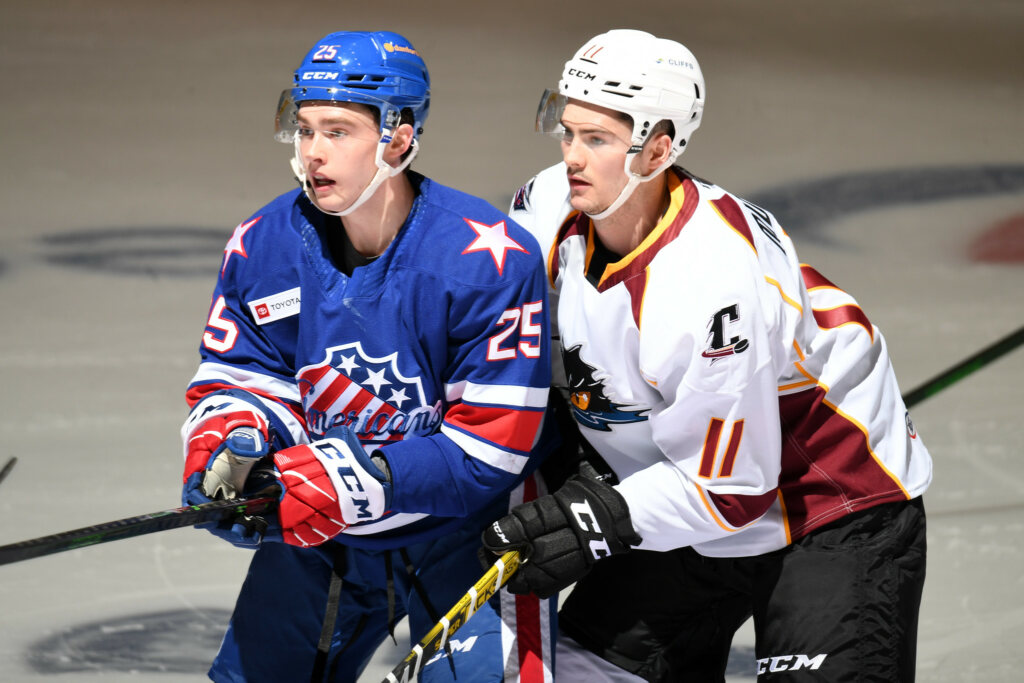 By KEVIN OKLOBZIJA
Jack Quinn's season of learning the pro game with the Rochester Americans has come to end.
The rookie right winger (and sometimes center) will undergo season-ending surgery in the upcoming days on what Amerks coach Seth Appert described as a nagging lower-body injury.
Quinn, who left the Amerks on Tuesday, produced 2 goals, 7 assists and 9 points in 15 games. He was the first-round pick (eighth overall) by the Buffalo Sabres in 2020.
The recovery period is not lengthy, Appert said, but the goal is to ensure Quinn is primed and ready to perform at his best when training camp begins.
"It's something he has been dealing with since World Junior tryout camp (with Team Canada) back in late November, early December," Appert said after Wednesday's 7-6 home loss to the Syracuse Crunch. "The reason we're doing it now is we're trying to put him in the best position now to be successful for next year.
"This is a big summer for Jack. He had a great experience in the American League in a year you didn't anticipate him being here. He got to learn and get better and grow through the adversity he faced here."
Quinn, 19, could have continued to play through the injury but the organization believes it makes more sense to shut him down now.
"It's a nagging injury and it's not an injury that could necessarily could get worse, but it is something he was dealing with that certainly impacts his play and how hard he can push in practice sometimes," Appert said.
"Just with where the injury was at, we felt it was in the best interest of Jack for next year to have the surgery, to put himself in position to have a really important summer of development training in the weight room."
Quinn joined the Amerks after the Ontario Hockey League continually delayed the start of its season, a season that officially was canceled on Tuesday. Usually players with junior eligibility cannot play in the AHL.
The apprenticeship in Rochester gave him a head start on his preparation to play for the Sabres, perhaps as early as next season.
"His growth game-to-game and week-to-week was outstanding," Appert said. "He's an awesome teammate. It was interesting seeing how the team was with him yesterday. It was impressive to see how many guys wanted to be around him, spend time with him, say goodbye to him.
"I thought that said a lot about he conducted himself. He didn't think he was above anybody, he didn't think he shouldn't be here, that he should already be somewhere else."
As for Wednesday's game, the Amerks vaulted to a 3-0 lead in the first six minutes on goals by C.J. Smith, newcomer Brendan Warren and Patrick Polino (his first goal as a pro).
But the Crunch regrouped and rallied. You know the age-old adage about never wanting to allow a goal in the first or last minute of a period? How about giving up two in the last 56 seconds of the second period and two more in the first 55 seconds of the third period?
The Amerks managed to connect on that unique twin quinella, which meant a 3-1 lead became a 5-3 deficit in just 111 seconds of elapsed time.
"The only thing I really didn't like tonight was the response after getting scored on," Appert said. "You need to understand when you go on the ice after giving up a goal the importance of execution and competitiveness on that next shift."
Goals by Sean Day and Antoine Morand 23 seconds apart in the final minute of the second period tied the score. Day's slap shot from the left point deflected in off Luce's stick at 19:04, then Morand scored at 19:27 after Jones fanned on a loose puck near the blue line.
Peter Abbandonato gave Syracuse its first lead 28 seconds in to the third period by blasting home a one-timer from the bottom of the right circle. Otto Somppi pushed the lead to 5-3 just 27 seconds later. Defenseman Casey Fitzgerald went to block a centering pass but, at the last instant, Katchouk lifted his stick, allowing the puck to reach Somppi, who tucked it in past goalie Stefanos Lekkas.
"One goal doesn't hurt you as much as a string of goals does," Appert said. "To make a few mistakes there, to allow them to pile up a few goals quickly, was something we need to clean up."
Still, over the final 19 minutes, five more goals were scored, two by the Crunch and three by the Amerks, who pulled with 6-5 and 7-6 but never could tie it.
"We don't have a lick of give-up in us," Appert said.