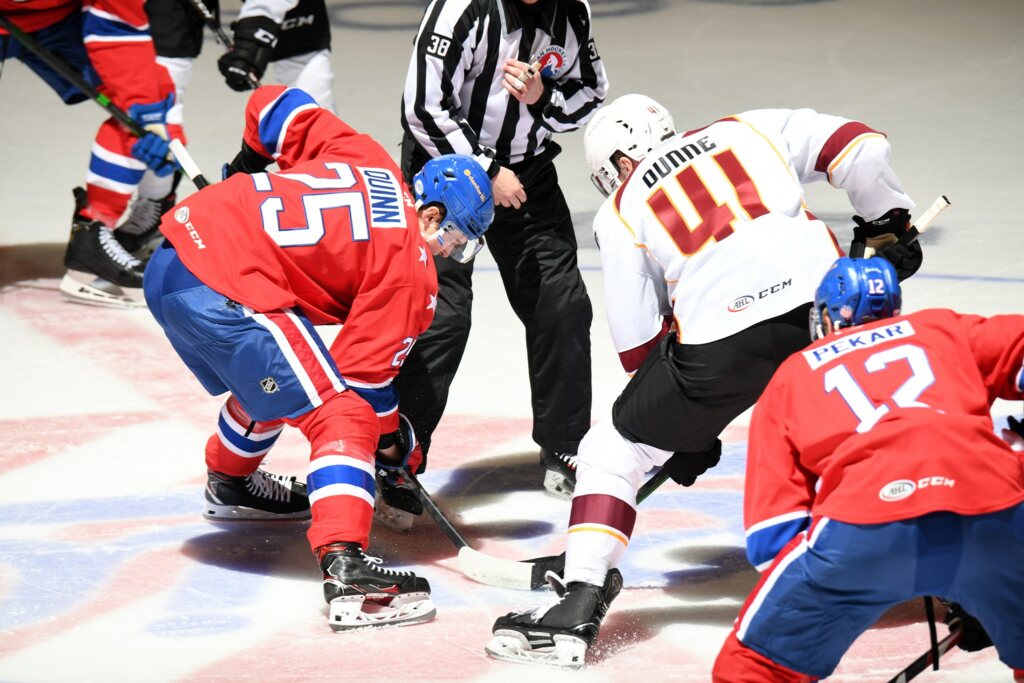 By KEVIN OKLOBZIJA
There's really no doubt that Jack Quinn will play in the National Hockey League.
Selected in the first round of the 2020 NHL draft, eighth overall, by the Buffalo Sabres, the slick-skating forward has puck skills, smarts and speed.
But there's a whole lot more to his game than just flash and dash, as the 19-year-old forward showed Wednesday night in the Rochester Americans 5-3 loss to the Cleveland Monsters at Blue Cross Arena at the War Memorial.
For one, he showed he can play center, a position he said he hasn't played since youth hockey. He also demonstrated a willingness to initiate contact often, to bang bodies into the boards and to block shots.
None of it was a surprise to Amerks coach Seth Appert.
"We've seen it a lot but it hasn't always shown up in games," Appert said. "Games are hard in the American League, especially at his age. But we see it in practice, how competitive he is, how physically engaged he is, how much he cares about winning puck battles."
The shot block in the waning seconds of the first period – on a slapper by Thomas Schemitch – eliminated a dangerous scoring chance on a Cleveland power play.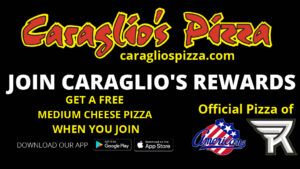 "Blocking shots is an important element for all players," Appert said. "If you want to be a winning hockey team, if you want to build a winning culture within your organization, your best players, your most talented players, need to be good defensively and block shots. He had one big one last week in Utica and there was another big one tonight."
Quinn, who in 14 games has produced 2 goals, 6 assists and 8 points, enjoyed his pro debut in the middle.
"I loved playing center," Quinn said. "Obviously there's a lot of spots I need to be better but I think I can adjust quick."
One of those areas is not being quite so gung-ho, understanding that there's a trick to conserving a bit of energy when it's possible.
"Guys are big and strong and you can't just outmuscle them; they can put you on your back so you have to play defense for a bit," Quinn said. "I think when I'm fresh early in the shift I'm super competitive so I can win my battles but later in the shift it gets a lot more difficult so I need to learn to be more patient."
Quinn's creativity and poise with the puck have been evident since his AHL debut on Feb. 18. On Wednesday he made a sweet backhand pass to set up Michael Mersch for a goal 79 seconds into the first period.
"He controlled the middle of the ice," Mersch said. "I would say I had to play to his level."
Because of injuries to Andrew Oglevie (unknown) and Brandon Biro (season-ending lower body), the coaching staff didn't have many choices to fill in at center. They opted to use Quinn.
"Mike Mersch is such a rock to play with so I thought Jack, going to center for the first time, to have a guy like that to lean on would be extremely beneficial," Appert said. "All in all, with a lot of responsibility thrown at a 19-year-old, I thought he had a really strong game."

So when will Quinn get his chance to play in Buffalo? That's up to Sabres general manager Kevyn Adams, Appert said.
"Jack hasn't once brought that up, asked about it, had even a conversation about it with me," Appert said. "His focus is completely on trying to become a really improved player in Rochester. Trying to grow his game, trying to take adversity and use that to fuel growth in his game so he can become a dominant player here for us before he makes that jump.
"He's certainly motivated by where he wants to be, but he's kept his mind where his feet are and that's been impressive."
Ryan Jones and Steven Fogarty also scored goals for the Amerks, who have won just twice in the past nine games (2-4-2-1) and finish the stretch of three straight against the Monsters with a 4 p.m. game Saturday at Cleveland.
Considering the Amerks were embarrassed 9-2 by the Monsters at the War Memorial on Saturday, they rebounded with a vastly better effort. And that's despite playing without goalie Ukko-Pekka Luukkonen, (minor lower body injury, Appert said), as well as the host of other players on recall.
They started the game with just 10 forwards (and eight defensemen), and then were down to nine forwards when rookie Matej Pekar was ejected with two minutes left in the first period. He fought Brent Gallant, who has piled up more than 1,600 penalty minutes in a 12-year pro career, before the puck was dropped.
Once the Monsters tied the game, they took total control, and eventually the lead, when Ole Bjorgvik-Holm's nothing wrister from the left-wing boards somehow slithered through Lekkas at 6:35. When Tristan Mullin's shot through a screen found the net at 11:21, Cleveland led 4-2 and had no difficulty protecting the lead.