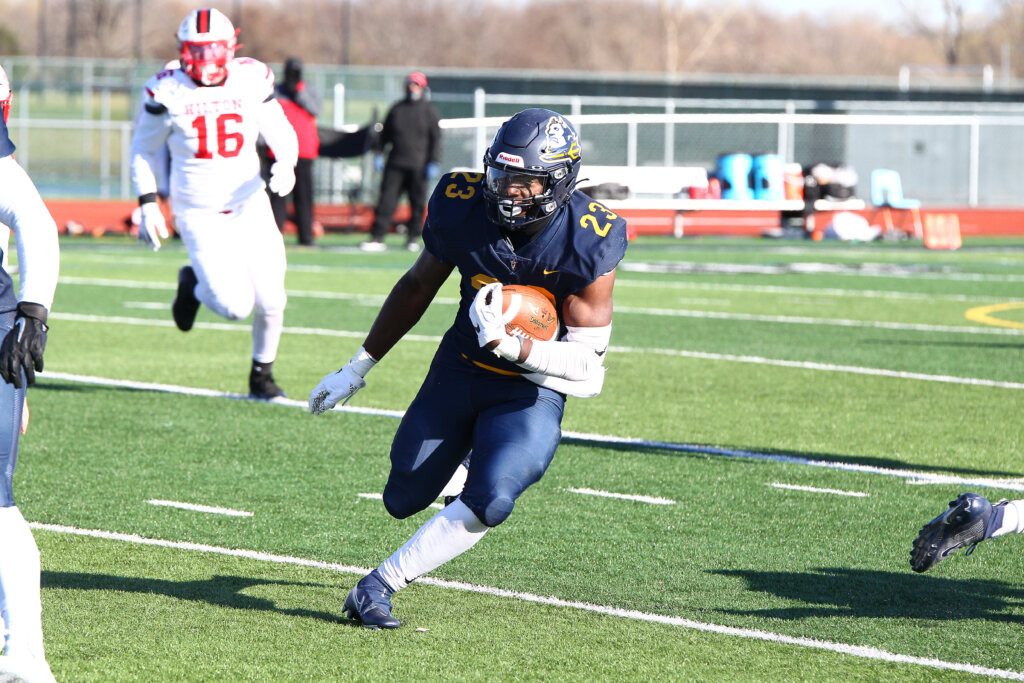 By TIM IRVING
During this COVID-shortened high school football season, depth is coming into play more than ever.
Victor used the "next man up" approach to beat Hilton in a battle of unbeatens Friday night.
The Blue Devils started with a three-and-out on defense and on the second play from scrimmage, senior running back Rushawn Baker found a seam and went 62 yards for a touchdown.
"They're a very aggressive team, so we went play-action early to get them off of us a little bit and second play of the game, he does what he does," said Victor head coach Geoff Mandile.
Still 7-0 early in the second quarter, with senior C.J. James on the sideline already, Baker got flipped driving towards the end zone and missed most of the rest of the first half. Quarterback James Knapp followed his center, Connor Williams, into end zone two plays later and Victor led 14-0.
On the next play from scrimmage for the Cadets, senior Dontae Valion got to the left sideline and went 73 yards for the score to cut the lead to 14-7.
It stayed that way until the first drive of the second half for the Blue Devils when Knapp hit Codey Jensen for a 29-yard touchdown and a 21-7 advantage.
"We knew they were gonna run the ball a lot so we knew we had to do something to get up, get ahead and then just take care of business in the second half," said Knapp.
Baker ran for 178 yards and played primarily just two quarters. Senior Nick Benetti stepped in and busted off a 58-yard touchdown to get the lead to 28-7, he finished with 90 yards.
Mandile said, "We tell the guys all the time, you're a play away from an opportunity and guys stepped up."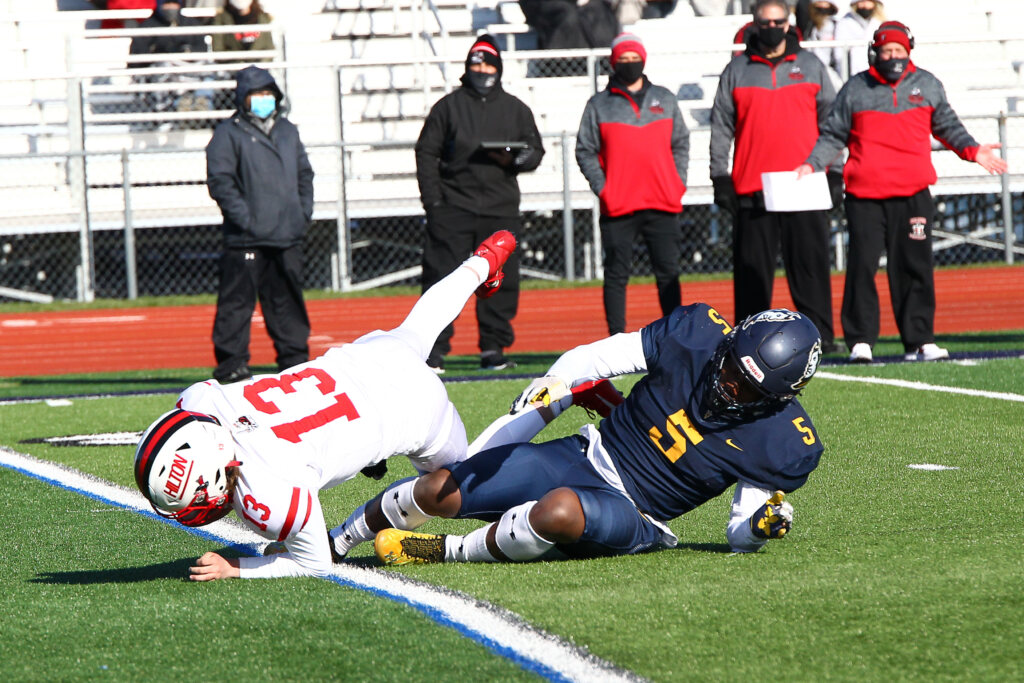 The defense and senior running back Connor Bowman put the game away, running down the fourth quarter clock as the Blue Devils finished with 309 yards rushing while allowing 201 total yards to the Cadets.
"They kinda found their groove in the second half last week (against Fairport) and they're just always tough and downhill," Mandile says of his defense.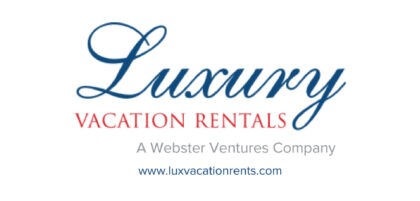 The Blue Devils put their 3-0 record on the line on Thursday at Webster Schroeder while Hilton hosts Aquinas.
"We know we have to take care of business every week, "says Knapp, "there is some sort of pressure to win because we want those home games for Sectionals."