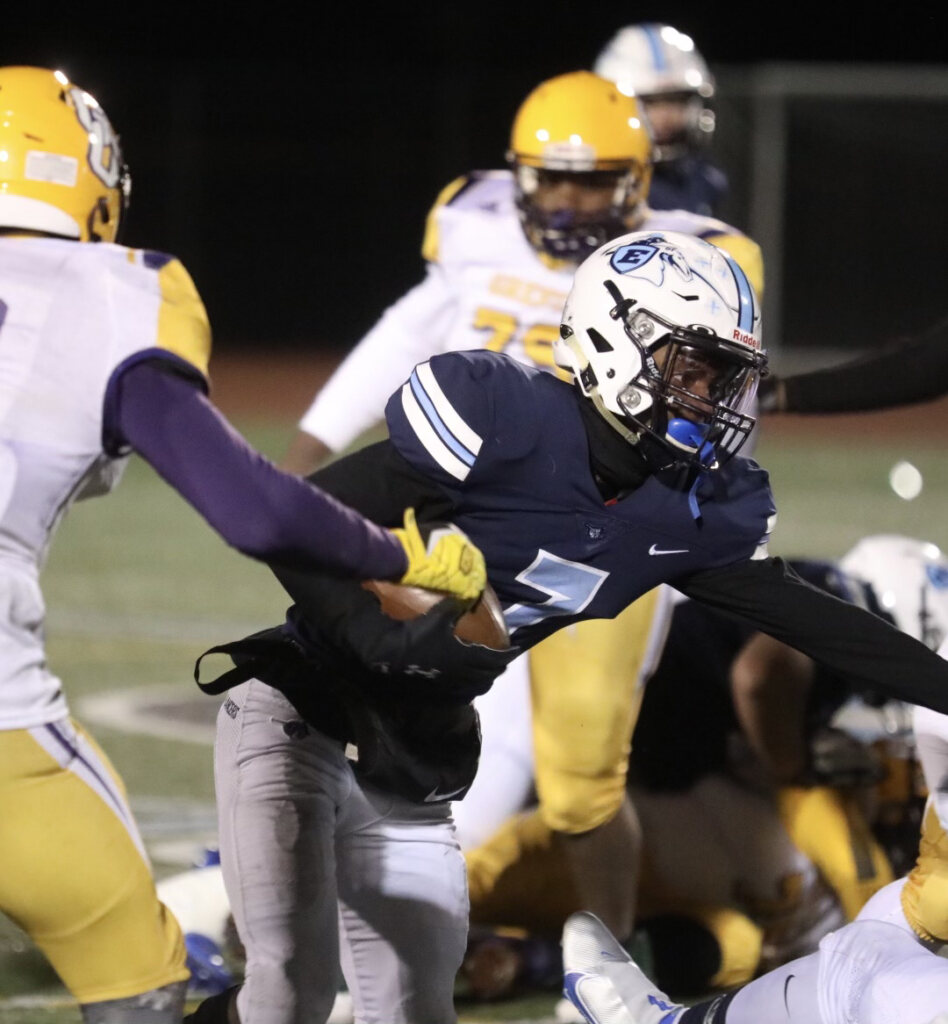 By CHUCKIE MAGGIO
The Eastridge Lancers used all three units to score on the Greece Olympia/Odyssey Spartans on Thursday night.
Eastridge quarterback Michael Adams had a strong outing, throwing two touchdown passes. Kelvin Young had a good night, converting two goal-line rushing touchdowns. The Eastridge defense and special teams units played their respective parts, too, recovering a fumble and blocking a punt for a scoop-and-score.
With strong efforts in all three phases, the Lancers answered an 18-point loss to East High with a 20-point win in Week 3, defeating the Spartans 42-22 at Lancer Stadium. 
"We were getting off the field today," Eastridge coach Jasson Jobson remarked. "In the past, in the East game, the Brockport game, our defense played really well except on third down. During those two games, we gave up a ton of third down conversions."
Behind standout performances from defensive linemen Niem Brown and Justin Diaz, linebacker Noah Bowens and defensive backs Mykael Sidoti-Miller and A'mir Proctor, Eastridge surrendered just six points through three quarters. Sidoti-Miller and Proctor intercepted passes in the first and second quarters, respectively, while Brown, Diaz and Bowens each recorded tackles for losses.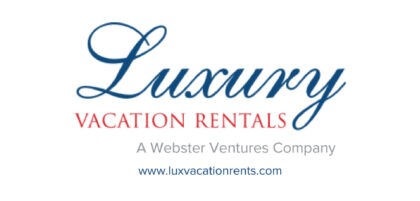 Hurrell, Jahod Faison and Jabril Green scored for Olympia/Odyssey, but the second-half margin never dipped below 20 points. Jobson was pleased with the defensive effort.
"That's one of our goals for defense: we've been tough against the run; we need to improve on the pass and we need to get off the field on third down," Jobson said. 
The blocked punt, which Emmanuel Leftenant recovered and brought into the end zone, extended EI's lead to 34-6 with 9:07 remaining and removed all doubt that the home team would improve to 2-1. 
It's been an unconventional spring season for Section V, Jobson acknowledged, but his squad finally showed the aggressive he wanted to see on special teams.
"Special teams is just as important as offense and defense," Jobson noted. "Sometimes kids think that's a good time to take off; no way. We need just the same amount of effort on special teams and kickoff, getting down there and covering a kick, or punt block.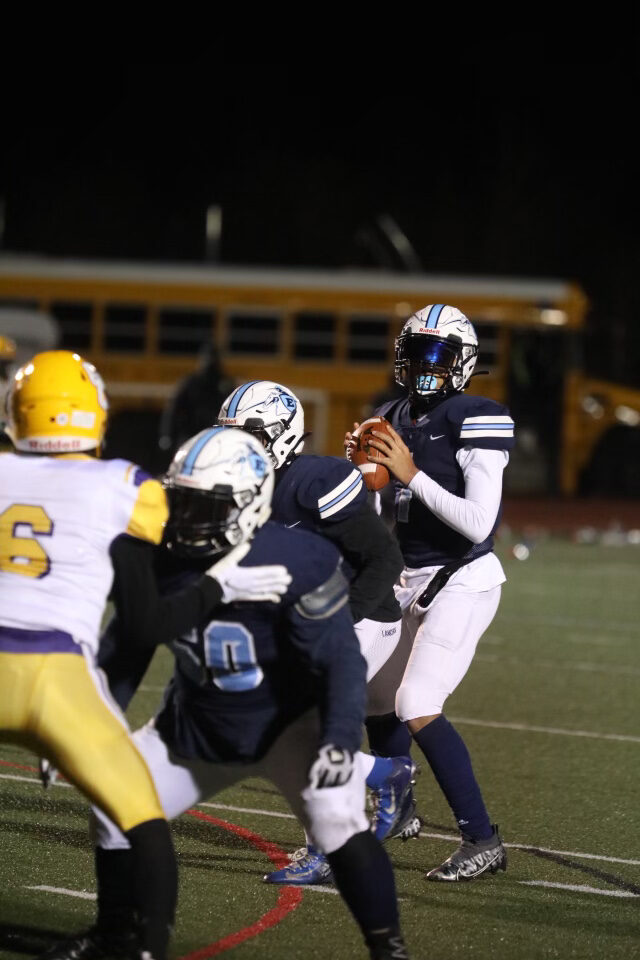 "The last two weeks we've had punt block on and we're not going to block the punt. So it all comes down to, will each player do their job and trust that their teammate will do their job? We're still in the learning process here."
Proctor scored two touchdowns, his second and third scores of the season; his 47-yard rush with 3:57 left was his longest of the year. Marc Gray caught a touchdown, his third of the season.
There was only one thing Jobson wants his Lancers to improve on: cutting back on penalties. 
"We were killing ourselves with the penalties," he said. "It just messes up the flow of offense. We still need to get better on offense. We still need to be a little more mentally tough… Find the ball, line up on the ball, play to the next whistle; that's the mentality we have to have. Look, it's 9:45 (the game kicked off at 7 p.m.). These penalties, they just destroy the tempo and the flow of the game. 
"I wasn't happy. I told my guys, it was embarrassing. We know better than that. So with this team, I think we're very talented but that's one thing we need to improve, our mental toughness."
Young finished with 110 yards on 14 carries. Bowens had nine tackles, one for a loss. Brown had four tackles, two for a loss and a half -sack. 
Jabril Green led Greece Olympia/Odyssey with 134 yards on 15 carries and one touchdown. Xavier Hurell rushed for 97 yards and 10 carries and one touchdown. Luke Strong finished with six tackles, two interceptions, one pass break-up and a 14-yard touchdown run.  
The Lancers' next chance to display their mental toughness is a Wednesday night rivalry game at Irondequoit. Olympia/Odyssey hosts Gates-Chili.