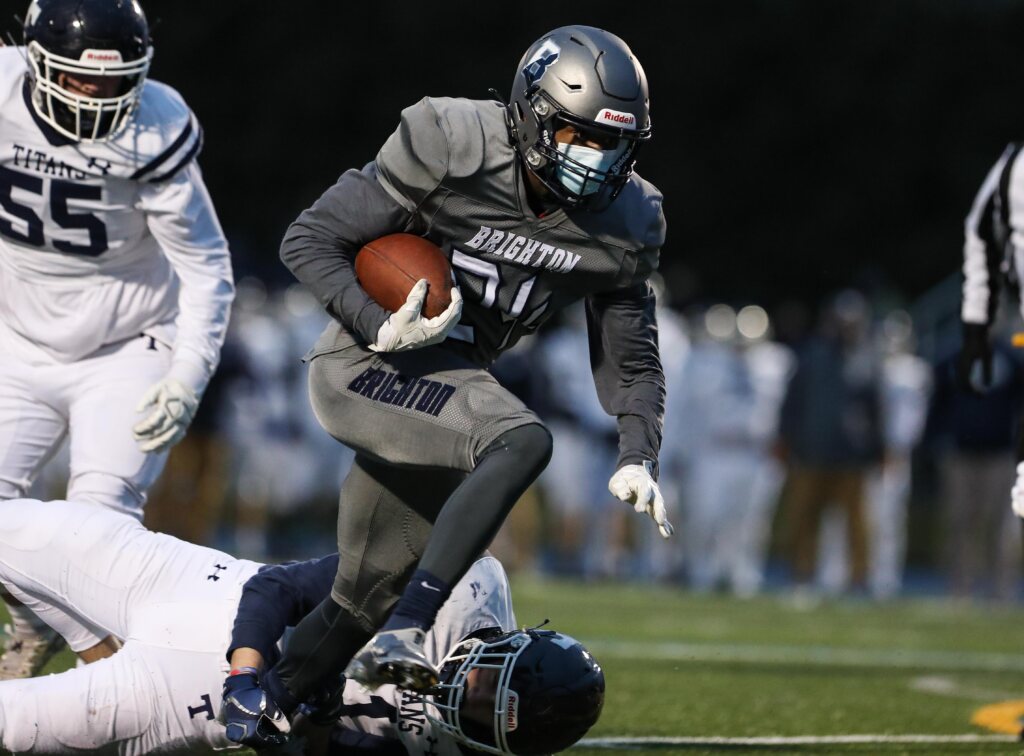 By TIM IRVING
"We're lucky," says Brighton football coach Steve Lian when you ask him about his running game. The ground and pound Bruins ran over Webster Thomas on Friday, 38-0.
Brighton ran for 347 yards and four touchdowns and added two defensive returns in the victory.
"We've got an extremely well-coached offensive line, a special offensive tackle in Alex Heininger," explains Lian, highlighting his 6'5", 270-pound junior lineman, who is getting a lot of Division I looks.
VIEW MORE CHRIS CECERE PHOTOS HERE.
The Bruins marched down the field on their first offensive possession, with senior Sam Tourangeau scoring from two yards out.
The Titans got a sustained drive going with quarterback Eli Adams hitting William Henry on the final play of the first quarter, setting up a fourth down.
They failed to convert at the other end of the field and Tahj Jackson took off 89 yards on the first play to push the Brighton lead to 14-0.
Late in the second quarter, Heininger and the defensive line continued to shut down the Thomas running game forcing a third down pass, which Tourangeau intercepted for a touchdown and a 20-0 halftime lead.
One touchdown in the third quarter and Jackson scored it, adding to his 157 yards in the process.
On the first play of the fourth quarter, with the Bruins using their second team players, running back Dominic Slaninka scored a short touchdown and on the next play, senior Zach Kersh returned a fumble recovery for a score.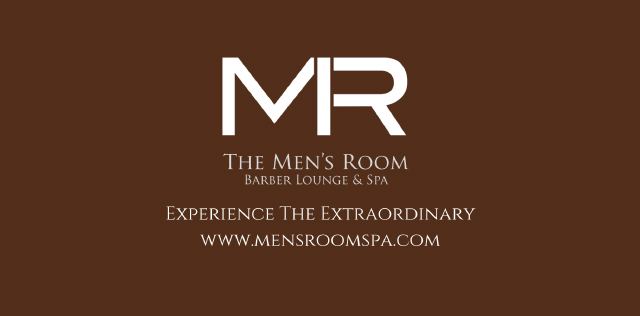 Heininger made 7-1/2 tackles, including two for loss but lead blocking for effectively four running backs with Tourangeau, heading to Ithaca to play football, running for 67 yards, Slaninka 58 and quarterback Brennan Clasgens adding 57 yards, is where Heininger is making his mark.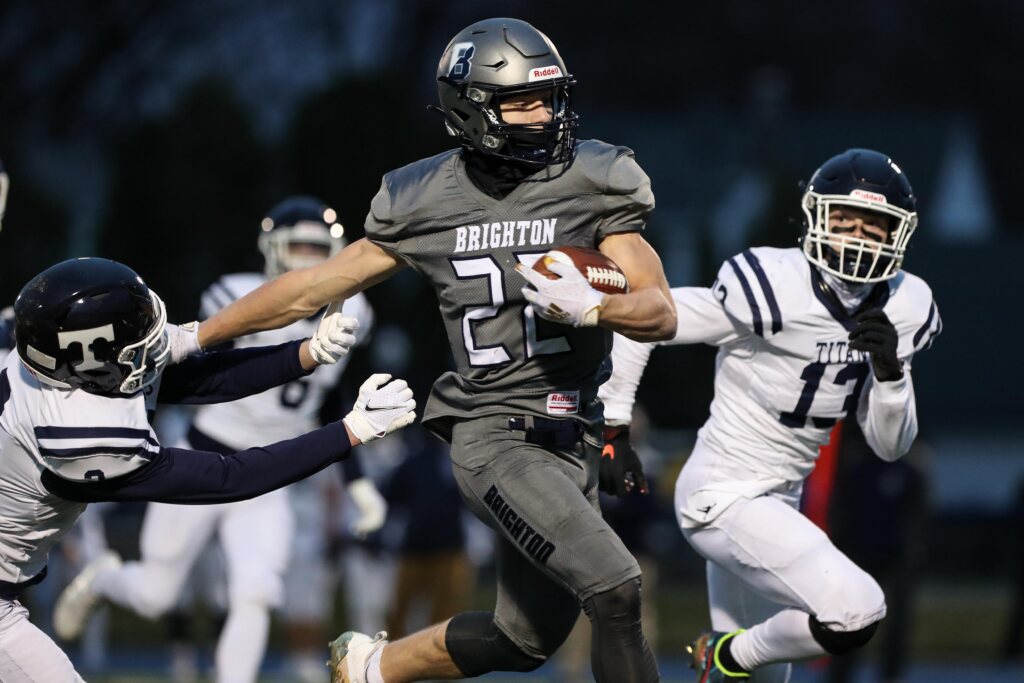 "The amount he studies film, the amount he works in the off-season in the weight room, the way he works with is offensive line coach, that's what sets him apart."
The wind and dropping temperatures made passing difficult, not an issue for Brighton.
"We don't have to be fancy, especially in weather like this, " said Lian "We've got kind of a weather-proof deal."
The 2-0 Bruins will be put even more to the test the next two weeks with games at Spencerport, with their double-wing offense, and defending Class A Champion Canandaigua, both games on the road.